New top heifers for Tirsvad, De Oosterhof & 3STAR!
Genomics
Pen-Col Superhero Mistral VG-89, 6 daughters in the top 50 gTPI in January!
The American genomics run resulted in 10 newly tested females in the top 50 gTPI in Europe for GenHotel members in January. Peak AltaZazzle and Aquila Stardancer are the sires of the major part of these.
With 3013 gTPI, Tirsvad 3STAR Muffin is the highest AltaZazzle daughter this month and also the number 2 gTPI of all genomic tested AltaZazzle daughters in Europe. Her dam, Tirsvad K&L Milano, is a daughter of the number 1 TPI proven bull Pine-Tree Pursuit, out of the amazing brood cow Pen-Col Superhero Mistral VG-89. Muffin her full sister, Tirsvad 3STAR Zazzle Mistress, is with 2950 gTPI also in the January top 50.
Mistral also has 4 more granddaughters in the top 50 this month. 3STAR OH Maira, 3STAR OH Mathilde and De Oosterhof 3STAR Maggie are all three Stardancer daughters out of Tirsvad K&L Riveting Magnolia and score resp. 2919, 2898 and 2891 gTPI. Tirsvad Stardancer Mango, out of Magnolia her full sister Tirsvad K&L Riveting Malaysia, also scores 2891 gTPI.
However, the number 1 gTPI of all Aquila Stardancer daughters in January is called 3STAR OH Madina. With 2958 gTPI she belongs to the very highest Stardancers internationally, with 967 NM she is even the number 1 Net Merit worldwide! Besides her high production potential, Madina scores extremely well for the health traits: 2.49 SCS, +1.2 DPR and +7.3 PL! Granddam is the phenomenal brood cow K&L OH Mabel (by Granite), with now 7 sons and many future grandsons in AI.
At Wilder Holsteins, the first daughter of RMD-Dotterer SSI Gameday has already been tested for genomics. Wilder 65249, currently the number 1 gTPI Gameday in Europe with 2966 gTPI, comes from the well-known Wilder Kanu family: her dam Wilder Karola RDC is an early Aristocrat great-granddaughter of Wilder K25-Red EX-90, the dam of the German top proven bull Wilder Baymax-Red. Also on the German base she is the highest tested Gameday daughter with 165 gRZG and 2972 RZ€.
Broeks Zara, an AltaZazzle out of the Broeks Lara, sold through the GenHotel Selection Sale, is also one of the top Zazzle daughters in Europe with 2960 gTPI. Zara, owned by Broekhuis Vee, shows a great talent for components in her breeding values (+0.32% fat and +0.09 protein). Her pedigree goes back to fantastic brood cows such as De-Su Shottle 7012 EX-92 and De-Su BWM Georgia EX-90, known from De-Su O-Man Goli and De-Su Observer, among others.
The highest tested red carrier heifer this month is Koepon Parfect Range 113 RF, a Siemers Renegade Parfect granddaughter of the 'Global Red Impact Cow 2021' Lakeside UPS Red Range-Red VG-86. Range 113 RF is with 2910 gTPI one of the highest female red carriers in Europe. With a solid production proof, great management traits (+2.6 DPR and +6.6 PL) as well as +2.01 PTAT and +2.13 UDC, she is very interesting for red & white breeding. Her Wilder Mark RDC dam Koepon Mark Range 13 Red is due to calve in March, while two full sisters to Range 113 RF score 2856 and 2836 gTPI with even higher type scores.
Several heifers at Willsbro Holsteins have received high type results, such as Willsbro Have It All Adina 33 (+3.75 PTAT), Hanans Frieda 3411 (+3.70 PTAT), Hanans Adina 3341 (+3.63 PTAT), Have It All Amber 3328 (+ 3.59 PTAT) and Dreambig Pammy 3379 (+3.58 PTAT). Finally, Beeze Oldleus Fatima, a descendant of the family of the two-time Supreme Champion Royal Winter Fair, Quality BC Frantisco EX-96, scores +3.48 PTAT and +2.82 UDC as the highest Golden-Oaks Master daughters in Europe.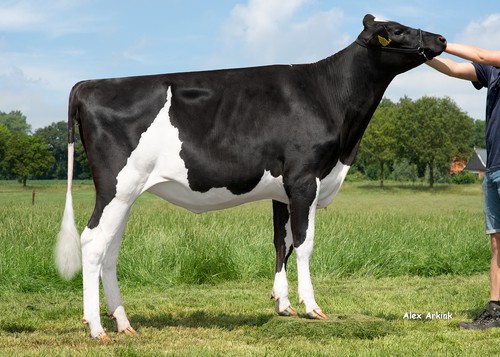 K&L OH Mallory (s. Kenobi), maternal sister of the dam of 3STAR OH Madina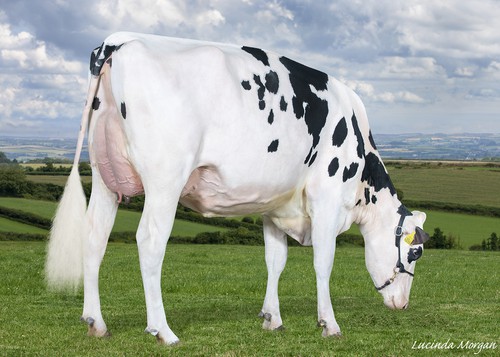 Willsbro Fitz Amber 159 VG-87 (s. Fitz), dam of Willsbro Have It All Amber 3328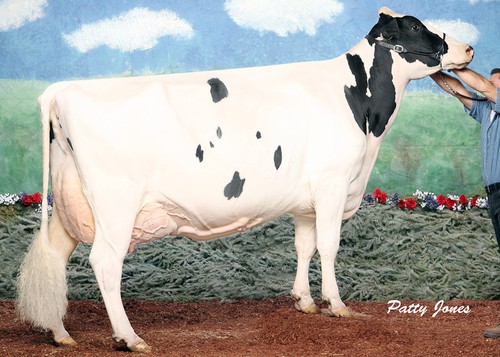 Quality BC Frantisco EX-96, same family as
                                            Willsbro Hanans Frieda 3411 and Beeze Oldleus Fatima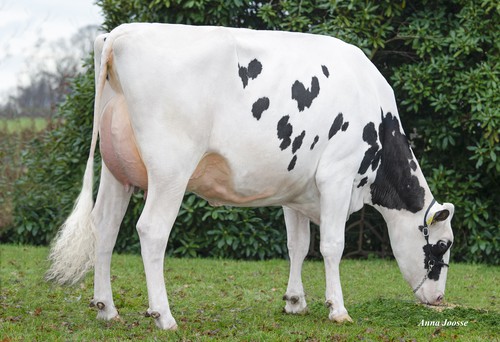 ARGH Feline VG-86 (s. Delight), granddam of Beeze Oldleus Fatima