HET Gladius Cherise, sold for € 67,000!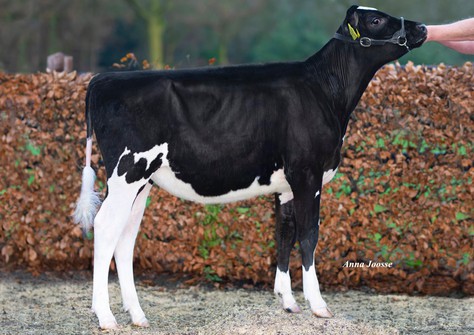 Sales
Lot 35, HET Gladius Cherise, sold for € 67,000
The 31st HighlightSale, which took place online last Friday, January 7th, resulted in a big success! In the afternoon before the sale, interested buyers got the opportunity to view the heifers in the barn at the auction center in Hamm, Germany. Several breeders from the near and far surroundings made good use of this 'open barn' opportunity!
The offer of this HighlightSale was again the well-known mix of top index heifers, milking 2-yr-olds and very fancy future show winners. The extensive and exclusive offer attracted an international audience. For example, the selling lots were sold to dairy farmers and breeding organizations from 11 different countries in Europe, including Luxembourg, Belgium, Spain, Austria, Switzerland, Ireland, Italy and the United Kingdom!
Sale toppers
Gladius daughter HET Gladius Cherise (lot 35) of Hurkmans brought the absolute top to this sale with 173 gRZG (3,098 gRZ€), 2,884 gTPI, 408 NVI, 4,739 PFT, 1,698 ISET and 221 ISU. Cherise her embryo contracts hit the gigantic total value of € 50,450 and already during the "pre-bidding" the highest bid was set on € 51,000. In the final sale on Friday evening, this amount rose to a record of € 67,000 – a never before achieved top price at the HighlightSale! Gladius Cherise will continue her career in Germany.
In the top 5 we also find the red and polled Star P RDC daughter Holbra Rosa Red P, consigned by Holbra Holsteins. For an amount of € 23,700 she will meet her new German owner soon. With this sales amount, the 166 gRZG, 4257 gPFT, 1595 gISET and 192 gISU scoring De Oosterhof DG Rose RDC VG-89 granddaughter was the best-selling Red Holstein of this HighlightSale!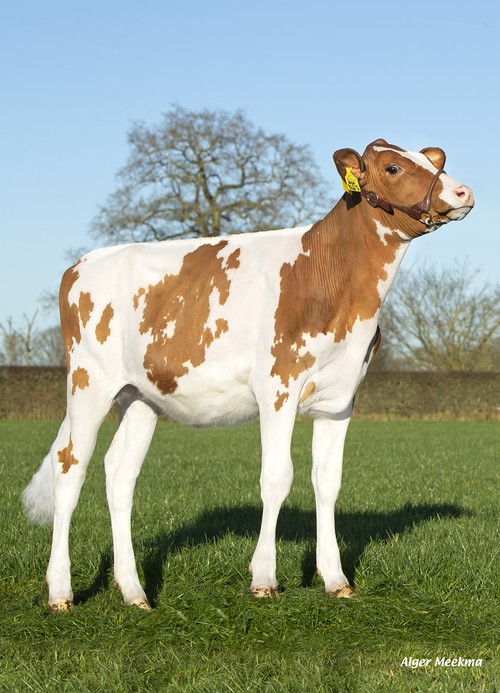 Lot 52 Holbra Rosa Red P (s. Star P RDC)
Top 5:
1.  Lot 35 HET Gladius Cherise   (Gladius x Kenobi)                       € 67,000
2. Lot 48 THI Minette                  (Bender x Chilton)                       € 26,500
3. Lot 52 Holbra Rosa Red P      (Star P RDC x Swingman)           € 23,700
4. Lot 50 Batita                            (Arrozo x Hothand)                     € 22,500
5. Lot   1 PRO Bellisima Red P    (Money P Red x Swift)                 €  11,000
The average price paid for the heifer calves went up to € 11,300.
Milking 2-yr-olds
The offer of the 31st HighlightSale included a number of milking 2-yr-olds. On average, they sold for an amount of € 3,611. The  most expensive 2-yr-old sold of the evening was the red WIT Cora Red (lot 12), a Wilcor PG Achilles Red classified VG-85. For € 4,600, Cora Red VG-85 continues her journey to Belgium.
Go to the total overview of the HighlightSale 2022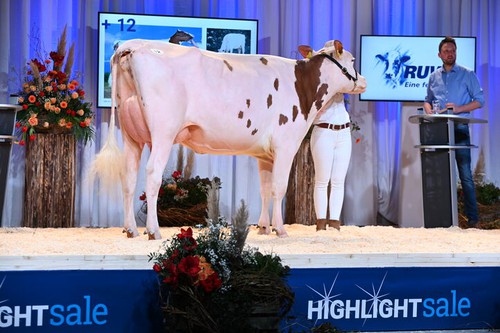 Lot 12 WIT Cora Red VG-85 (s. Achilles Red)