HighlightSale: Contracts, genomics and update!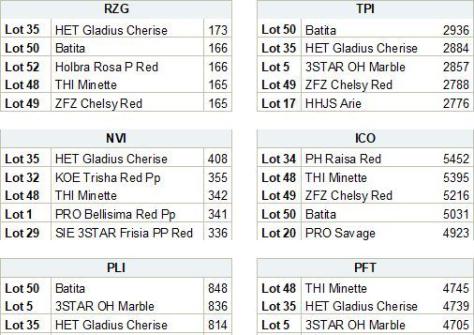 Sales
Genomic results in 8 different countries!
At 10.00 AM today the pre-bidding of the Highlight Sale has started. Tomorrow, Friday January 7th from 8.00 PM, all lot numbers will be auctioned online in catalogue order. 
There is a lot of international interest in the sale heifers of the Highlight Sale and many embryo contracts have already been written. Below you will find the top 5 lot numbers with the highest total value of embryo contracts.
Lot 35. HET Gladius Cherise  (Gladius x Kenobi)                      € 50.450
Lot 50. Babita                           (Arrozo x Hothand)                    € 22.000
Lot 48. THI Minette                  (Bender x Chilton)                      € 19.300
Lot 51.  Nelli                              (Carenzo x Timberlake)              € 14.175
Lot 52. Holbra Rosa Red Pp   (Star P RDC x Swingman)          € 13.600
Click HERE for the overview of all embryo contracts & the SALE UPDATE.
The Highlight Sale is renown already for years for its great offer of high index heifers. Below is an overview with the 'highlights' per index.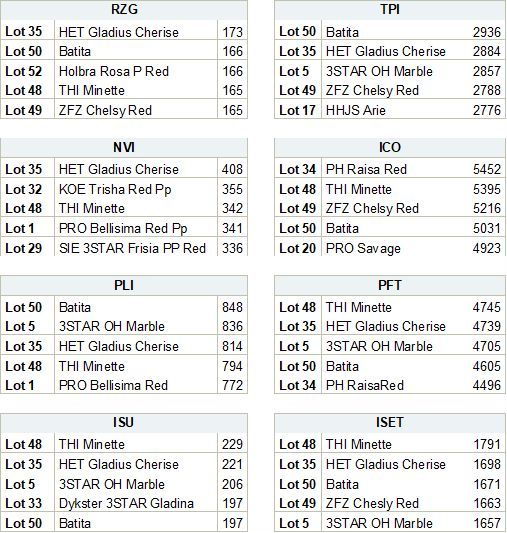 ► Go to the overview of all genomic results of the sale heifers.
► HERE you will find the overview with all total indexes per sale lot.   
    SHOW TYPE    
LOT 22 Alice PP RDC 

s. Mirand PP RC

LOT 23 WR Lysann 

s. Handsome

Homozygous polled great-granddaughter of Miss Apple Snapple-Red EX-96! Her Dam Applejuice VG-89 is the potential 10th generation EX in a row!

Handsome straight from the Res. Champion RUW Show 2021: Wilt Lisa EX-92 by Leader, pictured above. Descending from Twin-Wind-TC Brok Lass EX-95.

Lot 8 Holbra W Beauty Red 

s. Warrior-Red

Lot 7 Rueben Applecrumble RDC 

s. Unix

One of the few red descendants of Butz-Butler Gold Barbara EX-96! This pedigree contains 9 generations of EX in a row and has Durham Barbie EX-92 as a its founder.

Descends via VG-85 Unstopabull-Red x EX-94 Byway x VG-86 Atwood from the one and only Apple-Red EX-96! Complete and slightly different branch from the world-renowned '1 Million Dollar Cow'.
Videos of all lots can be found on the webpage www.auktion.ruweg.de. Here you can also find the online catalogue.
To watch the videos, see the catalogue and bid for your favorite, you first need to create an account. Register via the website:  www.FarmersBid.com.