Genomic USA run delivers a lot of diversity!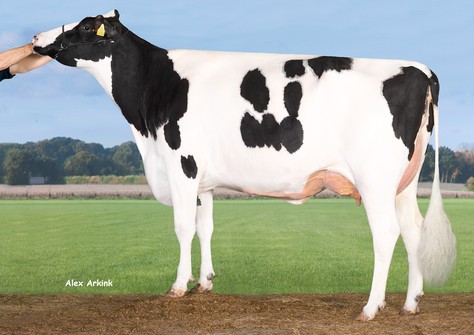 Genomics
Tirsvad Sniper Gambia VG-89, dam of 2 high AltaZazzle-daughters
The December 2021 genomic run in America has resulted in a lot of diversity at the sire side among the newly genomic tested females in Europe. The top 100 gTPI has no fewer than 31 different sires.
3STAR OH Maggystar, an Aquila Stardancer from Tirsvad K&L Riveting Magnolia, is the highest of all Stardancers tested worldwide with 965 NM. Moreover, she scores 2971 gTPI, with which she occupies the 2nd place internationally. Her granddam, Pen-Col Superhero Mistral VG-89, is a great brood cow, who will gain a lot of influence through sons and grandsons in the coming years. Another granddaughter of Mistral in the top 50 gTPI is Tirsvad 3STAR Mila, with 2881 gTPI the highest Peak Fortnite daughter this month. Her dam is Tirsvad K&L Pursuit Milano, a daughter of the new number 1 TPI proven bull Pine-Tree-I Pursuit.
The descendants of Grietje 80 EX-91 also manage to reach the top of the genomic lists time and again. Tirsvad Zazzle 9098 en Tirsvad Zazzle 9085, with resp. 2959 and 2901 gTPI, are 2 granddaughters of Tirsvad Sniper Gambia VG-89, the dam of Tirsvad Hotspot Geyser P and Hondo. Zazzle 9098 also scores 1048 NM and is one of the highest AltaZazzle daughters in Europe.
Among the newly tested females this month, with 2955 gTPI Wilder 03233 is the highest Peak AltaPlinko daughter. Her dam HET SC Charlene VG-87 (s. Soundcloud), owned by Wilder Holsteins, already has several high scoring offspring in the German and American system and comes from the legendary Larcrest Juror Chanel EX-93 family.
Highest red carrier female this month is Koepon Crisalis Range 98 RDC, a ZFZ Crisalis RDC granddaughter of Lakeside UPS Red Range-Red VG-86, the "Global Red Impact Cow 2021". Range 98 RDC scores 2893 gTPI and possesses a flawless genomic profile, with also +2.18 gPTAT. Her dam Koepon Swingman Range 2-Red is still the highest Westcoast Swingman-Red daughter in Europe. The full sister of Range 98 RF is the red & white Koepon Crisalis Range 97-Red, who scores 2819 gTPI.
The highest red & white newly tested in Europe is Koepon Star Range 93-Red, a Star P RDC daughter with 2833 gTPI. Her dam is the due to calve Koepon Altuve Range 7 RDC (s. Peak AltaAltuve RDC), of course a daughter of Red Range. In addition to a high gTPI, Range 93-Red also has a sky-high German score: with 169 gRZG and 2976 RZEuro, she is the highest of all red white female tested animals in the German system!
Also in the top 50 gTPI of December is 3STAR DS Albertje, with 2888 gTPI the number 1 Pikachu in Europe and owned by Dykster Holsteins and 3STAR Genetics. Her dam SPH Alberta is a great brood cow, with several high scoring daughters for gNVI, gRZG and gTPI, which goes back to the phenomenal brood cow Snow-N-Denises Dellia EX-95.
Click her for the top 50 gTPI newly genomic tested females in Europe in December.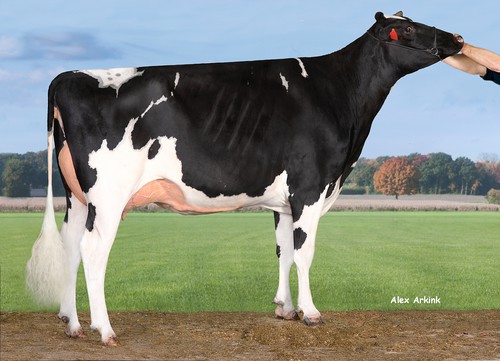 Pen-Col Superhero Mistral VG-89, granddam of Maggystar en Mila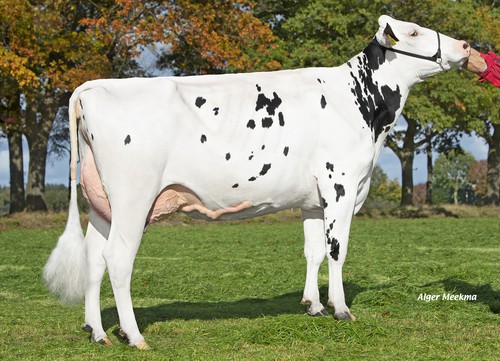 HET Sound Chenile VG-86, granddam of Wilder 03233 (s. AltaPlinko)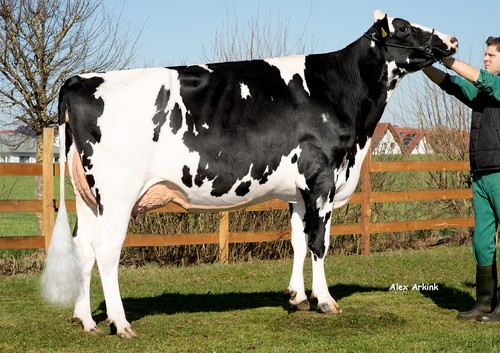 Alida GP-84 (s. Gymnast), granddam of 3STAR DS Albertje (s. Pikachu)