Memorable show day for De Wijde Blik!
Type
The Nijman family with De Wijde Blik Maritz
The Ommer Bissingh arrived this week for De Wijde Blik. Also this year this local dairy show attracted a large number of visitors and was for the Nijman family, who exhibited in different categories, a very joyful day!
Already in the youngest category there was success for granddaughter Jula, who entered the ring with De Wijde Blik Maritz, a Toc-Farm Fitz from Marie 389 VG-89 (s. Woodstock). Shown by Jula, the duo managed to win the Reserve Championship of the youngest heifers! Marie 389 - still present at De Wijde Blik - has left a big mark at Nijman's herd. This cow combines both streams: she is a great milk producer, but also a super brood cow!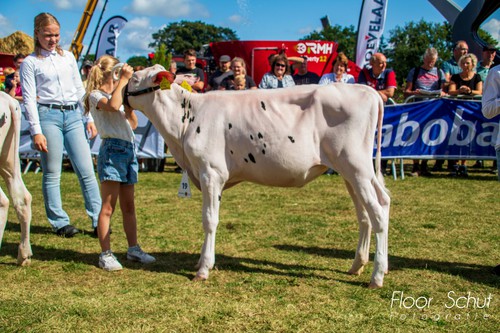 Jula with Maritz, a Fitz daughter from the Marie family (owned by Fam. Gunnink)
In the championship of the older calves De Wijde Blik Roseanne Red 2, a Poppe Freestyle Red out of Quatropoint K&L SW Roseanne Red VG-85, and Davinci-daughter De Wijde Blik Emilia 1 entered the showring. Emilia 1 is a daughter of SonderKollektion 2020 purchase GWH Emilia VG-87. She is backed by 8 generations of EX dams and traces back to Mor-Yet Goldwyn 682 EX-94. The duo from De Wijde Blik were well-matched, but in the end it was Roseanne Red 2 who took the championship title and Emilia 1 was awarded with the reserve title.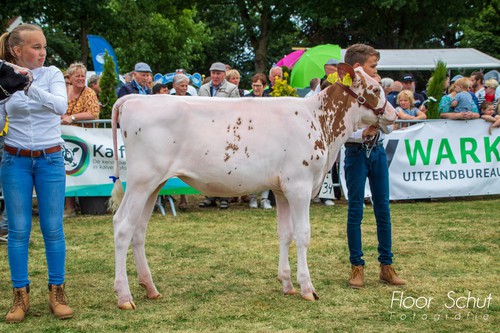 De Wijde Blik Roseanne 2 Red, Freestyle-Red granddaughter of De Oosterhof Dg Rose RDC VG-89.
Shown by Jarn Gunnink.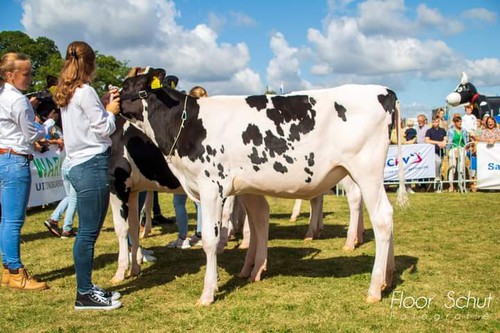 De Wijde Blik Emilia 1 , Davinci out of the Mor-Yet Goldwyn 682 EX-94 family. Shown by Yvon van Ommen
Intermediate Champion Pipi 1, bred and owned by the Schottert-Klein family, is a daughter of the proven bull Willem's-Hoeve K&L Javino. Javino is a Delta Concert son out of a De-Su 11236 Balisto, which traces back to the Javinas of De Biesheuvel. Pipi 1 even managed to take home the cup for Reserve 'Bissende Koe 2022'!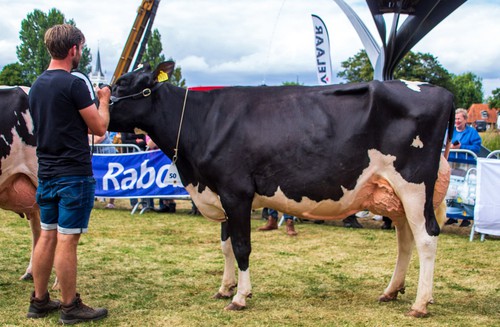 Pipi 1 (s. Javino), Intermediate Champion & Res. Grand Champion
Also in the senior class the Nijman family had some big successes. It was the 4th lactation Big Malki daughter De Wijde Blik Jolein 7 VG-89 (EX-92 DS) who won the reserve title. This very feminal and refined Malki is a daughter of Nijman's crown jewel De Wijde Blik Jolein 5 EX-90, who has won several show titles. For example, the EX-90 Moonboy already won the Grand Championship at this show back in 2017. The Champion of the senior cows and the later Grand Champion (Bissende Koe 2022) was won by a cow which also wears the 'De Wijde Blik' prefix. Title winner is Marlieke VG-87, by Bagolino. Through her VG-86 Shottle dam, the Grand Champion also goes back to the Marie cow family!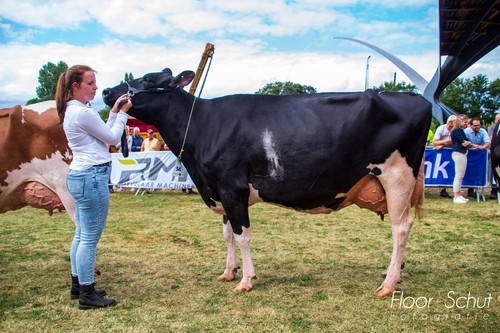 De Wijde Blik Jolein 7 VG-89 (s. Big Malki)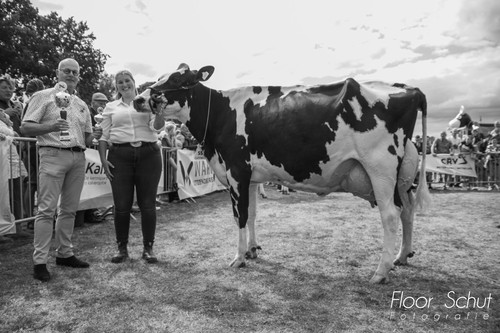 Senior & Grand Champion 'De Bissende Koe 2022': Marlieke (owned by Gunnink)