Hellen & Charity won the heart of the jury during an outstanding local show!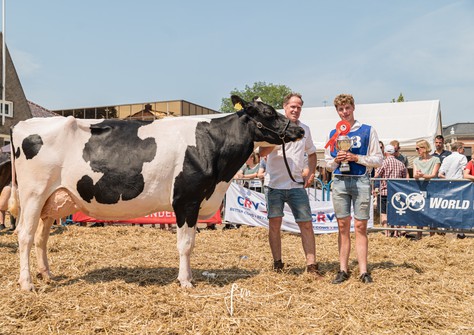 Type
Title winner Mogul Hellen EX-90 with her owners Robert Neppelenbroek & Davy Hendriks
The hot temperatures did not stop the organization and participating breeders let the local Veekeuring Balk 2022 pass through. This was the perfect event for GenHotel member Robert Neppelenbroek to show two of his best show cows of this moment!
The temperatures in the ring were rising. Not only because of the summer temperatures, but also because of the enormous quality that exhibitors managed to show the jury. Neppelenbroek also managed to impress with his two cows. He showed the second lactation Our-Favorite Undenied Het Uilenreef Charity 16 VG-89 and the fourth calver Hellen Mogul, Mountfield Ssi Dcy Mogul x JIMM. Holstein Hellen 589 EX-94.
Just a few weeks ago, the Mogul out of the Hellen family moved her score to EX-90 with EX-91 DS. With Hellen Mogul EX-90, Neppelenbroek now owns the 3rd excellent generation in a row. Hellen also conquered the heart of the jury with her well and high attached udder, great openness and wideness of the ribs. The jury titled her as Senior Championship!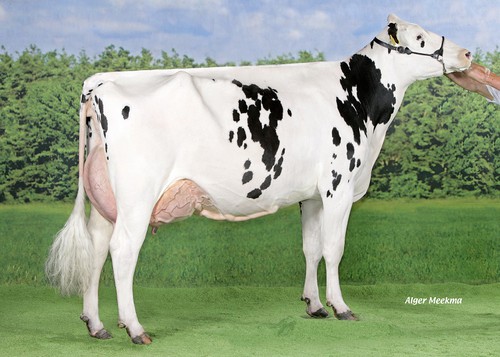 Dam Hellen EX-90: JIMM. Holstein Hellen 589 EX-94
Charity 16 VG-89 is a descendant of the very well-known and impressive A Brookview Tony Charity EX-97 family. She stands at the foundation of the Dutch Giessen Charity branch, to which this Undenied daughter belongs. The three-year-old Charity 16 was already good for a fabulous maximum score of VG-89 (VG-89 FR & MS) during her first lactation. Neppelenbroek got himself a real show-ring dysnasty, because the just two months fresh Charity brought in just one day many honors to her name. This Undenied not only won the Intermediate Championship, but also Best Udder and later that day she even outwon her six-year-old herd-mate Hellen EX-90 during the Grand Championship!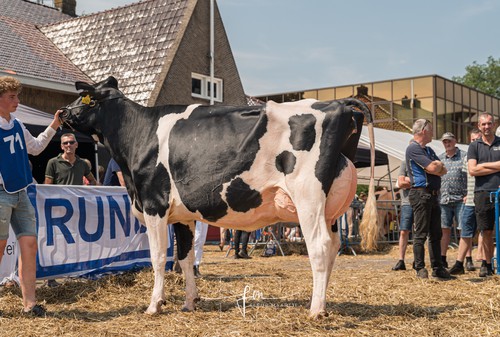 Charity 16 VG-89 (s. Undenied) Grand Champion, Intermediate and Udder Champion Balk 2022
Both winning cows are co-owned with Koevar dairy farm. Together they also showed a very impressive group in the Breeders Herd class: