You can consign your animals now!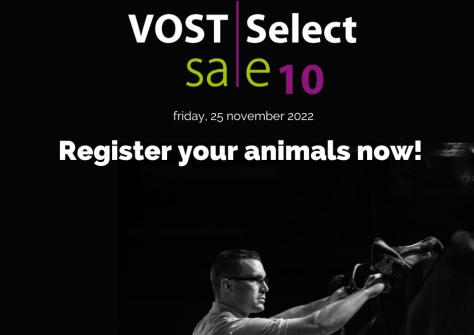 The open auction for top Holstein, Red Holstein, Jersey and Brown Swiss will take place on Friday, November 25th at the Ostfrieslandhalle in Leer, Germany.
On Friday, November 25th 2022, the tenth edition of the VOST Select Sales will take place. As usual, the auction of the sales animals will take place live from 8.00PM and will also be broadcast via live stream via FarmersBid.com.
To make sure this year's sale will be a big success again, we are looking for your high-quality animals from heifer calves to fancy 2-yr-olds. The VOST Select Sale sales team offers you a professional marketing platform with the best advertising opportunities for your genetics, even after the auction!
Use the online registration form (only in German) to consign your animals or contact one of our contacts.
More information about the auction is available on the Facebook page & Instragram of "VOST Select Sale" and of course on our website!