Wilder Baymax-Red number 1 sire in Germany!
The German calculation center VIT has published the August 2021 proofs. After the significant changes to the RZG formula in April, the calculation model is unchanged this time. Most bulls maintained their breeding values well.
Proven sires
In the top 10 RZG active black & white proven bulls, Semino (Silver x Balisto) is again number 1 with 158 RZG, while Casino (Charly x Mardy Grass from the Broeks Betty VG-88 family) debuts with 153 RZG in 2nd place. Aurelian (Araxis x Rubicon) also scores in the top 5 with his first lactating daughters. Kontex, bred by Hof Am Sylvert, a Kerrigan x Commander that goes back to the American brood cow Fly-Higher O-Man Stutter EX-90, achieves with 146 RZG 8th place. Kontex has a beautiful production proof, good health traits and an all-round conformation profile.
Wilder Baymax Red, a Bagno RDC from the Wilder Kanu family bred by Wilder Holsteins, is now the leader of the red & white proven bulls with 147 RZG. His dam is the famous Brekem RDC daughter Wilder K25 Red EX-90. Drouner Effektiv Red, the Red Rocks Effort-Red son of the Drouner Aiko family and bred by the Albring family, manages to maintain himself in the top 3 RZG and is also the highest red & white type bull in Germany: 133 RZE! The highest homozygous polled proven bull is now KNS Apo PP Red, bred by KNS Holsteins, which maintains himself in 6th place. Schreur Argus P Red (Apoll P Red x Fageno), a double Schreur Holsteins breeding product, also maintains himself in the top 10, just like his sire. This means that 5 of the 9 highest R&W proven bulls in Germany are bred by GenHotel members, a fantastic result!
Young sires
Among the black-and-white young bulls, the previous numbers 1 and 2, Foreman and Star P RDC, manage to maintain their position in these places. Camus (Crown x Semino) and Sunrise (Superfly x Rio) immediately start in 3rd and 4th place. Bali son Bender goes this run from 3rd to 7th place, Gladius from 4th to 6. Koepon Camden RDC, a Caudumer Solitair P Red out the Larcrest Cosmopolitan VG-87 family with a very complete and almost flawless profile, knows how to maintain his breeding value well and is one of the highest red carrier bulls in the top young bulls black & white.
Also during the August run, no fewer than 7 of the top 10 R&W young bulls are sons of Caudumer Solitair P Red, and all but one polled. Nevertheless, it is the Rubels-Red son Poppe Flight Red (163 gRZG), who manages to claim the lead, partly due to his excellent scores for udder health (140 gRZS), longevity (130 gRZN) and health (133 RZGesund). Flight Red is a half brother of Poppe Freestyle Red and Swinglook Red, their dam is the great brood cow Poppe Fienchen 1569 Red VG-85. Debuting in 2nd place is Atoll Red, a Koepon AltaTop-Red son out of the Sully Shottle May EX-91 family. The highest Gywer RDC son is now Sanderij Ginger-Red, bred by De Sanderij, who rose to 3rd place with 136 gRZE! KNS Simply Red (Solitair P Red x Styx Red) maintains its place in the top 5 and comes from the D-family of Niermann.
Click HERE for all new August 2021 bull proofs.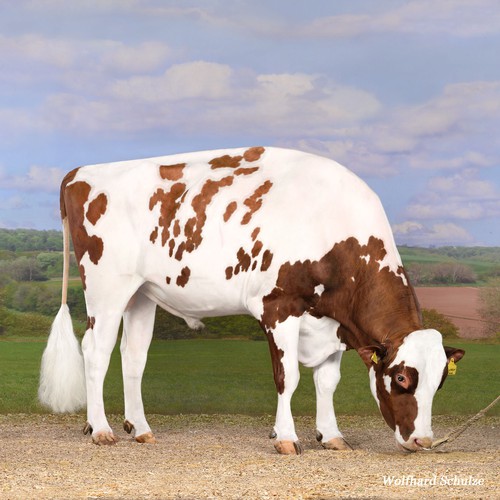 Wilder Baymax Red (Bagno RDC x Brekem RDC), number 1 R&W proven sires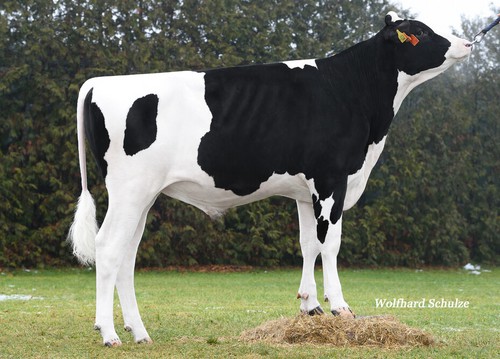 Koepon Camden RDC (Solitair P Red x Imax), heavy used mating sire for R&W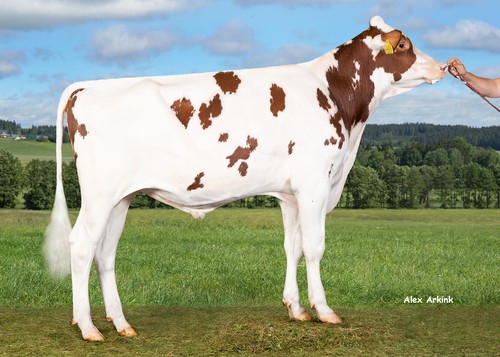 Sanderij Ginger Red (Gywer RDC x Salvatore RDC), now no. 3 R&W young sires