Increasing number of top gTPI females in Europe!
Genomics
De Oosterhof Dg Rose RDC VG-89, 3rd dam of Koepon Zazzle Range 43 RDC
The American genomic proof run in July delivered a good number of European females above 3000 gTPI, with even a topper of 3103 gTPI for the Northern Irish breeders Boghill & Glamour.
After K&L OH Mallory (Kenobi x Granite Mabel) already had 4 Peak AltaZazzle daughters in the top 50 gTPI in June, she also managed to add 3 top AltaZazzle daughters more this month. 3STAR OH Mazzali is with 3050 gTPI the number 1 gTPI AltaZazzle in Europe and with 162 gRZG she also belongs to the highest European daughters of her sire on the German base. Her full sisters 3STAR OH Maddy and 3STAR OH Mazalia rank with resp. 3005 & 2922 gTPI also in the top 50 gTPI in July.
At Koepon Genetics, the Range-Red family is expanding at a rapid pace and at a high level. With 2921 gTPI (just behind her niece Koepon Zazzle Range 30 RDC, 2922 gTPI), Koepon Zazzle Range 43 RDC is the number 2 gTPI red carrier female in Europe. In addition, they are among the highest red carrier AltaZazzle daughters worldwide. Range 43 RDC her K&L Sputnik RDC maternal sister Koepon Sput Range 34 Red is with 2836 gTPI the highest Red Holstein this month, belongs to the top 3 gTPI Red Holsteins in Europe now and is the number 1 gTPI & gLPI Sputnik globally. Their dam is Koepon Swingman Range 2 Red, the worldwide number 1 gTPI Westcoast Swingman-Red daughter for gTPI and gLPI!
Koepon Plinko Ruby 75, descending from the famous Regan-Joy Durham Regenia EX-92 / Koepon Ruby family, is with 2914 gTPI the number 3 Peak AltaPlinko daughter in Europe. Her dam is Koepon Lawson Ruby 25 (AltaLawson x Hotline), which will calve later this year. Herdmate Koepon Money Anita 10, an AltaRealMoney x AltaMilestone from the Pine-Tree Ramos Alexia EX-91 family, is with 2895 gTPI the highest RealMoney in Europe.
For type 2 interesting results for GenHotel members:
- Dairy Cows Moovin Laurie: a +3.26 gPTAT Lindenright Moovin RDC from De Dorre Jordy Laurie RDC.
- Buiteneind 3STAR Wish 2: a +3.07 gPTAT Lindenright Moovin RDC out of K&L King Doc Wilma.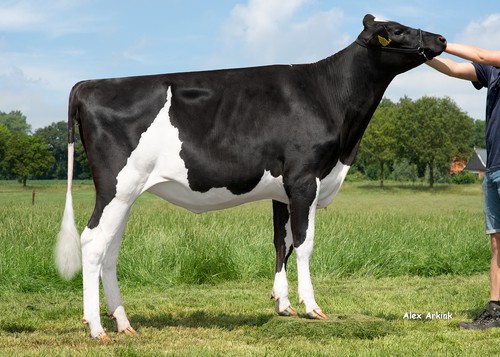 K&L OH Mallory (Kenobi x Granite),
                                         9 daughters over 2900 gTPI, including 3 over 3000 gTPI!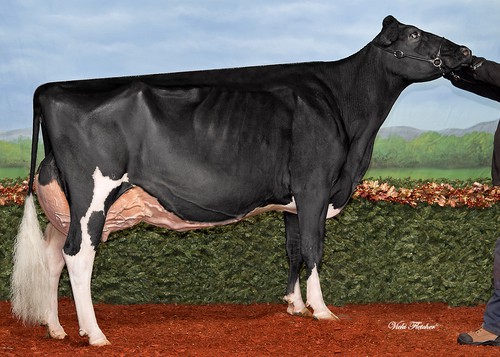 Comestar Lau Damion EX-94, 3rd dam of Dairy Cows Moovin Laurie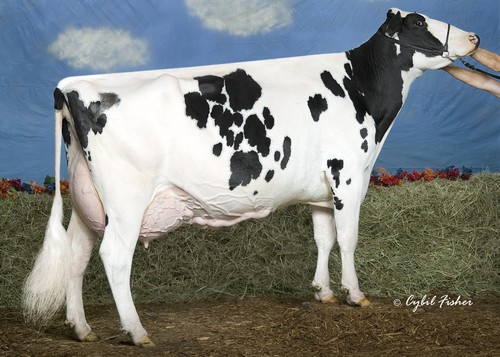 Juniper Outside Wish EX-95, great brood cow behind Buiteneind 3STAR Wish 2