USA genomics of European females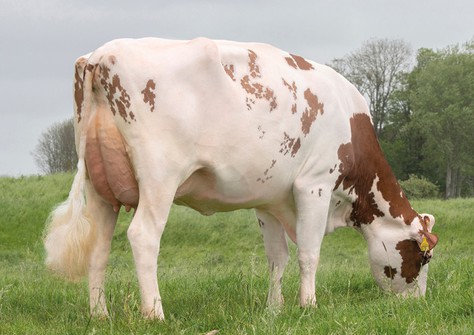 Genomics
Lakeside Ups Red Range VG-86, 5 granddaughters in the top 50 gTPI in April
The American genomics run in April has resulted in quite some diversity of sires of the highest, newly genomic tested females in Europe, with several interesting daughters from Gameday, Mahomes, Parfect, AltaWheelhouse and Ranger-Red.
GenHotel member Koepon Genetics has no less than 6 newly tested heifers in the top 50 gTPI this month, of which 5 descendants of Lakeside Ups Red Range-Red VG-86. The 2 full sisters Koepon Gameday Range 138 and 133, from the recently calved Koepon Altuve Range 6 RDC, score 3038 and 2967 gTPI respectively. Their sister Koepon Parfect Range 136 RF is with 2961 gTPI (and +1.89 PTAT) the highest redfactor Siemers Renegade Parfect daughter in Europe. Koepon Gameday Range 142 RF and 143, from the due to calve Koepon Acura Range 26 RDC, are also well into the top 50 of April with 2922 and 2976 gTPI. With 2988 gTPI, Koepon Gameday Classy 501 (Gameday x Koepon Bliz Classy 481) is now the highest relative of the Koepon Classy's.
Three daughters of 3STAR OH Ranger-Red from Tirsvad K&L Riveting Magnolia are now among the highest Ranger-Red daughters in Europe and even top ranking worldwide. 3STAR OH Magnio RDC is the highest of the three, scoring 2947 gTPI, while half-sisters De Oosterhof 3STAR Magareth RDC and 3STAR OH Magnia RDC are at 2935 and 2904 gTPI respectively. Their granddam Pen-Col Superhero Mistral VG-89 already has 5 sons and several grandsons in AI.
WKF Holsteins also has an interesting Parfect daughter in the barn with WKF Parfect Esther. Esther combines high components with beneficial health traits and also scores +2.04 PTAT with +2.26 UDC, resulting in 2957 gTPI. Her dam, WKF Challenger Estelle is one of the higher Sandy-Valley Challenger daughters in Europe and goed back to the American Ricecrest Southwind Kay VG-87 family via the Italian Royal Idevra Titanic Estate EX-90.
The highest red female in Europe this month is Wilder 02526 Red, a Ranger-Red of Wilder Holsteins with 2907 gTPI. She is now the number 1 gTPI red Ranger-Red daughter worldwide and, as far as is known, also the number 1 gTPI red of all females in Europe. Her dam, Wilder Sarayevo-Red (by Wilder Mark RDC), has recently calved and looks promising. The cow family behind this amazing Ranger-Red is the Apina Massia family. Her herdmate and maternal sister Wilder 02507 RDC (Ranger-Red x Aristocrat), from the American Vir-Clar De Classy VG-88 family, follows her shortly thereafter with 2904 gTPI.
In terms of high type, BWN Carmen is one of the highest scoring calves of GenHotel members this month with +3.68 PTAT & +2.45 UDC. Carmen, owned by BWN Holsteins, is an early Siemers Exc Hanans descendant of Silvermaple Damion Camomile EX-95. Willsbro Lambda Adina 3571, a Farnear Delta-Lambda from Willsbro Holsteins in the UK, from the legendary D-R-A August EX-96 family, is the number 1 Delta-Lambda daughter in Europe with +3.59 PTAT & +2.89 UDC.
Click here for the top gTPI genomic tested females in Europe.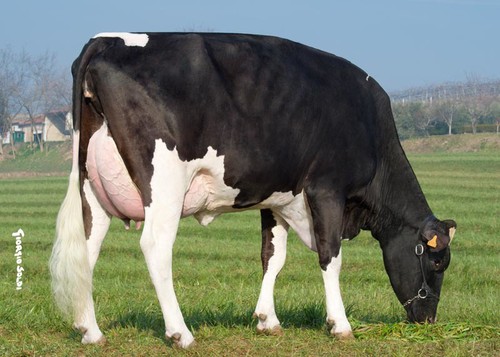 Royal Idevra Eva (s. Active), 6th dam of WKF Parfect Esther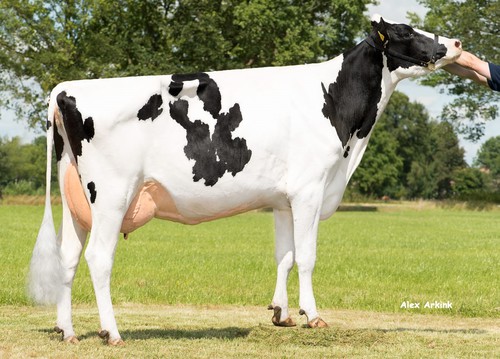 Wilder Sopro RDC VG-85 (s. Profit), 3rd dam of Wilder 02526 Red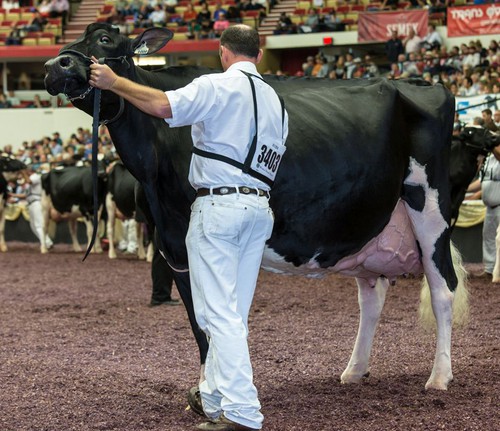 Silvermaple Damion Camomile EX-95, at the World Dairy Expo 2011 in Madison, USA.