GenHotel members deliver top AI sires!
Genomics
Capnation Benello, now number 5 NVI proven sires!
Also in the Netherlands & Flanders, various AI-bulls bred by GenHotel members have received new (genomic) breeding values. Below are some of the many toppers, including a number of top 10 listings!
Black & White
Among the Holstein bulls with milking daughters, the Capnation Holsteins bred Capnation Benello has risen 25 points NVI and is now in 5th place (was 8th place) in the Netherlands and Flanders with 315 NVI. His breeding values for fertility (+2 points) and udder health (+3 points) now result in 857 days of longevity (+142 days). The VH Bernell grandson of K&L Windbrook Emily VG-87 is one of the highest daughter-tested bulls.
Bouw Finder (Balisto x Epic) is also a real durability topper with a lifespan of 972 days and is still in the top 20 NVI with 276 NVI and 6150 lactating daughters. High components, favorable health traits and great feet & legs characterize this, by Bouw Holsteins bred, widely used breeding bull.
Among the young black & white bulls, Midwolder Unlimited, bred by the Van Erp family in Midwolda, makes his debut with 421 gNVI directly in 2nd place. The Rioaveso son from the high producing Midwolder Marjon 199 VG-85 (Magnet x Jett) is an extreme production sire and the only bull above € 700 Inet (€ 709 Inet!). Due to very good scores for udder health and claw health, he is also the highest of all young bulls for longevity (960 days!). Midwolder Mansion (Martin x Simba), coming from the same cow family and breeder, also manages to hold his own and is again in the top 50 young bulls with 346 gNVI, just like Midwolder Martin (Adorable x Penley) with 341 gNVI.
In 15th place is Poppe 3STAR Manpower, a Progenesis Manhattan from Poppe K&L Gorgina (by Pine-Tree Durable) with 361 gNVI. He possesses a great production potential, positive health traits and an udder score of 110. His dam KHE I'm Good VG-87 produced almost 16,000 kg of milk in 305 days as a 2-yr-old and comes from the German Imperial VG-89 cow family. Among the polled bulls, Poppe K&L Sanchez P RDC, a Caudumer Solitary P Red from I'm Good, is one of the higher red factor and polled bulls.
The 2 full brothers 3STAR Bb Clyde and 3STAR Bb Chili score with resp. 353 and 350 gNVI both also in the top 50. The Best Benz sons are from Koepon Keith Classy 452 VG-86, a fantastic uddered GGA Keith daughter of Koepon Bandares Classy 377 VG-85. Koepon Reformer, a Calvin son with 343 gNVI, also comes from the Classy family and from the full sister of Classy 452, namely Koepon Keith Classy 451 GP-84.
At the homozygous polled bulls Schreur 3STAR Sampler PP is one of the highest KNS Simon P sons. His dam K&L BT Nadia P is a Caudumer Batch P daughter, tracing back to the Italian brood cow Bersaglio Mtoto Locanda VG-87.
Click HERE for the April 2022 bull proofs in the Netherlands & Flanders.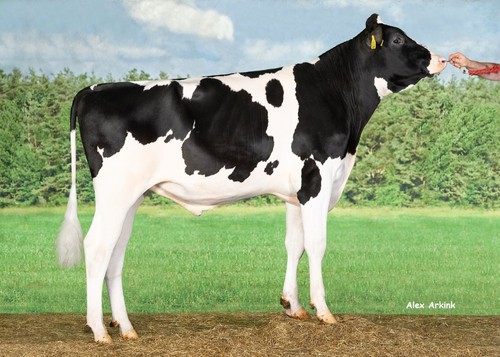 Midwolder Mansion (Martin x Simba), top 20 gNVI high genomic young sires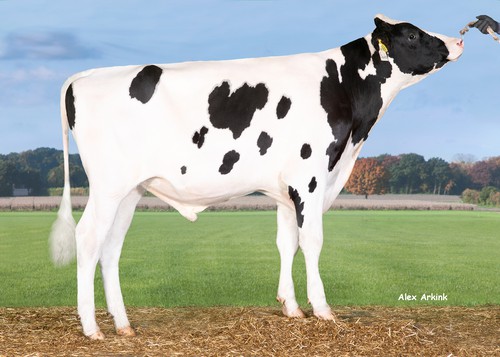 Poppe K&L Sanchez P RDC (Solitair P Red x Gymnast), polled ánd red factor!
Red & White
Where in December 3STAR OH Redback Red was 6th in the rankings, the Rubels-Red son has risen one place in this April proofs with a gNVI of 345. Full sisters of this Redback Red also make their way and breed high (fe)male offspring. Maternal sister BWN 3STAR Sunny Red (by Swingman Red) recently achieved a score of VG-86, she's owned by Wilder Holsteins!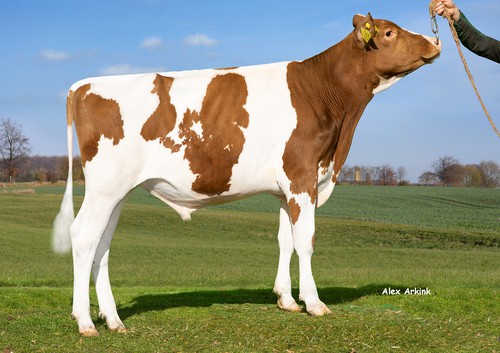 3STAR OH Redback Red (Rubels-Red x Batouwe Ailisha Salva Red VG-85)
In 11th place with 331 gNVI is Visstein K&L Money P Red. The polled Match P RDC from the KHW Goldwyn Aiko RC family rose no less than 10 places and is proven to be the 5th polled sire based on his NVI. This is also reflected in the polled R&W list, which is newly introduced by the Dutch/Flemish herdbook. In this ranking debuts Caudumer Pollux P, bred by the Haytema family. This Delta Jacuzzi-Red from the well-known Caudumer Lol family introduces himself with 304 gNVI. 
Where during the last index turn (12-2021) the maternal-brothers Poppe Freestyle-Red (326 gNVI #16) and Poppe Flight Red (325 gNVI #18) were equally matched, Flight Red (by Rubels-Red) now manages to get ahead of his Gywer RDC brother and rises to the 18th place where Freestyle Red with 312 gNVI slipped to the 22nd place. Their dam (pictured below) is working on her second lactation and will produce 14,741 kgs of milk with 4.80% fat and 3.82% protein in 305 days.

Dam of Flight Red & Freestyle Red: Poppe Fienchen 1569 Red VG-85 (s. Born P RDC)
The R&W progeny proven ranking is richly filled with bulls bred by GenHotel members. For example, the number 2 is Aalshorst Rody-Red (89% reliability & 397 daughters), he's bred by Aalshorst Holsteins. With this, this Riverboy RF son of Aalshorst Geertje 187 RDC VG-85 rose 1 place compared to December 2021!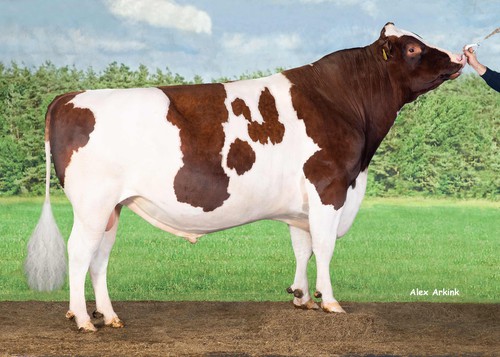 Aalshorst Rody-Red, the new no. 2 proven sire
Schreur Apoll P (Aikman x Lawn Boy Red) drops a few places, but is with 232 gNVI still the number 3 of the polled sires and also the number 3 based on production with 2589 kgs M. Not far behind we find Huntje Holstein Red River, which managed to rose 5 places comparing to december with an NVI of 216. With 114 EXT (114 UI), Drouner Rednex is still the undisputed type leader with now 153 classified daughters in his index!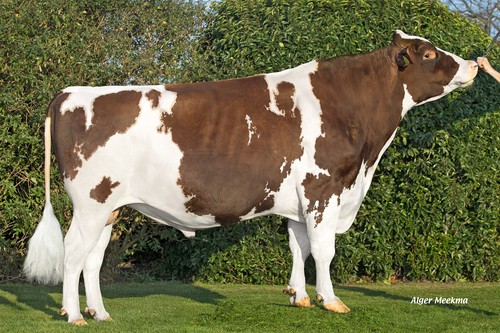 Huntje Holstein Red River (Riverboy Rf x Fraiko)