Top red carrier USA genomic result for Koepon in June!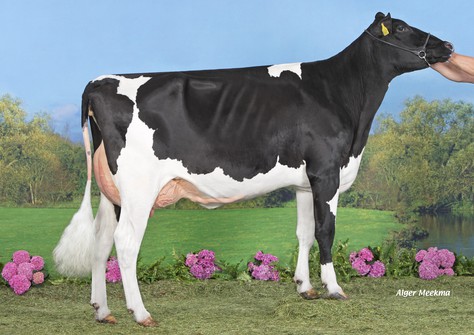 Genomics
Koepon Powerball Doma 5 P RDC VG-85, 4th dam of Koepon Figaro Doma 63 RDC
The USA genomics results of newly tested females in June have been published again by the Holstein Association USA. Cookiecutter Holysmokes had a large share in the highest newly tested calves in May, in June the sire presence in the European top 50 gTPI shows more variation. This month, several daughters of Holysmokes his maternal brother Cookiecutter Hypnotic, Kings-Ransom Dynasty, Plain-Knoll Renegade Trooper and Westcoast Earlybird are also in the top 50 European females.
With 3047 gTPI and 1040 NM, Koepon Figaro Doma 63 RDC is  a very interesting newcomer to the list of newly tested calves in June. Doma 63 RDC is the highest OCD Parfect Figaro in Europe for both gTPI and NM and scores also +2.17 PTAT. In addition, she has the red factor and is the number 2 gTPI red factor in Europe. Her dam is the due to calve Koepon Ski Doma 39 Red, the highest gTPI Westcoast Skiresort RDC daughter in Europe. This dam line goes back to "The Queen of the Breed" Glenridge Citation Roxy EX-97, through various VG and EX generations.
The collaboration between successful breeder De Oosterhof and 3STAR Genetics has also yielded toppers from the K&L OH Mabel line this month, namely 3STAR OH  Matty and 3STAR OH Matahari. These Kings-Ransom Dynasty daughters come from 3STAR OH Mazzali, a Peak AltaZazzle x De-Su Kenobi x Granite Mabel. Matty and Matahari score 3028 and 3002 gTPI and are therefore number 1 and 3 in Europe, with +2.67 and +2.12 PTAT.
The full sister of Mazzali, 3STAR OH Maline, was purchased by WKF Holsteins & Flevo Genetics during the GenHotel Selection Sale 2021 and successfully flushed as a heifer. Her Plain-Knoll Revolution daughter Diekers 3STAR Manar, jointly owned by Diekers Holsteins (Eiting family, Rekken) and 3STAR, is the number 1 Revolution in Europe with 3012 gTPI and 1073 NM. Worldwide she is even the number 3 for gTPI and the number 2 Revolution for NM.
At Wilder Holsteins, the first Progenesis Forward daughter in Europe has received a creditable result.  Wilder 78052 scores 3026 gTPI and 1090 NM, due to a high production proof with favorable health traits. Her dam line goes via AltaZazzle x Aristocrat back to the well-known Danish brood cow Tirsvad Luke Classic EX-90, a daughter of the American cow Vir-Clar DE Classy VG-88.
Two other high ranking Kings-Ransom Dynasty daughters are Willsbro Dynasty Zazzle 5029 and Willsbro Dynasty Zazzle 5027, with 3010 and 3002 gTPI respectively. They also score well for production, management traits, are both above +2.00 PTAT and come (through different dams) from the American Larcrest Cosmopolitan family.
Highest red & white in June is Koepon Kessel Range 210 Red, a Winstar Kessel RDC (Knowhow x Entity), with 2868 gTPI and very favorable health traits. Range 210 Red is via a Sputnik RDC x Swingman a great-granddaughter of the superior brood cow Lakeside Ups Red Range-Red VG-86.
3STAR Petronella RDC, a Peak Rover from the well-known American cow family of Bomaz Holsteins, is with 2947 gTPI also one of the highest red factor animals this month. On the German base, she even scores a sky-high 157 gRZG (= 164 gRZG RB base), which of course makes her very interesting internationally.
Several type toppers of GenHotel members this month:
BWN Camillia 1, +4.11 PTAT (Fitters Choice x Thunder Storm, Silvermaple Damion Camomile EX-95 familie)
Rhala Barbie Pincers, +3.56 PTAT (Peak Hammer x Arrow x Doorman x Butz-Butler Gold Barbara EX-96)
Rhala Barbie Chisel, +3.50 PTAT (Peak Hammer x Arrow x Doorman x Butz-Butler Gold Barbara EX-96)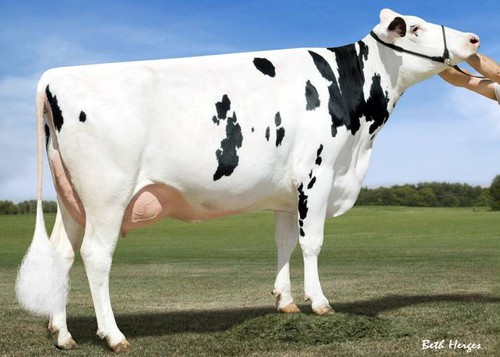 Larcrest Carlin VG-87 (s. Robust), 6th dam of Willsbro Dynasty Zazzle 5027 and 5029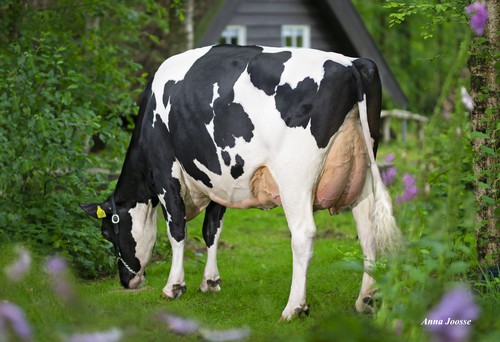 De Oosterhof Dg Rose RDC VG-89, 4th dam of Koepon Kessel Range 210 Red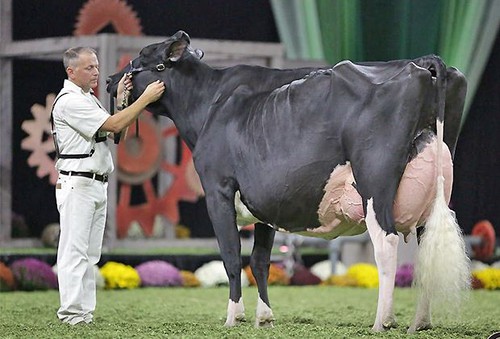 Butz-Butler Gold Barbara EX-96, 3rd dam of Rhala Barbie Pincers and Chisel