Poppe delivers the no. 1 gNVI R&W female again!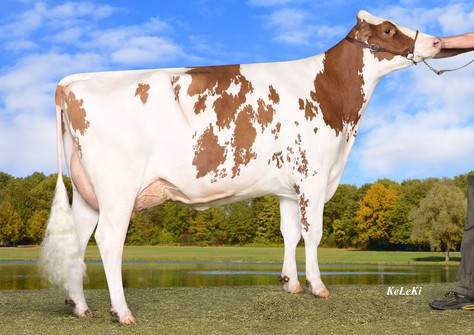 Genomics
Wilder Saturn P Red VG-88, dam to Sally Red VG-85
The story of the new number 1 gNVI red and polled, Poppe Sascha P Red, starts for Poppe Holsteins three generations back ago and almost four years ago with the purchase of Mission P RDC daughter Wilder K&L Sally Red. This big RZG and NVI transmitting Mission daughter, from the well-known Massias, also provided the former number 1 gNVI red female (4-2021) Poppe Sanne Red, the now 2.5-year-old Delta Eloy daughter, also bred by Poppe.
Sascha P Red, now one and a half months old, tests 381 gNVI with an tremendous amount of milk, 593 INET and 653 days longevity. She is a polled heifer by Delta Warren P out of Poppe Salina RDC GP-84 (by Yoda), the full sister of Poppe Simone RDC GP-84 - dam to the latter mentioned Sanne Red. In four generations they trace back to the purchase Sally Red, which has bred three daughters. Dam of the new number 1 gNVI red and polled, Poppe Salma RDC, is sired by the Dutch Midwolder Martin which is currently the number 9 progeny proven B&W sire on NVI. Salma RDC is pregnant with Delta Vulcano P and will calve for the first time in July.
The now third lactation Wilder K&L Sally Red VG-85 is a huge milk producer with an average 305-day lactation of 17,114 kgsM with 3.48% fat and 3.28% protein. As a 2-yr-old, the Eloy daughter was awarded with VG-88 for her Mammary. The third, and also youngest daughter from Sally Red, calved last week and looks promising just like her GP-84 Yoda sisters!
The Apina Massias, the cow family behind these genetic top heifers, also supplied Sanderij Massia Sneeuwwitje RDC VG-89, Wilder Saturn P Red VG-88 and the sires Red Rocks Mask Red, Backup Red, Born P RDC & Dairy P Red. With the NVI toppers Sanne Red and Sascha P Red, the breeding power of this line is strongly emphasized. At the moment, with an NVI of 323, the pregnant Poppe Sanne Red still belongs to the top 50 in the Netherlands & Flanders.
There are embryos available now from this very successful cow family. Click here!
Source for NVI proofs: CRV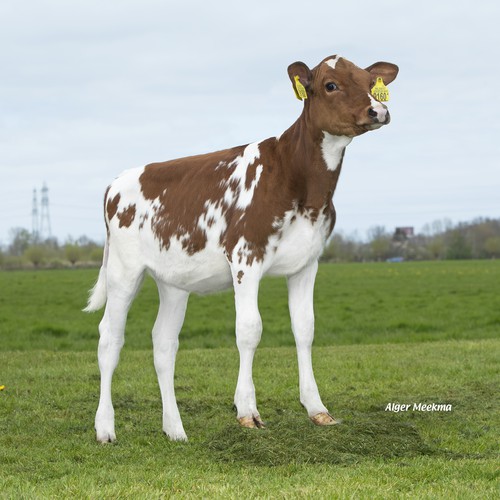 Poppe Sanne Red (s. Eloy) pictured as a young heifer calf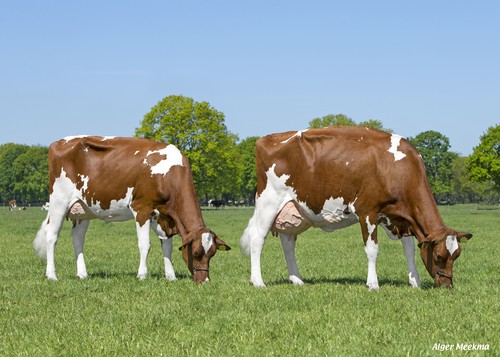 Same cow family: Red Rocks Massia 155 VG-86 + Massia 128 VG-86, dam & grand dam to Mask Red