Great round of scores for members of influential cow families at Koepon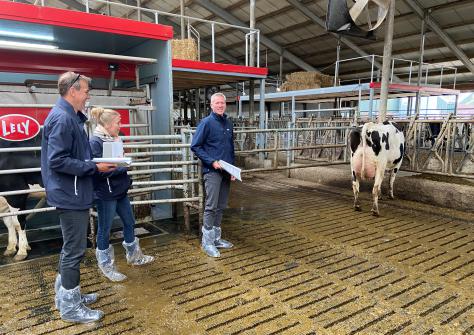 General
Koepon Altuve Range 7 RDC, re-classified at 1.5 months fresh
In the run-up to the Koepon Summer Sale, Koepon introduced a group of more than 30 cows to the herdbook classifier. In addition to a large group of 2-year-olds, several cows were also shown for a re-classification, including some big names within the top (Red) Holstein breeding.
The Koepon herd, in which matings and mating sire choices are based on gTPI profiles in particular, has led to many successes within Holstein breeding for already several years. Not only did Koepon deliver numerous bulls to AI-studs, also the females in the herd made a big genetic improvement, partly due to the purchase of Lakeside Ups Range Red. Not only the genomic scores prove the potential of this herd, also the phenotype has been confirmed again this classification round.
Highest scored is the second lactation Koepon Swing Range 16 Red, a Westcoast Swingman Red directly from the super brood cow Lakeside Ups Red Range VG-86, the dam of 3STAR OH Ranger-Red and Koepon Sirius P Red (no. 1 gRZG red). The VG-88 scored 2-yr-old Range Red daughter calved again in February and quickly rose to a production of almost 49 kgsM per day. So far, 25 offspring from the Swingman have been bred of which five daughters were sold at the Koepon Summer Sale of 2022! The classification resulted in a great VG-89 with VG-89 for Mammary. Highest testing daughter from Range 16 Red is an Rmd-Dotterer Ssi Gameday, namely Koepon Gameday Range 122 RDC with 2889 gTPI and 147 gRZG. 
Well-known brood cow and also maternal sister of the VG-89 scored Swingman-Red, Koepon Altuve Range 7 RDC, was given the opportunity this day to increase her score from VG-86 to VG-87 after calving for the second time 1.5 months ago. Range 7 RDC has bred three sons that were sold to various AIs, including Star P RDC son Koepon Sideshow-P-Red @Genex. This Peak AltaAltuve RDC from the Global Red Impact Cow Range Red is currently climbing up to a daily production of almost 70 kgM, and  is projected at 13.873 kgsM with 3.94% fat and 3.40% protein. Range 7 RDC her first daughters by Peak AltaReal Money have also just freshened for the first time and look promising. Also the 162 gRZG and 2834 gTPI scoring daughter Koepon Star Range 93 Red (by Star P RDC) is now being flushed.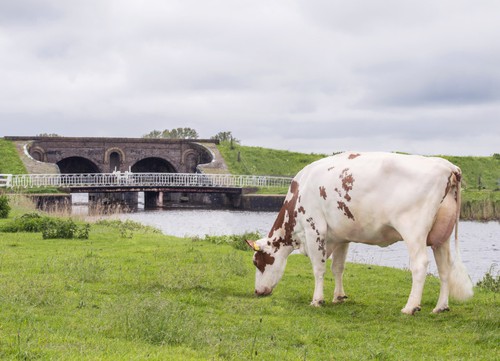 Dam and influential brood cow Lakeside Ups Red Range VG-86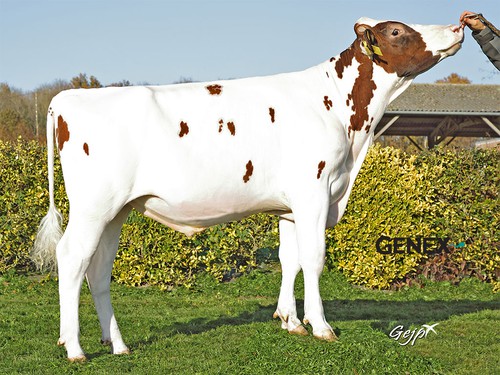 Koepon Altuve Range 7 RDC's son Koepon Sideshow-P-Red
A wonderful VG-87 points was also given to the first calver and early Westcoast Stamkos RDC daughter Koepon Stam Regenia 27 Red. The red Regan-Joy Durham Regenia EX-92 descendant is a daughter of the former number 2 NVI Manana Red, Koepon Man Regenia 266 Red, and also scored max. 89 points for Frame and Dairy Strength. In addition to Regenia 27 Red VG-87, the full sisters Koepon Stamkos Adeline 1831 RDC and Koepon Stamkos Adeline 11 Red classified respectively VG-86 and VG-85. The Stamkos RDC daughters come from the Kamps-Hollow Durham Altitude RDC EX-95 cow family and are the 10th generation VG/EX in a row.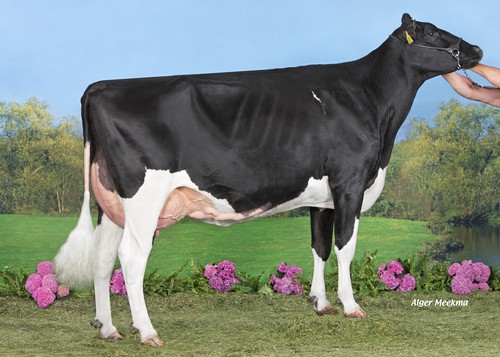 Great granddam Koepon Tango Adeline RDC VG-89
From the strong breeding Koepon Duke Ruby 14 VG-85, daughter Koepon Topmodel Ruby 59 by Topmodel was good for VG-87 and max VG-89 for Frame already in her first lactation. Granddam is multiple bull dam Koepon Ruby Ann, which was exported to the UK in 2019. She delivered, among others, international mating sire Peak AltaZarek and the German proven sire Tosco (both by AltaTopshot).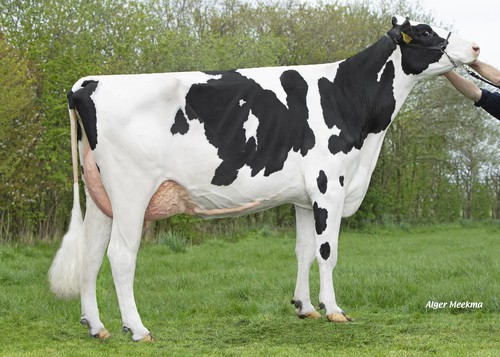 Dam Koepon Duke Ruby 14 VG-85
The in eighth lactation Koepon Uno Denise 31 was the icing on the cake with VG-88 and EX-90 MS. With a lifetime production of 98,000 kgsM, the 10-year-old Numero Uno daughter has what it takes to become soon the next 100,000 kgsM cow at Koepon. Through fifth dam Regancrest Debbie-Jo EX-92, Denise 31 VG-88 descends from the great Snow-N Denises Dellia EX-95!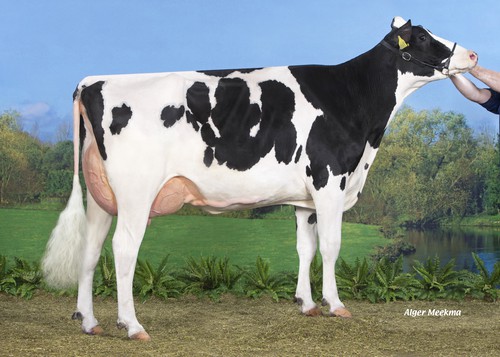 Koepon Uno Denise 31 VG-88 as two-year old
The Koepon Summer Sale 2023 will take place on Friday June 30th at 2.00PM
online via FarmersBid.com. Click here for more information.
Don't want to wait? Invest in the Koepon Range branch right now!
Go to the GenHotel Embryo Sale.
Name

Sire
Dam

Col

Lact

FR

DS

MS

FL

TOT

Swing Range 16 Red

Swingman-Red

Red Range VG-86

R

2

88

89

89

88

89

Uno Denise 31

Numero Uno

Jeeves Denise 8 VG-86

B

8

88

88

90

85

88

Goldchip Claudia

Gold Chip

Book Claudia 19 EX-90

B

3

89

90

87

88

88

Stam Regenia 27 Red

Stamkos RC




Regenia 266 Red n.c.

R

1

89

89

84

87

87

Altuve Range 7 RDC

AltaAltuve RDC

Red Range VG-86

B

2

85

86

87

87

87

Topmodel Ruby 59

Topmodel

Duke Ruby 14 VG-85

B

1

89

88

87

86

87

Top Regenia 272 Red

AltaTop-Red

Man Regenia 266 Red n.c.

R

1

86

83

88

84

86

Timber Ruby 43

Timberlake

Sound Ruby 15 GP-82

B

2

84

88

89

83

86

Unix Feikje

Unix

Goldchip Feikje EX-91

B

1

87

88

88

84

86

Stamkos Adeline 1831 RDC

 

Stamkos RC

Adeline 5 Red VG-86

B

1

88

86

88

84

86

Ronald Adeline 14 RDC

Ronald RC

Adeline 5 Red VG-86

B

1

84

82

88

84

86

 Zazzle Classy 492

AltaZazzle

Gari Classy 461 VG-86

B

1

84

84

86

87

86

Stamkos Adeline 1832 Red

Stamkos RC

Adeline 5 Red VG-86

R

1

87

84

84

85

85

Top Classy 492 Red

AltaTop-Red

Labl Classy 203 VG-86

R

1

83

85

87

83

85

Spirit Range 35 Red

Spirit RDC

Altuve Range 5 Red n.c.

R

1

82

84

87

84

85

Random P Lisa

Random

Answr P Lisa 11 VG-85

B

1

86

85

83

87

85

Austad Ruby 68

Austad

Lawson Ruby 22 VG-86

B

1

82

87

88

83

85

Koepon Ruby 69

Austad

Lawson Ruby 25 VG-85

B

1

83

87

87

83

85

Zazzle Range 57

AltaZazzle

Date Range 10 RDC GP-84

B

1

86

87

86

83

85

Appre P Doma 13

Apprentice RDC

Pbal P Doma 5 P RDC VG-85

B

4

83

86

86

83

85