New gTPI toppers for Diepenhoek & WKF Holsteins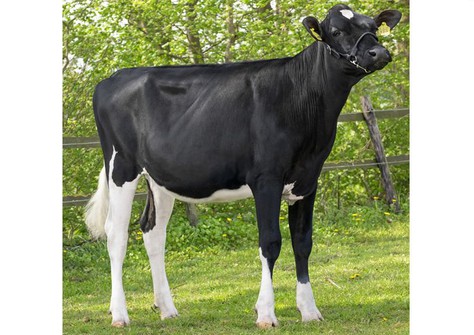 Genomics
3STAR OH Martini, fantastic Einstein out of the very successful Mabel family
During the USA September genomic run, several females from GenHotel members Diepenhoek Holsteins and WKF Holsteins reached the top 50 gTPI in Europe this month.
At Diepenhoek Holsteins this concerns 2 full sisters, namely Diepenhoek 3STAR Mabel and Diepenhoek 3STAR Tual, with respectively 2996 and 2951 gTPI. Both are daughters of Peak AltaWheelhouse out of 3STAR OH Martini, the fantastic Silverridge V Einstein daughter of K&L OH Mabel, at Southland Holsteins. Martini is due to calve this autumn and looks very promising.
Beerzedal 3STAR Minka 4, a result of the 3STAR Embryo Program and jointly owned with Beerzedal Holsteins, is a daughter of Wet Acura Maximus (Acura x Matters). With 2987 gTPI, she is the number 1 gTPI Maximus worldwide. Her dam is a high producing Pine-Tree-I Pursuit daughter from the successful Seagull-Bay O-Man Mirror VG-86 family.
WKF Holsteins also has an interesting newcomer in the herd with WKF Conway Emma. Emma scores 2966 gTPI, making her the number 3 gTPI Conway in Europe. She combines high levels with favorable health traits and +2.21 UDC. Her dam, WKF Challenger Estelle is one of the higher Sandy-Valley Challenger daughters in Europe and traced back to the American Ricecrest Southwind Kay VG-87 family via the Italian Royal Idevra Titanic Estate EX-90.
At Koepon Genetics, Peak AltaMagnifique daughter Koepon Magni Range 167 RDC is a newly tested topper. With 2957 gTPI, this redfactor granddaughter of the Global Red Impact Cow 2021 is one of the highest AltaMagnifiques in Europe. Range 167 RDC is also the highest redfactor female in September in Europe.
Highest for gTPI of all reds this month is 3STAR TDB Red Flower Red, an Aprilday Ron Trumpet-Red out of 3STAR Ranger-Red's full sister, 3STAR OH Red Rosy Red. Flower Red, jointly owned by Thomas De Brabander, De Oosterhof and 3STAR Genetics, scores 2842 gTPI and is the number 1 gTPI Trumpet-Red in Europe and number 2 gTPI red Trumpet worldwide.
Worth mentioning in the type segment is certainly Willsbro Mooi Atlanta 4153 Red, a Mr Aija Mirand Mooi P RDC daughter from Panda Tacktik Atlanta RDC VG-87 (Tatoo x McGucci), tracing back to Kamps-Hollow Durham Altitude RDC EX-95. Atlanta Red scores no less than +4.07 PTAT with +3.32 UDC and belongs to the absolute top Red Holsteins for conformation worldwide!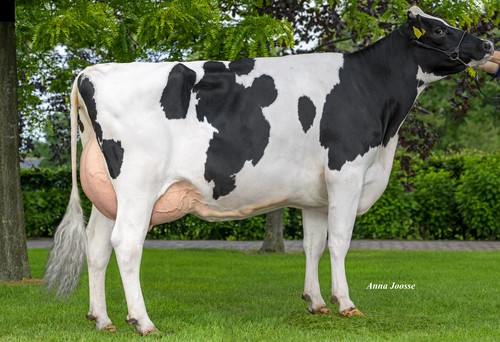 3STAR OH Minka (s. Pursuit), dam of Beerzedal 3STAR Minka 4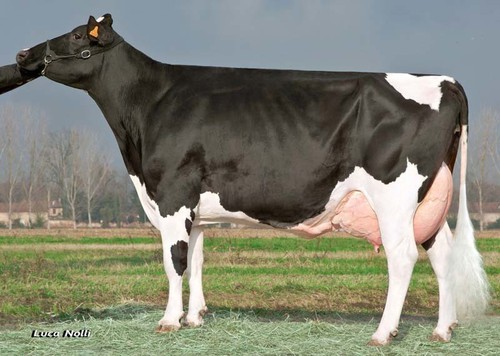 Royal Idevra Titanic Estate EX-90, 7th dam of WKF Conway Emma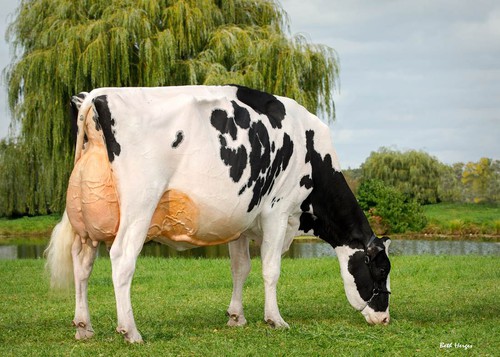 Farnear-TBR Aria Adler RDC EX-96, same family as Willsbro Mooi Atlanta 4153 Red