Full sister of the world's no.1 bull Ranger Red pictured!
Meanwhile, the Rubels-Red son from the Red Impact Cow of 2021 has been the absolute leader for several proof runs in a row now. 3STAR OH Ranger-Red scores 3823 gLPI, 2893 gTPI, 826 gPLI, 1667 gISET and 159 gRZG! He remains undefeated in no less than four systems. Besides several sons, Lakeside Ups Red Range VG-86's daughters are also successfully working on their way to the top. 
The first daughters of the VG-86 Mr. Salvatore at Koepon Genetics have been in milk for some time now. This includes full sisters of the number 1 red genomics bull, one of them is 3STAR OH Red Rose - a great result of the 3STAR Breeding Program. Red Rose was flushed several times by sires such as Koepon Camden RDC, ZFZ Crisalis RF, Drouner K&L Augustus P Red and Aprilday Ron Trumpet-Red. Topper Waldclass 3STAR OH Red Rose 6 RDC (Crisalis Rf) with 155 gRZG, 1623 gISET and 4325 gPFT was born and is one of the highest scoring (RDC) daughters of Red Rose! Meanwhile, the Rubels daughter calved 3 months ago and was recently photographed!
This month the highest gTPI of all red-and-whites is 3STAR TDB Red Flower Red, an Aprilday Ron Trumpet-Red from the full sister of the pictured 3STAR OH Red Rose, 3STAR OH Red Rosy. Flower Red, jointly owned by Thomas De Brabander, De Oosterhof and 3STAR Genetics, scores 2842 gTPI and is the number 1 gTPI Trumpet-Red in Europe and number 2 red Trumpet worldwide! Also from this cow family we find Koepon Gameday Range 138 (Gameday x AltaAltuve RDC x Red Range VG-86) in the European top gTPI. She scores no less than 3039 gTPI and 1053 NM$! In addition, Range 138 tests a whopping 157 gRZG, high health traits and 127 gRZE. 
The Red Impact Cow of 2021 - Lakeside Ups Red Range VG-86 - has also been nominated for the title Global Cow of the Year in Holstein International's September edition. You can vote for this multiple bull dam until September 23rd!

Dam: Lakeside Ups Red Range VG-86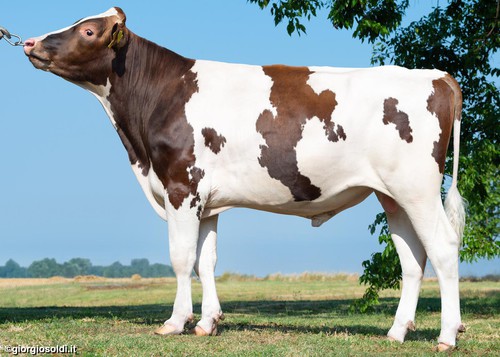 ​3STAR OH Ranger Red, number 1 R&W sire globally!