Hedra- and Roubos Holsteins shimmer at Jongveekeuring Kromme Rijnstreek
Type
Winning herd group of Hedra Holsteins!
Participating members Hedra Holsteins and Roubos Holsteins brought youngstock as well as milking 2-year-olds to the Jongveekeuring Kromme Rijnstreek. Both breeders competed strongly in both categories.
Junior calves
There was a strong performance of Delta Jawline PP-Red daughter Hedra Froukje 1548 P RDC of Hedra Froukje 1279 VG-86. The polled Mars Froukje descendant was chosen as clear class winner. The jury even declared her as Reserve Champion of the heifer calves. Froukje 1548 P RDC has a maternal brother at CRV and her Delta Launch PP-Red sister Hedra Froukje 1541 P RDC ranks with 367 gNVI in the top NVI B&W.
In the same class as the latter reserve champion was placed RH Mvn Tiffany RDC in second position. A direct Lindenright Moovin RDC daughter from Arethusa Sid Tess EX-92! The well developed maiden heifer was purchased by Roubos Holsteins as an embryo and is only one of the few offspring from this stunning cow in Europe.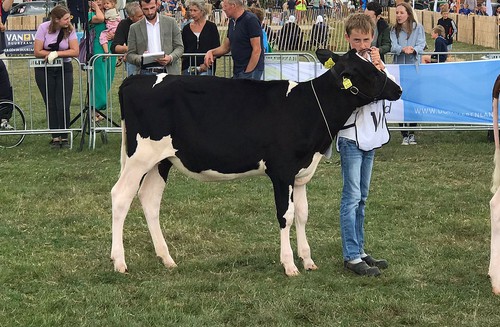 Hedra Froukje 1548 P RDC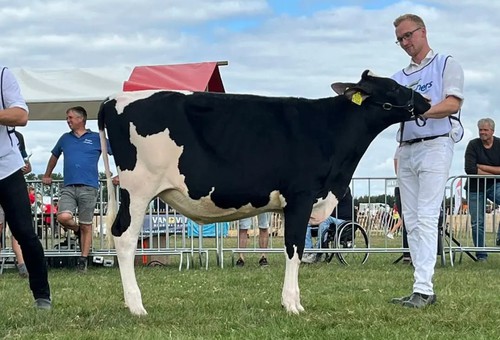 RH Mvn Tiffany RDC
Heifers
Hedra Rita 1401 Red, a Delta Powernap-Red from the Rita's of Willem's-Hoeve Holsteins, took the championship at the yearling category. Due to her great feet & legs and perfect balance, she managed to finish ahead of the Reserve Champion, a Maple-Downs-I GW Atwood.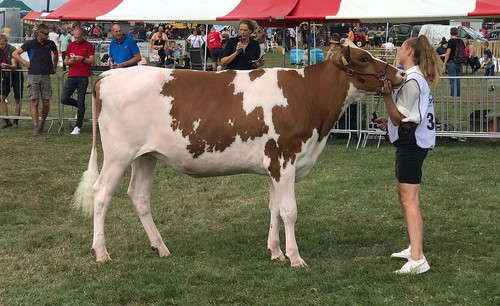 Hedra Rita 1401 Red
Milking 2-year-olds
For Red Holstein breeder Roubos there was a 3rd position for R&B Wr Maxima Red. Maxima Red is one of the five Mr Blondin Warrior-Red daughters from ViG My Love Red VG-86, co-owned with Batouwe Holsteins. Her full sister R&B Wr Melanie Red was placed 4th.
In the next class, the flawless Hedra Massia 1127 VG-88 (by Delta Assist) took the lead and Lowlands Trust daughter Hedra Remarlinda 1124 VG-87 followed her by taking the second position. Remarlinda 1124 VG-87 is the 8th generation in a row with VG/EX and comes from the family of Delta Saxobeat, Delta Bookem Danno and Delta Atlantic. This duo from Hedra Holsteins won the Championship and Reserve Championship Milking Heifers.
The red heifer Hedra Rita 1401 Red was named Grand Champion. The Reserve is herd mate: Hedra Massia 1127. 
Ongoing success for both breeders during the class of herd groups. Six dairy farms participated. Roubos Holsteins took a third position and it was again Hedra Holsteins who won the prestigious title.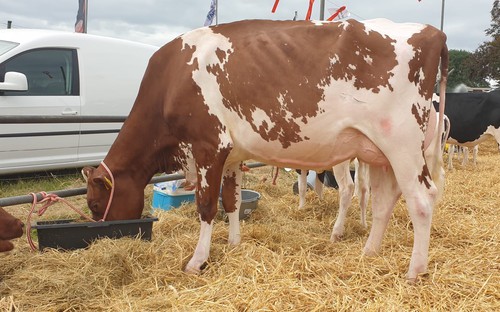 R&B Wr Maxima Red