Genomic run USA delivers new top females!
Genomics
Cookiecutter Mom Halo VG-88, 5th dam of Koepon Zemini Hilite 6
The October genomic run in America has again delivered several interesting new toppers for, among others, GenHotel members Wilder, Koepon, Hurkmans and Zandenburg Holsteins. The sires in the top this month also show a lot of variation, with daughters of a.o. Progenesis Monteverdi, Progenesis Mahomes, Peak AltaMagnifique, Siemers Brave and Westcoast Lambeau.
One of the highest Monteverdi daughters in Europe is Wilder 75534, with 2981 gTPI and from the high producing HIN Mogli EX-90 family. With +0.31% fat and 124 lbs fat, she is one of the highest females on the American basis in Europe.
Koepon Genetics again has a number of welcome additions, such as Koepon Zeolite Ruby 91 (by AltaZeolite) with 2964 gTPI, Koepon Zemini Hilite 6 (by AltaZemini) with 2958 gTPI and Koepon Zooty Carmen 15 (by Peak Zooty) with 2935 gTPI. These calves come from successful American cow families such as Regan-Joy Durham Regenia EX-92, Cookiecutter Mom Halo VG-88 and Larcrest Cosmopolitan VG-87.
Hurkmans ET also has offspring from the Larcrest C family in the top 50 gTPI in Europe this month, namely THE Gardner Chaga and THE Sinan Cola. These are daughters of Pine-Tree Gardner and Sandy-Valley R Conway, respectively with 2939 and 2909 gTPI. Their dam HET Cr Chalice, the number 1 gNVI Regan-Danhof Copyright in the Netherlands and Flanders, calved in September and is off to a promising start.
At Southland Holsteins, Southland 3STAR OH Marije is now the genomic topper of the herd with 2935 gTPI. Marije combines high components with very beneficial health traits and +2.08 UDC. Her dam 3STAR OH Martini calves soon and looks very promising. Martini is a Silverridge V Einstein out of the amazing breeding cow K&L OH Mabel.
Zandenburg Gameday Wanja and Zandenburg Maxim Diamond also manage to reach the top 50 gTPI females of October. They score 2915 and 2913 gTPI respectively and are offspring of To-Mar Wayne Hay EX-90 and Glenridge Citation Roxy EX-97.
Drouner 3STAR Clary 1928 RDC is one of the highest red factor animals in October. Clary is a 3STAR OH Ranger Red (with 2892 gTPI) from the well-known Koepon Classy family, which also supplied the top breeding bull Koepon Beatclub (147 RZG with 133 RZE!). Her dam Drouner 3STAR Clary 1730 (Crimson x Imax) has calved this summer and has already 2 milkrecordings over 40 kgs/day.
Highest European red & white this month is 3STAR OH Sonnet Red, an Aprilday Ron Trumpet Red from 3STAR OH Sunnyside Red. With 2861 gTPI she is also the number 1 gTPI Trumpet in Europe and the number 2 gTPI red & white Trumpet worldwide! Also the number 2 gTPI red this month, R&B Ranger Airene Red, was bred by GenHotel members, namely Roubos and Batouwe Holsteins. Airene Red (mgd. AltaTop) scores 2840 gTPI, possesses superior health traits and goes back to the legendary brood cow Kamps-Hollow Durham Altitude RDC EX-95.
New type toppers this month: Willsbro Choice Amber 4248 (by Fitters Choice, +4.35 PTAT) and Willsbro Fit Choice Frieda 4271 (by Fitters Choice, +4.00 PTAT).
Click here for the top 50 gTPI females in Europe this month.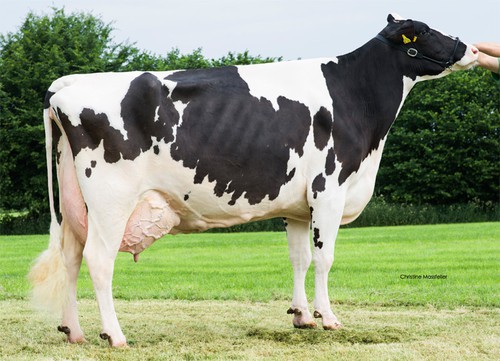 HIN Mogli EX-90 (s. Bookem), 5th dam of Wilder 75534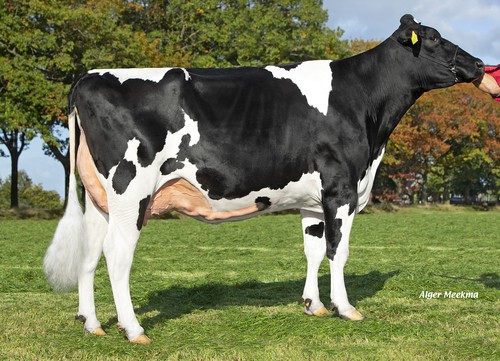 HET Adora Chanel VG-85 (s. Adorable), 
                                        granddam of HET Gardner Chaga and HET Sinan Cola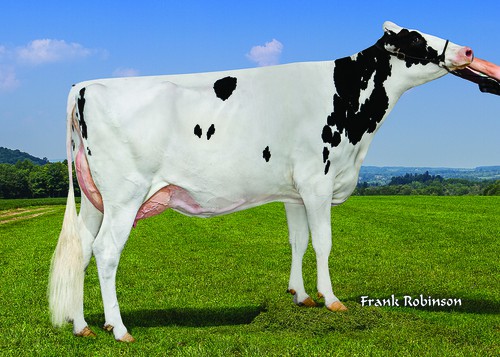 TJR McCutchen Diamond EX-92, 4th dam of Zandenburg Maxim Diamond