Multiple top 10 NVI rankings for GenHotel members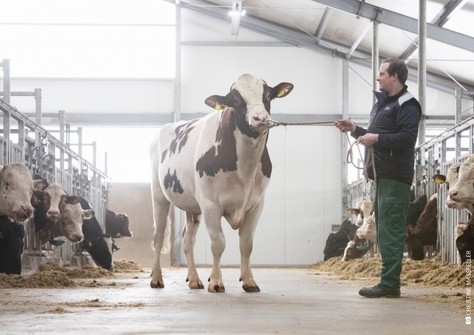 Genomics
Caudumer Solitair P Red, again no. 1 R&W Interbull
The last proofs of the index week of August 2022 are those of Netherlands & Flanders. These lists feature several bulls bred by GenHotel members, including quite a few top 10 hits!
Polled
From April 2022 on, Coöperatie CRV releases a special NVI list for polled bulls. In the top 10 of the R&W polled bulls is the three-year-old Visstein K&L Money P Red placed 6 with 321 gNVI. The Tirsvad Match P RDC son transmits a lots of milk and super mammary systems (112 UI). His dam is the well developing third calver Visstein K&L SV Aderina Red VG-88.
R&W Genomic bulls
The number 1 of the April index run, popular sire of sons DG DV Rammstein (392 gNVI 8-2022), makes way for Delta Borax-Red with 392 gNVI. The new number 1 RZG of Germany, Red Rocks Mask Red, also strongly debuts in NL/FL at a 5th place with 371 gNVI. With 356 gNVI & 615 gINET, the by CEH Holsteins bred CEH Spotlight (by K&L Sputnik RDC) is not just the number 2 based on his INET, but also throws high eyes due to his 8th place in the gNVI ranking. Second highest milk sire (+3499 kgsM) is THI Tasty RDC's Grando Red son 3STAR Poppe Tiger Red, bred by Poppe Holsteins & GenHotel. In the ranking we find him in place 21st with 323 gNVI just behind Visstein 3STAR Gavino Red, a grandson of Willsbro K&L Nugget Aderyn RDC VG-86 @Xenetica Fontao.
Proven R&W sires
The number 1 NVI sire on the R&W daughterproven list is still Delta Jacuzzi-Red (297 NVI). His NVI increased 4 points compared to April. In a shared 3rd place is Aalshorst Rody-Red (408 daughters) with 277 NVI, bred by Aalshorst Holsteins. The Riverboy RDC son from Aalshorst Geertje 187 RDC VG-85 has already been in the top five for 4 times in a row! A little further down the list we find with 220 NVI the number one homozygous polled sore K&L LZ Conan PP Red (by Lazar P). Even though only 26 daughters are milking in the Netherlands, in the United Kingdom he was intensively used, since he is a former number 1 R&W gPLI bull. His high 422 PLI (8-2022) makes him the highest daughterproven red PP bull in the United Kingdom for some time now. Drouner Rednex (Effort Red x Freddie) maintains his total type index of 114 EXT with 114 UI (mammary) and is herewith still the highest type sire!
Caudumer Solitair P Red is still frontrunner in the R&W Interbull ranking. He is still well ahead of the number 2 with a score of 265 NVI  based on 201 compared to 38 milking daughters in April.  Earlier this week you could already read that the Mr Salvatore RDC son, bred by Caudumer Holsteins, debuts at a 2nd place in the list of daughter proven sires in Germany. Just behind Solitair P Red at a 3rd position is Schreur Argus P Red, bred by Schreur Holsteins. The bull follows the footsteps of sire Schreur Apoll P, a former number 3 NVI bull. Argus P Red scores 239 NVI. 
| | |
| --- | --- |
| | |
| CEH Spotlight @RUW | 3STAR Poppe Tiger Red @Xenética Fontao |
| | |
| --- | --- |
| | |
| Drouner Rednex @KI Kampen | Schreur Argus P Red @RSH |
B&W Genomic bulls
New leader is at the young sires is Delta Encourage, a 448 gNVI scoring sire by Bush-Bros Fragrant. Midwolder Unlimited, who debuted in April drops one place with 411 gNVI, but still remains the highest longevity bull with +973 days (increase of 73 compared to April) and the number 2 gINET with 697. Risen from place 15 to place 13 is Poppe 3STAR Manpower (Magic Bull @RUW), a Progenesis Manhattan from Poppe K&L Gorgina. He confirms his position by rising no less than 9 points gNVI and thus goes to an total index of 370 gNVI.
Proven B&W sires
The top is transferred to two American breeding bulls, namely Peak AltaAltuve RDC (by Mr Salvatore RDC) with 339 NVI and the Supershot son Bomaz AltaTopshot, which scores 335 NVI. During the April proof week, Capnation Benello by Vh Bube Bernell already made a big leap forward by rising 25 points in NVI. Also in August, the by Capnation Holstein bred Whittier-Farms Lead Mae descendant shows an increase in NVI and thus comes to 323 NVI. This score brings him to the 8th ranking. There are now 479 milking daughters of Benello in the Netherlands. With a lead of 10 points, he leaves Midwolder Martin with 313 NVI just behind him in 9th place. Martin, a Stantons Adorable from the Midwolder Marjon family of Midwolder Farm, is also related to the earlier mentioned Unlimited. 
It's been an amazing week for De Oosterhof. The German breeding values named DG OH Topstone (s. AltaTopshot) as the new B&W proven leader, and when the new NVI indexes of April came in it became clear that he's also the absolute number 1 NVI Interbull! With 300 NVI, Topstone leaves the number two with 285 gNVI and number three Koepon Peak Tosco (275 NVI) far behind. Tosco, also by AltaTopshot, transmits in addition to his high total index also a promising +0.46% fat and +0.02% protein. The to Germany sold K&L Gn Boudy hits the rankings in 9th place with 268 gNVI. The Gymnast x Rubicon transmits good components which he combines with milk production and super udder health (108 UGH). With the first daughters of K&L SV Adrian Salvatier RDC, the second highest redcarrier in the list, the maternal brother of the earlier mentioned Visstein 3STAR Gavino Red makes a strong debut in the Interbull list with 235 NVI.
| | |
| --- | --- |
| | |
| Capnation Benello @CRV | OH DG Topstone @Masterrind |
| | |
| --- | --- |
| | |
| Koepon Peak Tosco @RBB | K&L SV Adrian Salvatier RDC @Xenética Fonta |