High Red heifers of GenHotel members on NVI list
Genomics
K&L RM Marica-Red VG-87, 3rd dam of 6 top 100 NVI heifers!
Many heifers bred by GenHotel members are listed on the recently published official top 100 NVI list with red & white females in the Netherlands and Flanders. Below are some of the latest additions:
Earlier we reported that Poppe Sanne Red and Schreur 3STAR Emma Red belong to the absolute red and white top of the Netherlands and Flanders. After the August run, both are again in the top 3 highest red & white females for gNVI. Sanne Red's full sister Poppe Silvana Red also scores, with 324 gNVI, in the top 100.
Very successful brood heifer is K&L RM Marith-Red, a Delta Jacuzzi-Red out of K&L RM Marinca-Red (by Nuance RDC), from the Apina Massia family. The soon to calve Marith is represented in the top 100 NVI with no fewer than 6 Drouner Altitude-Red daughters. This makes her the dam with the most offspring in the top 100, and she is also in position 61 herself. Three of her daughters are even in the top 10, including De Hoef Marith 2 Red with 418 gNVI in first place in NL & FL.
Caudumer Lol 495 Red, with 357 gNVI the highest Delta Nectar-P-Red, comes from the well-known Lol family of the Haytema family, who also supplied the influential Caudumer Solitair P Red. Her dam Caudumer Lol 434 P Red (by Jacuzzi-Red) is a full sister of Lol 435 P Red, the dam of one of the highest homozygous polled red & white NVI heifer Caudumer Lol 487 PP Red (by Nectar P Red) and a half-sister of the Battlecry son Caudumer Batch P. Herdmate Caudumer Ebony 26 Red, which goes back to the American Rocky-Vu Rotate Extasy Ebony EX-94, is with 348 gNVI not only the highest Koepon AltaTop-Red for NVI, but also ranks with 161 gRZG among the highest AltaTop daughters on the German base.
Also at Red Rocks Holsteins there is another high scoring Massia, namely Red Rocks Massia 262 P Red, the highest polled Delta Nominator-Red in the Netherlands & Flanders. She has the same great-granddam as the high red genomic young sire Red Rocks Bookmaker P Red (Match P RDC x Booking-Red), bred by the Wesselink family.
Midwolder Marjon 257 Red is a red and white Drouner Altitude-Red from the originally black and white French Remarlinda EX-90 family. Her dam Midwolder Marjon 167 RDC is a well uddered Mr Pat Uno Pace-Red, a half sister of the high genomic young sire Midwolder Martin (by Adorable). Midwolder Mansion (Martin x Simba), who now scores in the top 20 young black & white bulls with 346 gNVI, also comes from this successfully cow family, extended by the Van Erp family.
One of the first gNVI-tested K&L Matty P RDC daughters is 3STAR HWH Batty P Red. She is the highest Matty P RDC with 337 gNVI and also red & white and polled. Her extreme production potential also gives her the top ranking in Germany (163 gRZG), in addition she is A2A2 and BB. Granddam Brigitta PP RDC VG-87 (s. Hologram P) is the dam of the young bull Sam-Red P (s. Spark-Red) and a half sister of Aro PP Red.
Bouw Ravel Kanu-Red, bred and owned by Bouw Holsteins, is a Delta Ravel-Red daughter from the highly successful Wilder Kanu family. Her dam K&L RM Kanuzi-Red (s. Jacuzzi-Red) is a granddaughter of Wilder Kalibra RDC VG-88 (s. Battlecry), a half sister of Wilder Baymax-Red, the number 1 RZG proven bull in Germany.
The complete female TPI and NVI lists you will find on the Genomics web page.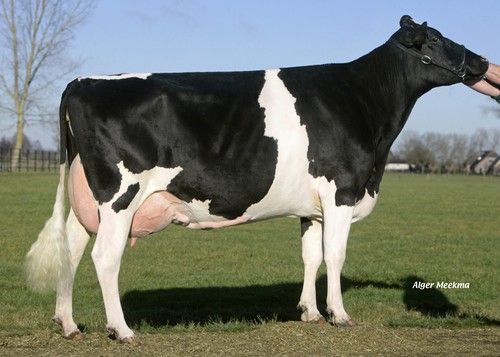 Red Rocks Massia 17 VG-87 (s. Mascol), in the pedigree of Red Rocks Massia 262 P Red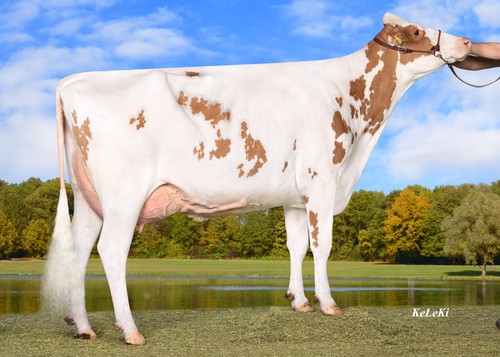 Wilder K25 Red EX-90 (s. Brekem RDC), dam of proven sire Wilder Baymax-Red
                                and 4th dam of Bouw Ravel Kanu Red