Schreur 3STAR Emma Red: the new no. 3 gNVI!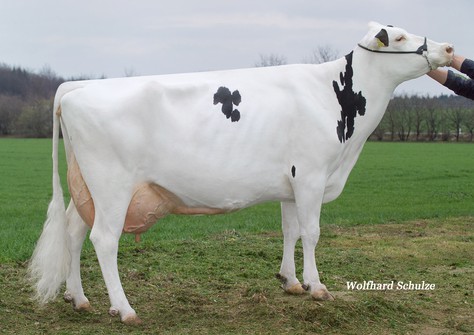 Genomics
Matriarch: ZT Electra VG-88
Last week the one-month-old Schreur 3STAR Emma Red got her first gNVI score, which made her ranking high up on the top list. With her sky high gNVI she is even the new number 3 gNVI female on the Dutch & Flamish red-and-white basis!
With 389 gNVI, this red K&L Sputnik RDC daughter is the new number 3 gNVI R&W female! Schreur 3STAR Emma Red her indexes for milk production (2368 M), longevity (738 LVD) and somatic cell score (107 CGT) are remarkably high. Not only does her gNVI offer plenty of opportunities, her 156 gRZG (123 RZN, 116 EUT, 119 EUT and 125 RZE) also ensures a promising future for Emma Red.
Emma Red is a result of a double 3STAR Genetics mating, as she's a K&L Sputnik RDC daughter of HWH K&L Emma RDC (s. Tirsvad Match P RDC), which was sold to a German breeder during the VOST Select Sale 7 in 2019. As an embryo from the 3STAR Embryo Program she was delivered to Schreur Holsteins, which resulted in the birth of this fantastic Schreur 3STAR Emma Red!
This very interesting heifer comes from the German, black-and-white 'ZT-E family', which shows an outcross pedigree for Red Holstein: Sputnik RDC x Match P RDC x VG-85 Polo P RDC x VG-86 Balisto x VG-85 Gold Chip. This branch is backed by ZT Electra VG-88 (s. Alves).
→ Go to the to 100 gNVI R&W Female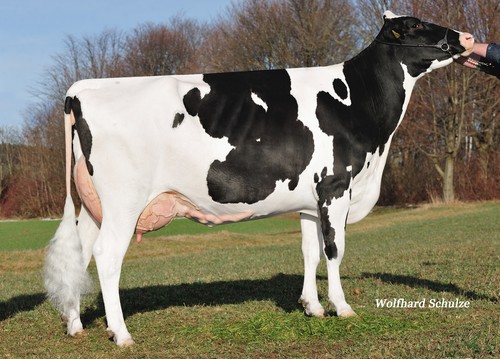 ZT Elaine VG-86 (by Balisto), 3th dam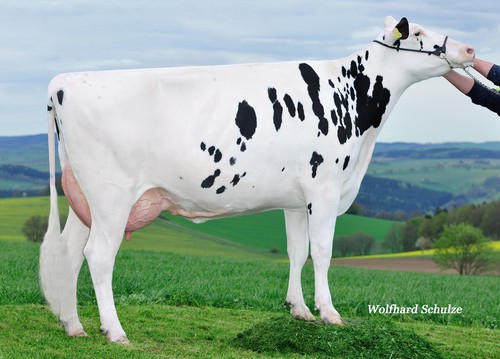 ZT Elisha VG-85 (by Gold Chip), 4th dam