2nd Cow at Knoef over 200.000kgM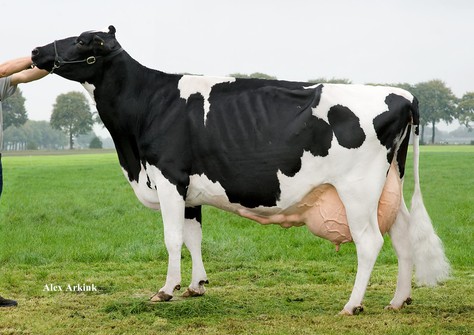 BIG Holsteins, family Knoef is well known for the high lifetime production cows. It has been proven again recently with the 2nd cow in their herd who has produced over 200.000kgM! Only five cows ever have exeeded this historical border in Holland so far. Two of them in the herd of Knoef!
This brings the total of high lifetime production cows in the herd of Knoef to: 90 cows over 100.000kgM, 27 cows over 10.000kg F+P and 2 cows over 200.000kgM!
BIG Clara 123 
Big Clara 123 EX-90 is the cow who reached thisextremely high lifetime production of 200.000kgM. High lifetime production is no surprise in this family. Next to Clara herself her dam Big Clara 120 VG-86 (Hunter) as wel as her granddam Big Clara 115 VG-86 (Boudewijn) produced over 100.000kgM, clara 115 also over 10.000kgF+P. Furthermore Clara 123 her daughter Big Clara 133 VG-86 (Puntdroad) already produced over 100.000kgM and still is still in the herd of Knoef and in production, what a great cowfamily!
Clara 123 has been classified Excellent, has been awarded 3 STARS and has a son in ai, she checks all boxes!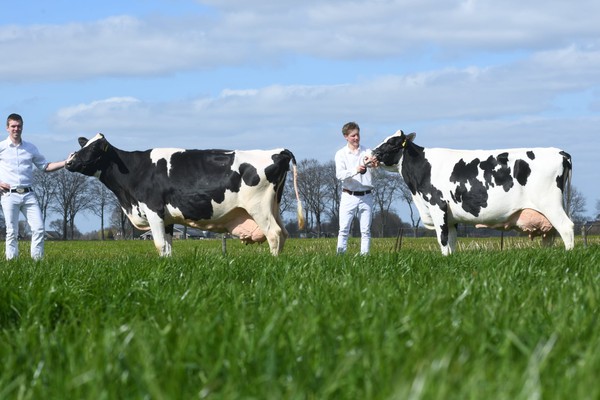 BIG Clara 123 EX-90 and her daughter by Puntdroad BIG Clara 133
Veeteelt Magazine made a nice video of BIG Clara 123 last April when she got her 3rd STAR and when she became an Excellent cow!