Rose RDC, a phenomenal brood cow at Sudena Holsteins!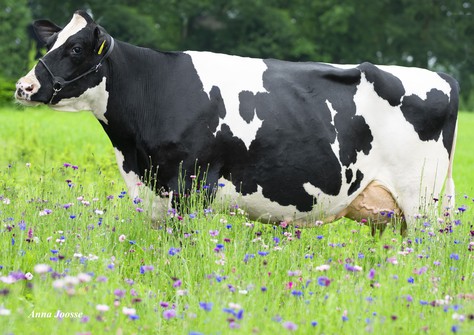 Genomics
De Oosterhof Dg Rose RDC VG-89, EX-90 MS
One of the most exceptional brood cows in Europe can certainly be called De Oosterhof Dg Rose RDC VG-89. She comes from the deep American Golden-Oaks Mark Prudence EX-95 family, she has calved 3 times and is now classified VG-89 (EX-90 MS). In 3 lactations her lifetime production stands at over 41,000 kg milk with 4.74% fat and 3.57% protein.
The tremendous transmitting EDG Rubicon daughter has been flushed several times successfully as a heifer and a cow, resulting in many high scoring (grand)daughters and (grand)sons in AI. Her most famous sons are Sudena Safari Red (by Spark Red) and Cristella Real Red (by Swingman-Red). Of her more than 40 daughters, Lakeside UPS Red Range VG-86 (VG-88 MS) has put herself in the spotlight: her daughters are among the top gTPI Red Holstein in Europe, while her son 3STAR OH Red Ranger ( v. Rubels-Red) is the most talked about Red Holstein bull worldwide.
Recently Rose RDC has been photographed again, below the beautiful results.
Do you also want descendants of Rose RDC VG-89 in your barn? Click here!