A lot of different sires in top 50 gTPI Europe
Genomics
Wilt Elaya EX-93, 3rd dam of Willsbro Perennial Elaya
The November run of the Holstein Association in America shows a lot of diversity in sires in the top 50 gTPI females in Europe. No less than 24 different sires have direct offspring in the top 50 European females this month.
Some highlights from GenHotel members of this month's run:
► Wilder 02623 RDC is a Progenesis Monteverdi from the proven Wilder Kanu family. With 2927 gTPI, she is in the top 10 Monteverdi daughters in Europe and is also the number 1 gTPI red factor of all European Monteverdi's. Her type score of +2.37 PTAT is by far the highest of all Monteverdi daughters in Europe, now 80 tested. Through a Charl she is a granddaughter of Wilder Kasalle Red EX-90, a beautiful Salvatore RDC maternal sister of the proven bulls Wilder Baymax Red and Matt RDC.
► 3STAR Patricia Red is a 3STAR OH Ranger Red daughter with 2913 gTPI from the successful American cow family of Bomaz Holsteins. Patricia is the highest Red Holstein for gTPI of all newly tested European females in November and also the number 2 gTPI of all red & white Ranger-Reds in Europe. Her dam, 3STAR RT Patsy RDC, is a Riveting daughter, who will calve early next year. Bomaz AltaTopshot (Supershot x AltaEmbassy), the number 2 NVI daughterproven bulls in the Netherlands and Flanders, also comes from this internationally well respected cow family.
► Willsbro Perennial Elaya is an absolute winner in terms of type. With +4.50 PTAT and +3.82 UDC, this early Eclipse Perennial daughter is among the top 3 highest females for conformation in Europe. Not surprising, considering that this line, with great type bulls in the pedigree, traces back to the phenomenal American Krull Broker Elegance EX-96. This cow family has also produced the top type proven bull Wilt Emilio (Capital Gain x Yorick).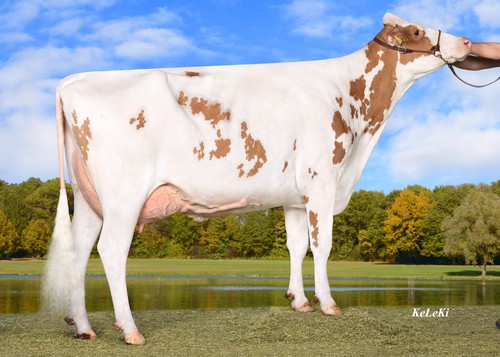 Wilder K25 Red EX-90 (v. Brekem RDC), 3rd dam of Wilder 02623 RDC

Bomaz Delta 7173 VG-88, 3rd dam of 3STAR Patricia Red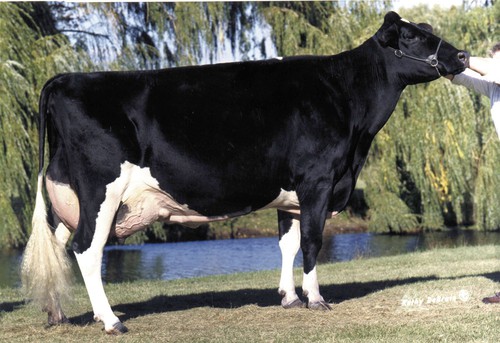 Krull Broker Elegance EX-96, gread brood cow behind Willsbro Perennial Elaya