Willem's-Hoeve Woody deliveres show champions!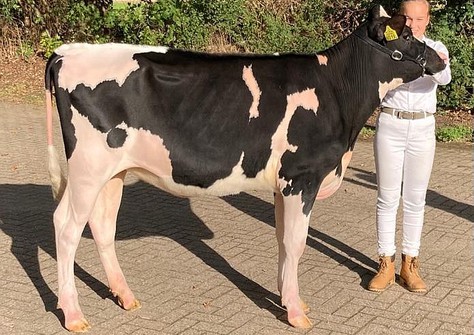 Type
De Wijde Blik Tekla 10 (s. Willem's Hoeve Woody)
At the regional championships, the best participants from Flevoland and Overijssel met last Saturday. More than 90 'young breeders' competed for the championship titles for type, showmanship and toilet.
Present GenHotel members Big Holsteins, De Wijde Blik, New Moore Holsteins and Sudena Holsteins showed a strong performance. Especially in the type classes, the prefixes could be found several times in the top. There was a big primer for De Wijde Blik who even won a championship title.
The one-year-old Big Etazon Ramada 19 reached a 2nd place. Ramada 19 hails from five generations VG in a row and is bred by Big Holsteins. Her dam is a big producer and is projected at 11,648 kgs of milk with 4.60% fat and 3.62% protein in 305 days.
Sudena Marit 11 RDC, shown by Jesse Mensink, is a daughter of the home-bred bull Sudena Roderick Red (Gonzales x Rubicon). She managed to achieve a second position in her category.  Marit 11 RDC was surpassed by De Wijde Blik Emilia 1 (Davinci x Sunlight), who won in the same category.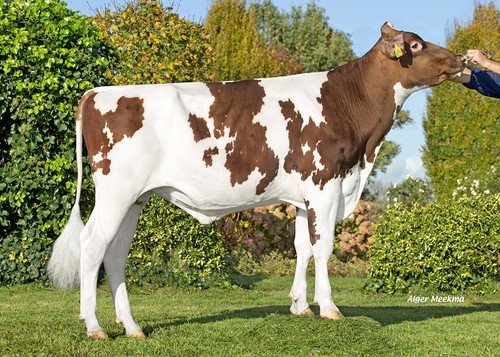 Sudena Roderick Red
A first place in one of the Junior B&W categories was awarded to New Moore Success Esme, a Vieuxsaule Success from the very famous New Moore Esmeralda 38 EX-93! A day before this Success daughter achieved a well known honor in the show ring, we received the sad news that the EX-93 O Man has unfortunately been culled. Esmeralda 38 EX-93 leaves a true legacy with over 30 female offspring and a lifetime production of 141,122kg of milk with a grandiose 11,000kg of fat + protein in 3606 days! All the more reason to honor the beautiful first place of New Moore Success Esme!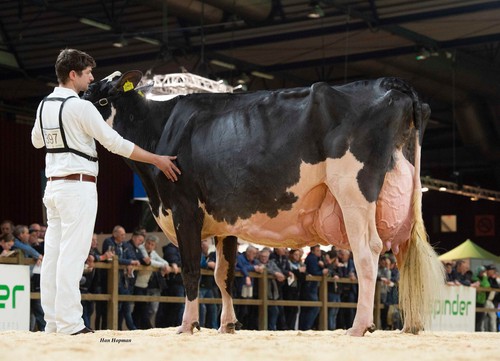 New Moore Esmeralda 38 EX-93 (s. O man)
For De Wijde Blik there was double success. Both De Wijde Blik Emilia 1 and De Wijde Blik Tekla 10 (by Willem's Hoeve Woody) took the leading position. Emilia 1, Res. Champion Ommen 2022, is the daughter of SonderKollektion 2020 purchase GWH Emilia VG-87. She's backed by no less than 8 generations of EX, including foundation cow Mor-Yet Goldwyn 682 EX-94. Herd mate Tekla 10 also has a link with a livestock auction. During the FarmersBid Melkvee veiling in October 2021, her dam De Wijde Blik Tekla 8, a Rubicon daughter, was sold to Telgter Holsteins. Meanwhile, the stunning Rubicon scored VG-85 and is projected at 10,467 kgs of milk with 5.11% fat and 3.22% protein! During the championship, Tekla 10 was named Senior Champion!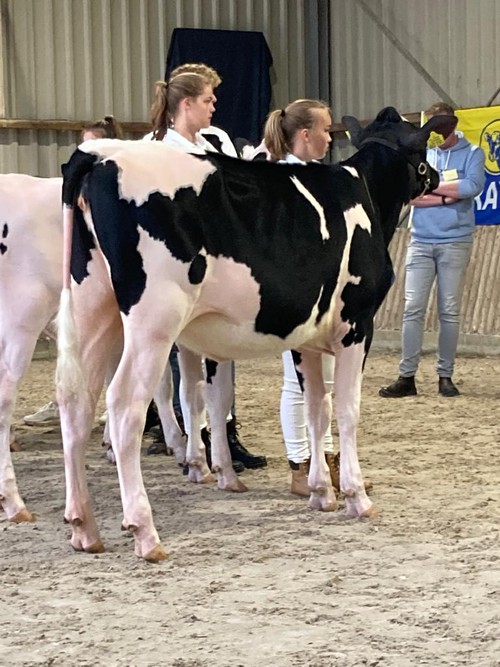 De Wijde Blik Tekla 10 named Senior Champion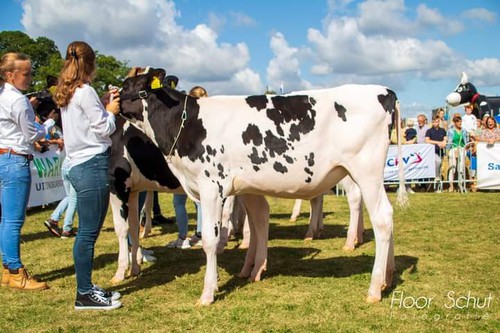 De Wijde Blik Emilia 1 won during a local show last summer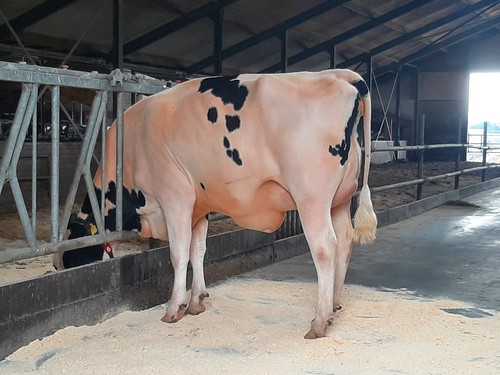 Dam De Wijde Blik Tekla 8 VG-85, just before she was sold to Telger Holsteins