First Magnifique daughters scoring high for gTPI!
Genomics
TGD-Swiss-Repro Jedi Company VG-89, same family as Koepon Magnif Carmen 13
During the June run for American genomics, the first European daughters of Peak AltaMagnifique (Maestro x Positive) score immediately high. Furthermore, the wide variation in the sires of the newly tested females is again remarkable this month.
Koepon Magnif Carmen 13 is with 2996 gTPI (and 1034 NM) the highest AltaMagnifique daughter in Europe. Her dam Koepon Helix Carmen 8 is a pregnant heifer and a descendant of the famous Larcrest Cosmopolitan VG-87 family. Great-granddam of Carmen 13 is TGD-Holstein Jedi Carmen VG-86, a former number 1 gTPI in Europe. Two full sisters of Carmen 13, Koepon Magnif Carmen 11 and Carmen 12, score 2972 and 2911 gTPI respectively.
Also at GenHotel member Wilder Holsteins, the first AltaMagnifique daughter scores high, namely Wilder 78513 with 2973 gTPI. Moreover, with 1042 NM$, she is the highest Magnifique for Net Merit in Europe. The cow family behind Wilder 78513 goes back to beautiful show cow Batke Outside Kora EX-94.
The Oosterhof 3STAR Marion is this month with 2979 gTPI the highest European Aquila Stardancer daughter. With 1041 NM, she is also the number 1 NM$ of all female Stardancers in Europe. Her pedigree leads back via Pursuit, Rubi Agronaut and Josuper on the legendary American brood cow Seagull-Bay O-Man Mirror VG-86.
Interesting newcomer this run with a different pedigree is definitely Koepon Matteo Classy 504. She is a daughter of Peak Matteo (AltaZazzle x Positive) out of a Progenesis Blizzard (Topnotch x Denver) from a G-DeRuyter AltaNitro. The cow family behind Classy 504 is of course the great Koepon Classy family. Dam Koepon Bliz Classy 481 is a pregnant heifer, which will calve this month. Also the highest red factor female in June is bred by Koepon Genetics, namely Koepon Gameday Range 148 RDC, a 2908 gTPI Gameday from the pregnant heifer Koepon Swingman Range 2 Red.
Among the red-and-whites this month, 3STAR OH Kayleigh Red (by Ranger-Red) is the list leader. She scores 2845 gTPI and is therefore one of the highest gTPI Red & White females in Europe. Kayleigh Red her dam, Bacon-Hill Crown Kay Red, was the sale topper at the SonderKollektion 2021 with € 18,500 and is still the number 1 gTPI Kenmore Triple Crown-Red daughter worldwide.
In the type segment, GenHotel members Willsbro Holsteins and Beeze Oldleus Holsteins have the absolute toppers of the June month in their barns. Willsbro King Doc Adina 3891, a King Doc from the Kamps-Hollow Durham Altitude EX-95 family, scores +4.31 PTAT (and +3.48 UDC) and is among the top 5 type heifers in Europe. Beeze Oldleus Farida, a Golden-Oaks Master with +4.03 PTAT and +3.13 UDC, comes from the same family as the brilliant show diva Quality BC Frantisco EX-96.
Click here for the full top 50 gTPI European females in June.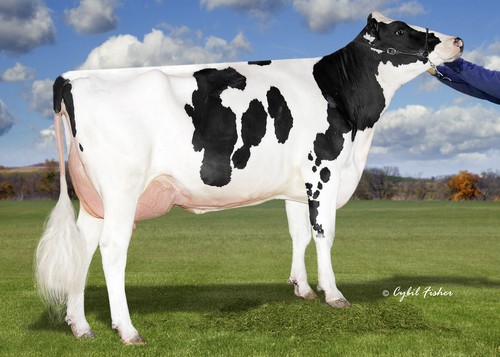 Bacon-Hill Salvatore Kay RDC (s. Mr Salvatore RDC), 2nd dam of 3STAR OH Kayleigh Red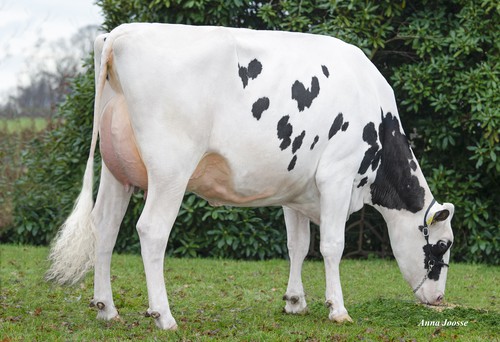 ARGH Feline VG-86 (s. Delight), 2nd dam of Beeze Oldleus Farida