The Prudence family delivers again the absolute top!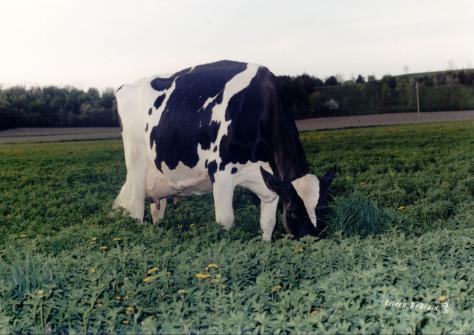 Genomics
Golden-Oaks Mark Prudence EX-95, great source of top genomics!
The American genomics run in July has again yielded several interesting female toppers among GenHotel members.
This month's #1 gTPI in Europe is 3STAR OH Leica, with 3091 gTPI. Leica is a Peak Wheelhouse daughter with extremely high production figures, and she is also the number 1 NM$ of July with 1146 NM. Her Siemers Renegade Parfect maternal sister 3STAR OH Leina is also in the top 3 of the newly tested females with 3056 gTPI and withal scores +2.26 PTAT. Both come from the successful Golden-Oaks Mark Prudence EX-95 family, also known from the Lakeside Ups/Koepon Range family.
3STAR Parfect 8618, a Parfect from the American Bomaz Frido cow family, is the 4th full sister to score between 2900 and 3000 gTPI. She has an all-round genomic profile with a great udder score. The K&L OH Mabel family also has a top 50 gTPI listing this month. This time it is 3STAR OH Mascha, a Wheelhouse from the recently calved K&L OH Mabelien (by Einstein), which upholds the honor with 2978 gTPI.
Tirsvad K&L Pursuit Milano VG-88 has with HH 3STAR Zazzle 4460 her 5th daughter above 2900 gTPI. Zazzle 4460 combines high component levels with beneficial health traits and comes from the Golden-Oaks Marbella family.
Also tracing back to an American cow family is Koepon Magnifique Carmen 14, a Peak AltaMagnifique x Helix from the Larcrest Crimsons, with 2926 gTPI. Carmen 14 her full sister Koepon Magnifique Carmen 12 (with 2911 gTPI) will be sold this week during the Koepon Summer Sale.
Koepon Champion Range 152, an early Progenesis Champion-Red granddaughter of the amazing "Genomics Transmitter" Lakeside Ups Red Range-Red VG-86, completes the top 50. At 2925 gTPI, she is currently the highest Champion-Red daughter in Europe. Also of her this week Thursday (July 7) four maternal sisters will be auctioned during the Koepon Summer Sale.
Highest red factor female this month in Europe is Southland 3STAR OH Shinay RDC, a RMD-Dotterer SSI Gameday with 2863 gTPI from the Canadian Glen-Drummond Splendor family, supplier of breeding bulls such as Salvatore RDC, Swingman, Solomon and Sidekick. From the full sister of Shinay her dam, 3STAR OH Sunnyside Red (by Rubels), also comes the highest red female in July, namely 3STAR OH Shirley Red. With 2831 gTPI, she is the number 1 red Koepon Camden RDC daughter globally.

Bomaz Delta 7173 VG-88, 3rd dam of 3STAR Parfect 8618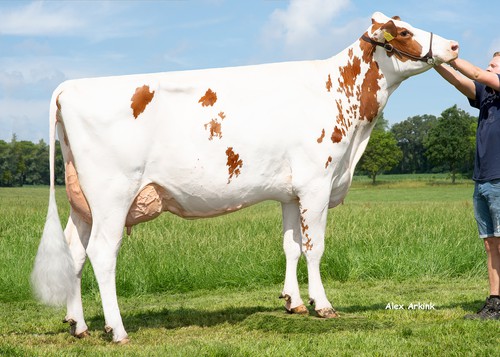 K&L Sv Sunny-Red GP-83 (s. Mr Salvatore RDC)
   granddam of Southland 3STAR OH Shinay RDC and 3STAR OH Shirley-Red