A lot of variety at newly genomic tested females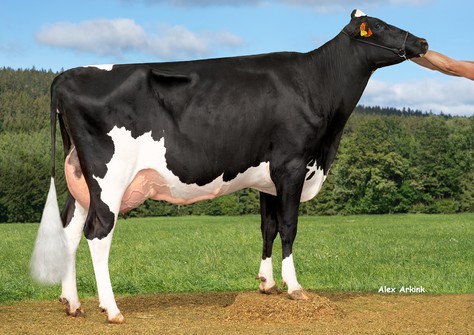 Genomics
HLB Bonita (Spectre x Balisto), granddam of HLB Galileo Batavia
The May genomics run in America has once again resulted in many newly tested females from GenHotel members in the European top 50 gTPI.
Koepon Genetics has 3 RMD-Dotterer SSI Gameday daughters in the top 50 gTPI this month. All 3 are granddaughters of the Global Red Impact Cow 2021, Lakeside Ups Red Range-Red VG-86. Koepon Gameday Range 135 and Koepon Gameday Range 146 RDC are daughters of the recently calved Koepon Altuve Range 6 RDC and score 3018 and 2969 gTPI respectively. Range 6 RDC already has 5 daughters above 2900 gTPI. Koepon Gameday Range 151 RDC (2953 gTPI) comes from the well producing Koepon Date Range 10 RDC, a Peak AltaDateline half-sister of top bull Ranger-Red.
Zwanebloem Taos Ruth 2470, bred by the Masscheleyn family in Belgium, goes back to the legendary brood cow Whittier-Farms Lead Mae EX-95. This Leaninghouse Taos daughter scores great for the health traits (+5.7 PL, 2.78 SCS & +2.1 DPR), resulting in 3013 gTPI, the number 1 gTPI Taos in Europe. Her maternal sister, Zwanebloem Parfect Maneskin, is now on sale as lot number 1 at the GenHotel Selection Sale. 
Lindenhof Holsteins also has the number 1 gTPI daughter in Europe of a sire, namely Winstar Galileo (Hughes x Frazzled). HLB Galileo Batavia, 2980 gTPI, shows a lot of production potential with an almost flawless profile. Her dam is a Pine-Tree Pursuit daughter, which comes from the American Richmond-FD Barbie EX-92 family, also known from the daughterproven bull Richmond-FD El Bombero.
With 2979 gTPI, 3STAR Parfect 8677 is the highest of 3 full sisters from the due to calve 3STAR Bomaz Rive. Rive is a SSI Bg Frzzld Riveting from Bomaz Salvatore 8066 RDC, formerly the number 1 gTPI Mr Salvatore RDC daughter worldwide. 3STAR Parfect 8620 and 8621 score 2951 and 2936 gTPI respectively.
With Tirsvad Zazzle 9335, Tirsvad Genetics has another interesting heifer from the Grietje 80 EX-91 family, which has delivered many proven top bulls already. In addition to 2964 gTPI, this Peak AltaZazzle daughter also has 162 gRZG and thus is scoring high in multiple systems.
The highest scoring female on the American basis at Zandenburg Holsteins is now Zandenburg Tribute Wanja, a Plain-Knoll Lgcy Tribute from a Westcoast Soundcloud dam, with 2935 gTPI. She combines a lot of production with very favorable scores for udder health and longevity. This makes her the highest Tribute daughter for gTPI in Europe and also the number 1 Tribute on a gNVI basis (338 gNVI).
The highest Progenesis Mahomes daughter in May is called 3STAR OH Magan, which is a daughter of the very successful transmitting Tirsvad K&L Riveting Magnolia, scoring 2932 gTPI. Granddam is the 'Genomic Giant' Pen-Col Superhero Mistral VG-89, (grand)dam of many bulls in AI. Magan is the number 1 Mahomes on the NVI basis with 320 gNVI and is also one of the highest Mahomes daughters on the German basis with 158 gRZG. Beerzedal 3STAR OH Minka 2, owned by De Oosterhof, Beerzedal Holsteins and 3STAR Genetics, is with 2928 gTPI the European number 1 gTPI daughter of Pine-Tree Kashi (Kenobi x Prophecy). Minka her dam line goes back to the internationally proven brood cow Seagul-Bay Oman Mirror VG-86.
Highest conformation heifers among GenHotel members this month are Willsbro Happen Aderyn 3648 (+3.71 PTAT, Happen x Miami), Willsbro Have It All Frieda 3 (+3.55 PTAT, Have it All x Undenied) and BWN Fitou (+3.52 PTAT, Fitters Choice x Thunder Storm).
Click here for the top 50 gTPI females in May in Europe.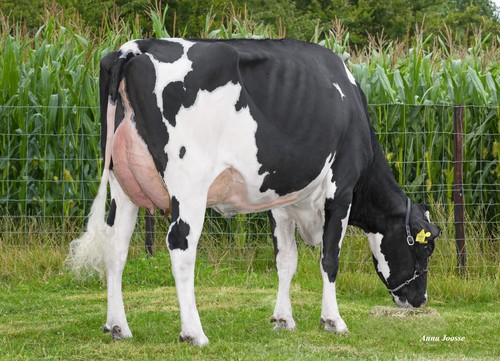 Zwanebloem Bourbon Ruslana VG-86, granddam of Zwanebloem Taos Ruth 2470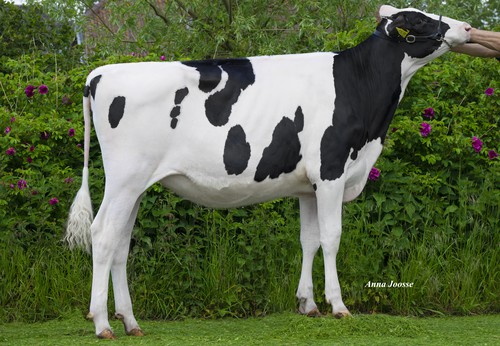 BWN Camillia (Thunderstorm x Undenied), dam of BWN Fitou