Great international interest leads to succesfull Koepon Summer Sale
Sales
Highlight of the Koepon Summer Sale is lot 9!
Thursday 7 July from 2.00PM the final of the Koepon Summer Sale took place. In the three days before, interested parties could place a bid or buy heifers directly in the pre-bedding part of the sale. In the final sale the bidding went wild, which resulted in a splashing final auction!
This online final auction attracted a lot of interest from abroad, partly due to the great and complete genomics profiles in several systems. Bids came in from several European countries resulting in many foreign transactions: two third of the heifers sold were sold outside Holland and to 8 different countries! There were many bidders and buyers from Switserland, which resulted in no less than 9 Swiss transactions! 
Already during the so-called pre-bidding, the 'buy now' option could be used to be assured of your favorite. This option was wisely used, because for the set price of € 8,000 lot 9 Koepon Foreman P Romania 3 P (158 gRZG & 4214 gPFT), a polled Foreman daughter from the Radieuse family, sold. Romania 3 P, this sale's topseller, will go to a buyer in the Netherlands.
The auction of Koepon Star P Range 128 Rf P (lot 7) led to a great bidding duel. Several bidders from Holland, Germany and France competed for the 157 gRZG/ 198 gISU / 2805 gTPI / 1650 gISET / 4329 gPFT scoring Star P RDC granddaughter of Lakeside Ups Red Range VG-86. For the winning bid of € 7,700, Range 128 Rf P changes hands to a Dutch buyer.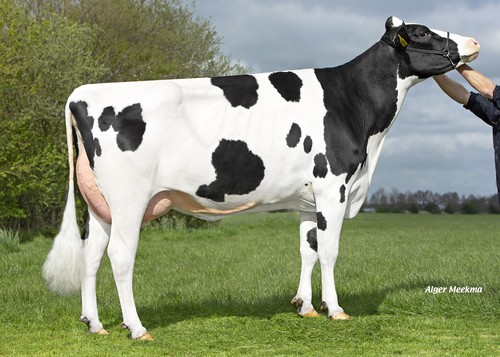 Dam lot lot 7: Koepon Altuve Range 7 RDC VG-86
International interest 
The homozygous polled Sinan PP daughter Koepon Sinan Discovery 1 PP Rf out of Koepon's investment WIT Discovery P Red was sold for € 4,300. Discovery 1 PP Rf, offered as lot 16, is a member of the famous 'KNS D' family of KNS Holsteins and is so far the only 'dubble P' heifer from Discovery P Red. The KNS Dorfgirl EX-93 offspring brings great potential through 497 Inet, 612 days LVD, A2A2 & an outcross pedigree for polled Holsteins! On this heifer no less than 10 different people from 6 different countries  made bids! After a amusing bidding duel she was bought by a Dutch breeder.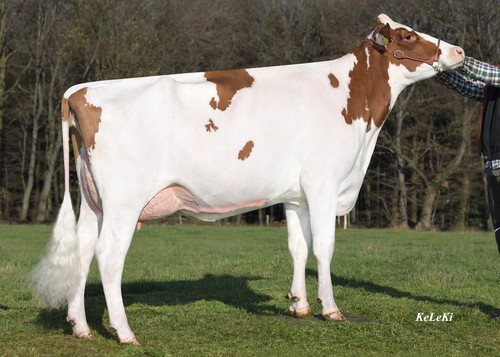 Granddam lot 16: KNS Discogirl P VG-87
Also Lot 17 Koepon Freestyle Range 110, a Freestyle Red granddaughter of the Red Impact Cow of the year Lakeside UPS Red Range, was attracted by 10 different bidders from several countries. Due to her high indexes in Switzerland, Germany and Italy she was sold for €3400 to - again - a Swiss buyer.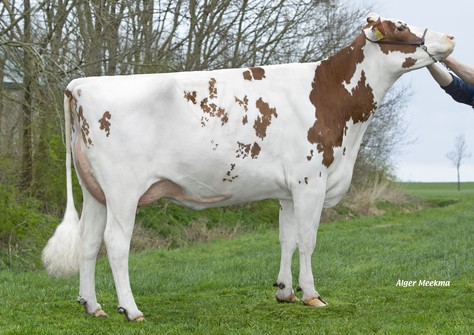 Lakeside Ups Red Range VG-86