The newest top genomic heifers in Europe!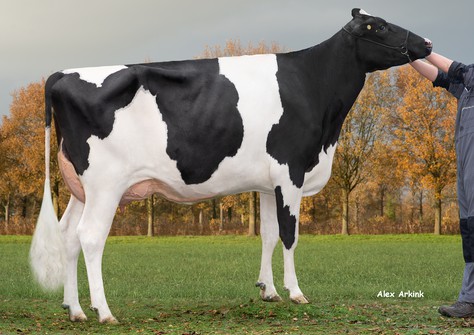 Genomics
K&L OH Mabel, tremendous brood cow!
The August proof run has, also on the American basis, again delivered some very interesting, newly genomic tested females owned by GenHotel members.
3STAR OH Reevival is the latest revelation of the K&L OH Mabel family. With 3094 gTPI, she is the number 1 of all newly tested females this month, scores +2.69 gPTAT and is also the number 4 gTPI of all females in Europe. This Siemers Renegade Parfect daughter comes from De Oosterhof 3STAR Reevestar, a due to calve SSI Bg Fzzld Riveting from the phenomenal breeding cow Mabel. Reevival's full sister 3STAR OH Reevivo is also in the top 50 of August, with 2927 gTPI.
Also the highest Sandy-Valley R Conway in Europe is from the Mabel family, namely 3STAR OH DK Marielou with 3057 gTPI. Marielou her dam, 3STAR OH Marina, is a Silverridge V Einstein from Mabel, calves in September and looks promising. The #1 Progenesis Champion daughter in Europe for both gTPI, Net Merit and PTAT is called 3STAR OH Malionne. She scores 2959 gTPI, 806 NM and +2.64 PTAT and is a daughter of K&L OH Mallory, a De-Su Kenobi from Mabel.
During the August run, Parfect managed to maintain his great jump of April, making him now one of the main suppliers with daughters in the top 100 gTPI. 3STAR OH Leila, a Parfect from the Golden-Oaks Mark Prudence EX-95 family, is this month's number 6 with 3056 gTPI and of the highest Parfect daughters in Europe. Her granddam is a full sister of the new number 1 RZG daughterproven bull in Germany, Topstone (AltaTopshot x Rubicon).
Prudence is of course also the foundation of the Koepon Range family. Koepon Gameday Range 147 (mgs. Acura) and Koepon Magni Range 161 score 2990 and 2944 gTPI respectively this month and are both granddaughters of Lakeside UPS Red Range-Red VG-86. Range 161 comes from Koepon Altuve Range 6 RDC, a daughter of the new number 1 NVI daughterproven bull in the Netherlands, Peak AltaAltuve RDC. Koepon Matteo Classy 502, a Peak Matteo with 2971 gTPI from the Koepon Classy family, is also a welcome addition to Koepon Genetics because of her different sire stack.
Finally, the number 2 gTPI Conway daughter in Europe also comes from the 3STAR Breeding Program. 3STAR Rivonne is a Conway with 2947 gTPI and great breeding values for components and udder health. Her dam, 3STAR Bomaz Rive (s. Riveting) has already 5 daughters over 2900 gTPI. Her granddam is a maternal sister of the number 2 NVI proven bull in the Netherlands, Peak AltaTopshot.
Highest red & white of all newly tested females is (with 2890 gTPI) 3STAR OH Aymee-Red, a 3STAR OH Ranger-Red from Batouwe WM Aimee RDC, a Wilder Mark RDC from the Kamps-Hollow Durham Altitude RDC EX-95 family.
In terms of conformation, the highest female bred by a GenHotel member this month is Willsbro Hanans Casablanca 40 (Fitters Choice x Delta-Lambda) with +3.70 PTAT and +3.28 UDC, tracing back to the fantastic brood cow Larcrest Crimson EX-94.
Click here for the top 50 gTPI newly genomic tested females in Europe this month.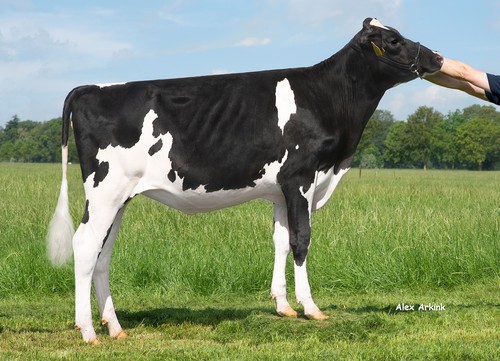 De Oosterhof Dg Leida (Charl x AltaTopshot), dam of 3STAR OH Leila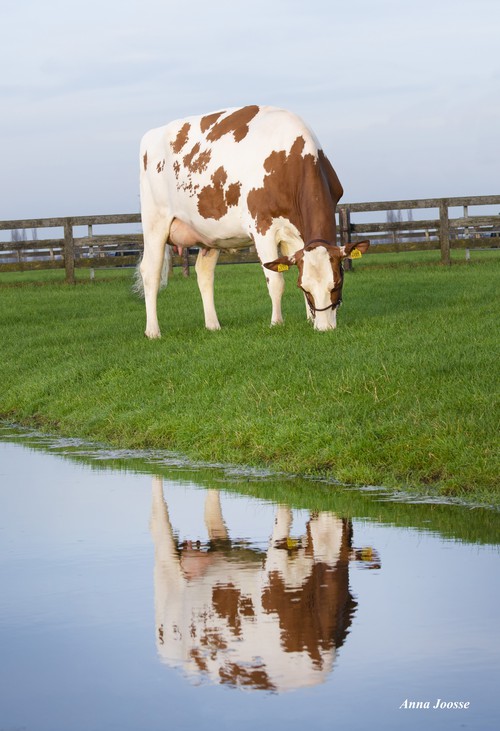 Batouwe Ailisha Salva-Red VG-85, granddam of 3STAR OH Aymee-Red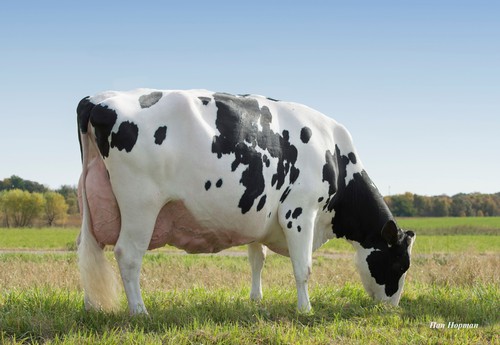 Larcrest Crimson EX-94, great brood cow behind Willsbro Hanans Casablanca 40