Friday, 2.00PM: La Brasserie Holstein Sale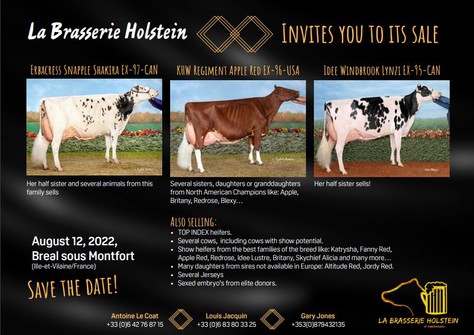 Friday, the La Brasserie Holstein Sale will start at 2.00PM. This European top auction, organized by the French breeding company La Brasserie Holstein, offers no less than 54 lot numbers, including embryos, calves and heifers of different breeds, such as (Red) Holstein, Jersey, Brown Swiss and Wagyu. You can attend this event both on location in France as well as online via FarmersBid.com!
During this auction you can get your up-and-coming show talent. The most impressive, international cow families are represented by a total of 54 lot numbers. Think of: KHW Regiment Apple-Red EX-96, Krull Broker Elegance EX-96, Regancrest-PR Durham Barbie EX-92, Lehoux B Goldwyn Ruby EX-94, Glenridge Citation Roxy EX-97, Jacobs Goldwyn Britany EX-96 and Rosier's Blexy Goldwyn EX-97. Plus, there's an offering from the amazing Jersey family of Avonlea Valiant Kitty 15N EX-95!
| LOT 2 KINGSWAY LB SNAPPLE RED | LOT 8 KINGSWAY LB JASMINE |
| --- | --- |
| | |
| LOT 25  JB TOULLEC CRUSH ROXY | LOT 44 PERLE HOLI |
| --- | --- |
| | |
| LOT 14 BLEXY'S LB BLEXY | LOT 7 WEEBERLAC LB TICKLES RED |
| --- | --- |
| | |
Curious about the fantastic offer + photos?
► Go to the online catalogue!
Scedule:
• Friday, August 12th at 10.00AM: 
'Open barn' where the selling lots will be shown. Address: La Douéttée 35310, Breal Sous Montfort France
• Friday, August 12th at 02.00PM:
Start hybrid auction: You can follow the auction via the online livestream as well as place bids via FarmersBid.com.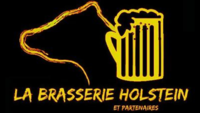 Information FarmersBid.com:
Step 1: Register
To create an online bid account you have to visit this website.
- You will then be redirected to a secured registration page.
- There you can fill in your personal details, confirm the terms and conditions and then click on the "Register now" button.
- Then you will receive a confirmation e-mail.*
*Please note that the confirmation e-mail may end up in your junk e-mail folder.
If you already have an account on FarmersBid.com, you can - when you are logged in - bid with your account. Has your account not yet been activated or have you forgotten your password? Then you can reactivate the account or request your password HERE under 'I forgot my password'.
Step 2: Wait for verification of your account
- After registration your account needs to be verified by the sale organisation.
- Once your account has been verified, you will receive an e-mail with more information on how you can activate your account.
Step 3: Bid online at the auction
- Fill in your username and password.
- This will automatically get you in the bidding system.
| | |
| --- | --- |
| NOTE: Before you place a bid, you must unlock the lock (to the left of the bid buttons) by. After accepting the auction conditions, you can make a bid. | |
Step 4: You are the highest bidder
If you are the highest bidder, you will receive an e-mail with the confirmation. You will be contacted after the auction, therefore it is important to be available via the telephone number provided in your account.