Shelly-Red, global Red gTPI topper!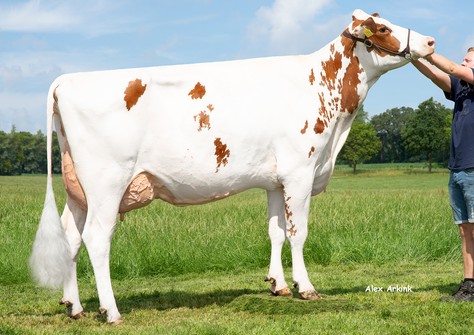 Genomics
K&L Sv Sunny-Red GP-83 (s. Salvatore RDC), granddam of 3STAR OH Shelly-Red
The American October genomics run for females in Europe has produced the first daughters of bulls such as Progenesis Pinball, Aquila Stardancer and Larcrest Captivating in the top 50 gTPI.
This month there are 3 newly genomic tested granddaughters of K&L OH Mabel in the top 50. Highest with 2983 gTPI is 3STAR OH Maud, a Pinball out of K&L OH Marly (by ABS Crimson). Maud is the number 1 gTPI Pinball in Europe and the number 2 gTPI worldwide. She also scores 161 gRZG, ranking in the top Pinball daughters in Germany. Her full sister 3STAR Maiball is with 2934 gTPI the number 2 gTPI Pinball in Europe and with 902 NM the number 2 NM Pinball worldwide. 3STAR OH Marinke, an AltaPlinko out of K&L OH Mabely (by Discjockey), scores 2898 gTPI and is the number 2 AltaPlinko of the October run.
Zwanebloem Holsteins (the Masscheleyn family in Belgium) also has 3 heifers in the top 50. With 2929 gTPI, Zwanebloem Parfect Nyala 2 is one of the highest Siemers Renegade Parfect daughters in Europe. Nyala is a descendant of the Canadian Glen-Drummond Splendor family. Her Parfect maternal sister Zwanebloem Parfect Rozelle scores exactly 2900 gTPI and comes from the Diepenhoek Rozelle's. In between is Zwanebloem Captain Jacky 2, a Captain x Solution from the Seagull-Bay O-Man Mirror VG-86 family, who realizes 2911 gTPI.
A lot has recently been written about HET Gladius Cherise, from Hurkmans ET. This giant genomic topper already scores 173 gRZG (no. 1 in Germany) and 428 gNVI (no. 3 in the Netherlands). Now with 2904 gTPI and 957 NM she is also the highest KAX Gladius daughter in Europe on the American basis. Cherise goes back to the phenomenal brood cow Larcrest Juror Chanel EX-93.
3STAR ZZ Clarky, a Peak AltaZazzle from the American Vir-Clar DE Classy family, is also just in the top 50 in Europe with 2899 gTPI this run. Clarky also scores 939 NM, due to a lot of production and an all-round profile.
The absolute sensation of the October run is 3STAR OH Shelly-Red, with 2878 gTPI the new number 1 gTPI Red & White in Europe and (most likely) the number 1 gTPI Red & White worldwide! (excluding VRC animals). Shelly-Red is a daughter of Star P RDC out of K&L OH Shiner, the still very high scoring Rubels-Red out of the Glen-Drummond Splendor family. Due to her allround profile with high production potential and very favorable health traits, Shelly-Red also achieves 906 NM. In Germany she is one of the highest red & white Star P RDC daughters with 163 gRZG.
In terms of conformation, Willsbro Holsteins has 2 new type toppers: Willsbro King Doc Adina 308 (Doc x Score) with +3.81 gPTAT and Willsbro King Doc Lila 3109 (Doc x Delta-Lambda) with +3.66 gPTAT. Dairy Cows Haniko Laurie (Haniko x Nighthawk) by De Dorre & Dairy Cows scores +3.39 gPTAT (with +3.36 UDC), as does Batouwe Altitude Tina-Red (Farnear Altitude-Red x Golden-Oaks Jordy Tease-Red VG-86), who scores +3.39 gPTAT with +2.51 UDC.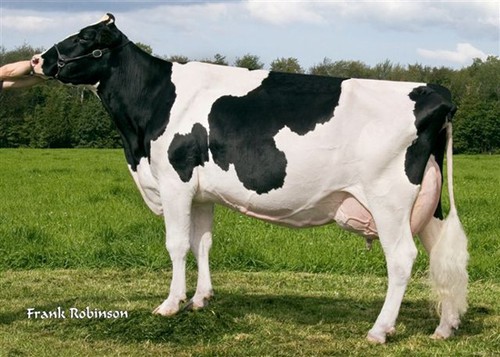 Gen-I-Beq Durham Sunshine VG-88, in the pedigree of Zwanebloem Parfect Nyala 2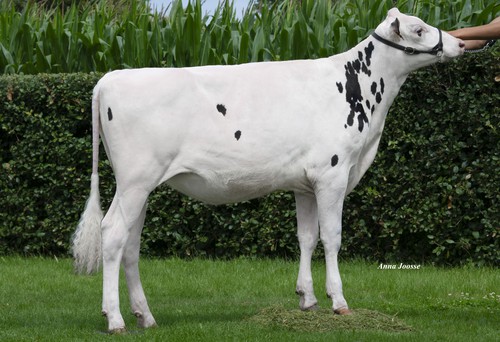 Zwanebloem Solution Mariah, dam of Zwanebloem Captain Jacky 2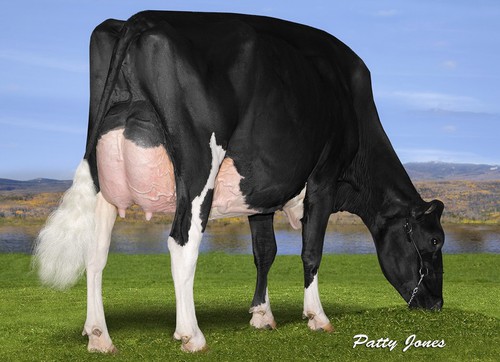 Comestar Lau Damion EX-94, in the pedigree of Dairy Cows Haniko Laurie