GenHotel members succesfull at NK Veebeoordelen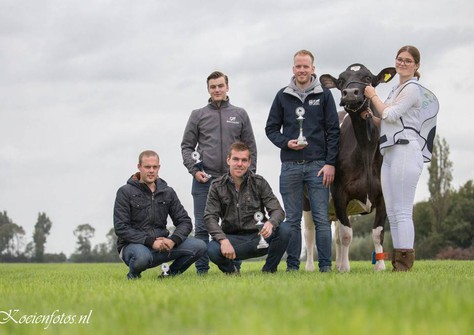 Last Saturday, October 2, the NK veebeoordelen 2021 (National Judging Competition) took place. This year, 39 participants competed for the national title! GenHotel members Julia Poppe, Cees Albring, Thomas Prent and Ben Knoef managed to qualify for this Dutch Championships during the Provincial Championships.
After the first two rounds, Thomas Prent (New Moore Holsteins) with 124 points and Ben Knoef (Big Holsteins) with 152 points qualified themselves for the Final round. The next part of the competition contains a written part which must be verbal judged and explained.

Ben Knoef  8.5.
The competition was very strong this day. This was certainly evident after the verbal judging round, where Herre Kuiper's flawless verbal assessment was rated with a 10, and a total of 302 points made him the new national champion. Second place was won by Ben Knoef (277 points total). Because of his better written part in the morning, Ben managed to finish ahead of the number 3, Dennis Nijhof, with 271 points. In 11th place we find Thomas Prent (222 points total). He was named Best Newcomer during this Dutch Judging competition!

Thomas Prent of New Moore Holsteins was named Best Newcomer!
GenHotel congrats Ben and Thomas with this amazing accomplishment!