GenHotel members strike with high NVI scores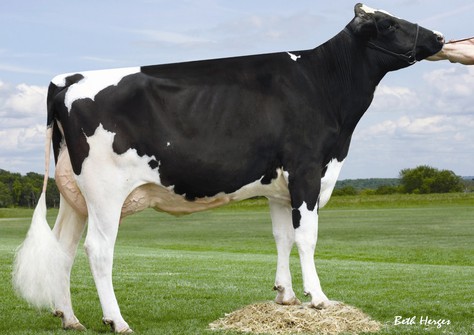 Genomics
Larcrest Chenile VG-86, 5th dam of the new no. 3 gNVI!
In the black and white females gNVI top list in the Netherlands and Flanders we find several animals of GenHotel members in the top 100 again this month!
New this month, placed 3rd, is HET Gladius Cherise, a KAX Gladius from the Larcrest Juror Chanel EX-93 family. Hurkmans ET has bred this top 100 debutant out of HET Ken Cheyenne (by Kenobi), and managed to get a calf with a grandiose 428 gNVI, 2549 M and 650 INET. Not only her gNVI makes Cherise an interesting donor, but also her stunning 173 gRZG! Herewith Cherise not only the number 3 in the Netherlands/Flanders, but also the current number 1 in Germany based on her gRZG!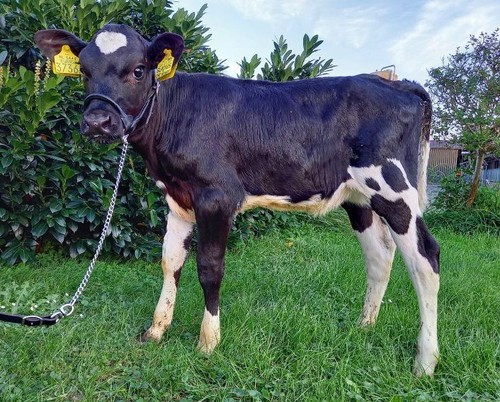 HET Gladius Cherise (Gladius x Kenobi), no. 1 gRZG & no. 3 gNVI!
The highest polled calf was bred by Midwolder Farm. With 389 gNVI, Midwolder Marjon 258 P (by Delta Nippon P) is placed 8th. Via granddam Midwolder Marjon 137 VG-86 and 4th dam Midwolder Marjon 53 VG-87 Marjon 258 P descends from Remarlinda EX-90. In addition to her high gNVI, she transmits a lot of milk with positive components and great health traits.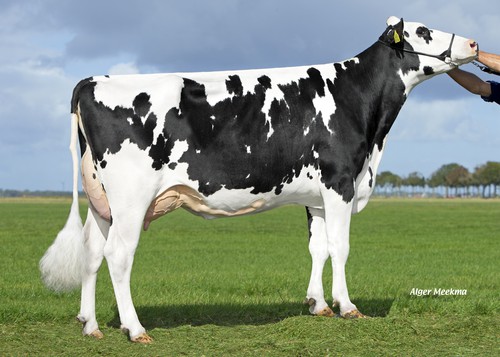 Granddam: Midwolder Marjon 137 VG-86 (s. Penley)
The no. 2 polled is also a member of the Midwolder herd. Midwolder Sanne P (376 gNVI) shows a completely flawless profile. Sanne P, sired by Topstone, has clearly inherited her polled genes from her dam line: Delta Shine P VG-85 (by Finder). She also has a nice German index of 150 gRZG!
A bit further on the list we find Ralma Juror Faith EX-91 descendant CNH 3STAR Femke. Her granddam is the renown and very fancy Balisto daughter Rhala Excellent Flower VG-89. This Delta Nippon P achieves a gNVI of 366 with transmitting no less than +0.54% Fat & +0.41% Protein. Femke is owned by C Nagel Holsteins, Poppe Holsteins and GenHotel.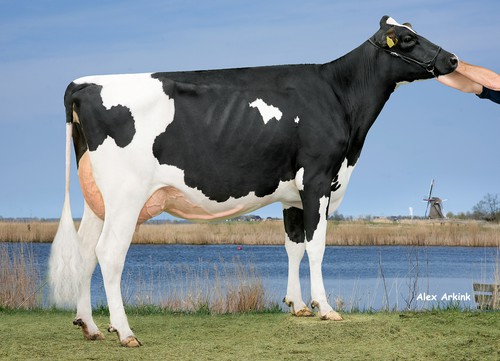 Granddam Rhala Excellent Flower VG-89 (s. Balisto)
With also 366 gNVI Femke is followed by Exloër 3STAR Idatty P RDC and the one-year-old Zwanebloem Charl Rozelle 2. Idatty P RDC is the highest Pp and red carrier in this top 100 ranking. She is a 'double-3STAR' result, as she is a K&L OH Matty P RDC out of Exloër K&L Date Ida, a daughter of K&L CR Indira VG-86. Not only does Idatty P RDC test high on gNVI, but she also scores a nice German index with 154 gRZG.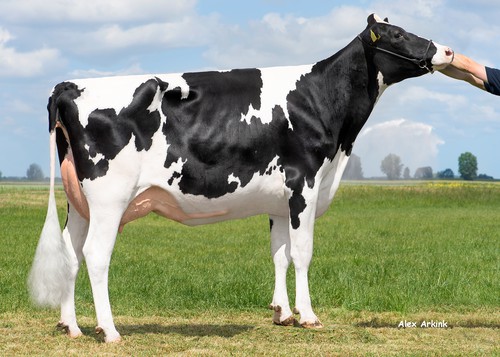 Granddam Idatty P RDC: K&L CR Indira VG-86 (s. Cyrano)