Numerous victories for GenHotel members at Fokveedag Bathmen/Laren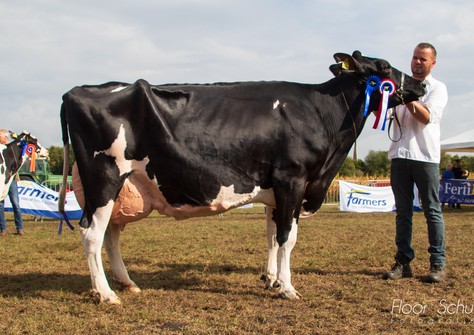 Type
Oosterbrook Acm S Hanillo VG-88 (s. Hanillo)
The 18th Fokveedag Bathmen/Laren took place last Saturday. Several GenHotel members participated which resulted in numerous, big victories!
A memorable day it was for members Huntje Holsteins, Holbra Holsteins and Oosterbrook Holsteins last Saturday. Participating members won big prizes in various categories. Below an overview:
R&W 2-year-olds
In the Red & White 2-year-old category, Huntje Holsteins competed with Huntje Holstein Anemoon 291, a first lactation Bentehoek Andy Red. Anemoon 291 freshened at the age of 1.11 yrs and is a granddaughter of Huntje Holstein Anemoon 188 Red GP-84, whose full brother, Huntje Holstein Red River, is stationed at KI Samen. In the championship final, the Andy Red daughter bred by the Oudenampsen family won the reserve title.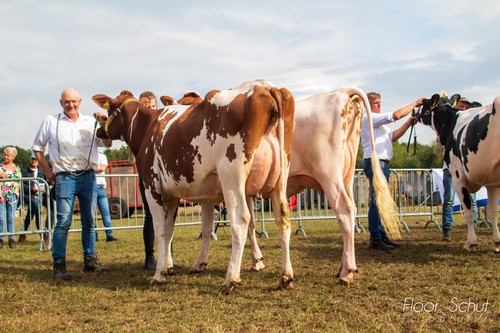 Left: Huntje Holstein Anemoon 291
Black & White 2-year-olds
In the youngest class, Holbra 3STAR Hellen entered the show ring. Hellen is a Pine-Tree-I Pursuit daughter of Holbra K&L Magic Havelange VG-85. Via Long-Haven Rudolph Dee EX-90 she traces back to the famous broodcow Snow-N Denises Dellia EX-95. Hellen won first place and was later rewarded with an Honorable Mention! Both Hellen and her dam are bred together with GenHotel.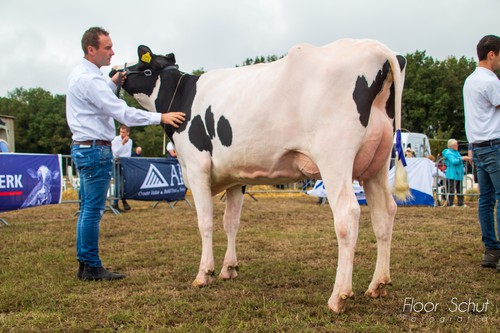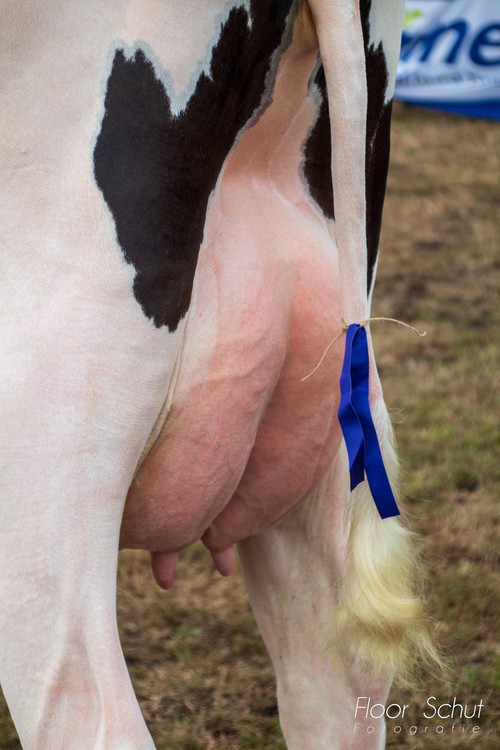 Intermediate R&W
Also Holbra A-L-H Rebecca Red VG-86, VG-88 MS (Spark Red x Primeval Bec RDC) was named Honorable Mention by the judges during the Intermediate Championship. The second calver Spark Red freshened late July and produces about 60 kgs of milk/day with good components.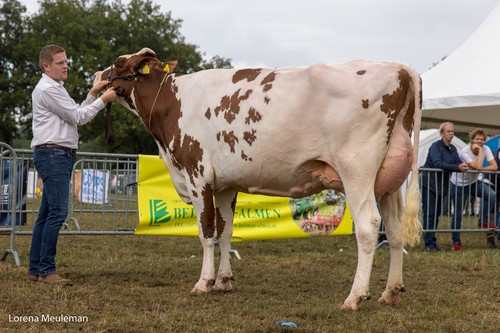 Intermediate B&W
For Holmer, there was also (double) success in the black and white intermediate class. From the famous Larcrest Juror Chanel family, Holmer bred the second lactation Holbra Charende 1, a VG-85 Farnear Delta-Lambda. Not only does Charende 1 show a big will for production (in 305 days: 11,522 kgsM with 4.55% fat and 3.65% protein), but she also confirms the type qualities of the Chanel family by winning the Intermediate Championship and Udder Championship.
Charende 1 VG-85 competed with herdmate Holbra Joy 2 VG-85 during the championship. Joy 2, full sister of the phenomenal TPI, PFT & ISET transmitter Holbra Joy 1 VG-86 (by Claynook Casper), was named Intermediate Reserve Champion. Embryos of Joy 1 VG-86 were sold to Italy and Switzerland, which led to the birth of the bull Holbra Escope SG which is stationed at Swissgenetics and his Wilder Hulk P half-sister Holbra Helana SG (4561 gPFT & 1622 gISET). Helena SG was sold for no less than CHF 12,000 during the Swissgenetics Top Sale 2021!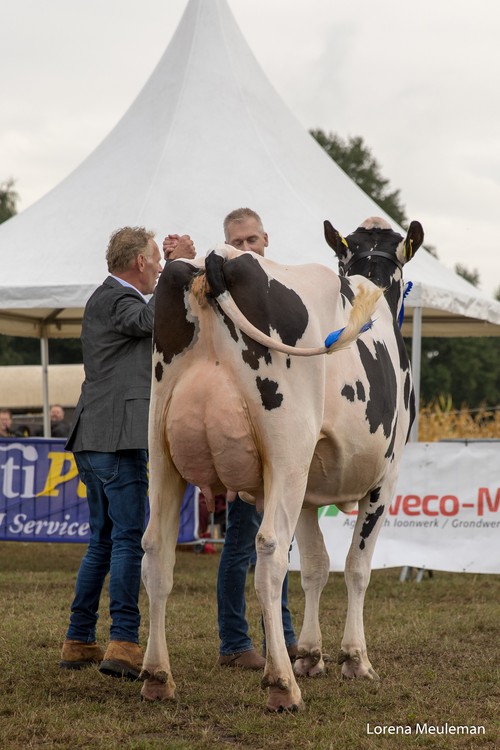 Holbra Charende 1 VG-85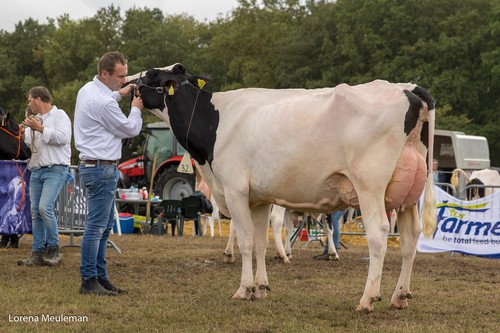 Holbra Joy 2 VG-85
​
Senior B&W
A very successful participation also for Oosterbrook Holsteins in the senior B&W category. Here breeder Leon Heijink showed the 5th calver Oosterbrook Acm S Hanillo VG-89 (by Hanillo). The current lifetime production of this silky black cow is 53,589 kgs of milk with 4.37% fat and 3.71% protein. The very feminine Hanillo with a lean refined head and long, narrow and clean neck was praised by the jury. First of all she was named Senior Best Udder, followed by the title 'B&W Reserve Senior Champion'!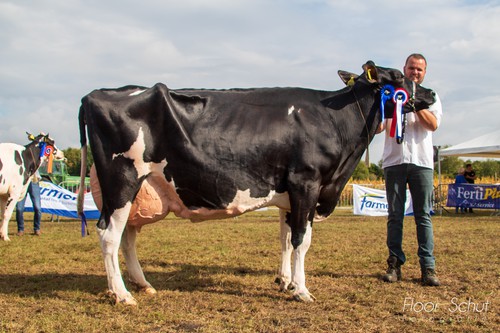 Breeders Herdgroups 2-year-olds (Red) Holstein
Res. Champion: Mts. Oudenampsen-Ruiterkamp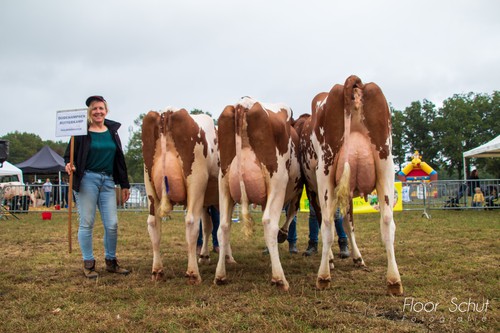 Reserve Champion: Mts. Oudenampsen-Ruiterkamp (Huntje Holsteins)
B&W Breeders groups class
Res. Champion: Mts. Holmer-Hesselink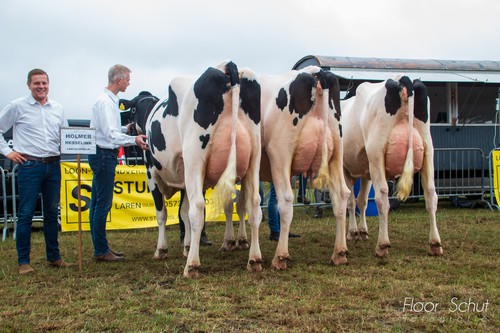 Reserve Champion: Mts. Holmer-Hesselink (Holbra Holsteins)
Check the full results of the Fokveedag Bathmen/Laren 2022. Click here.