K&L OH Mistress: a stunning daughter of super broodcow Mabel!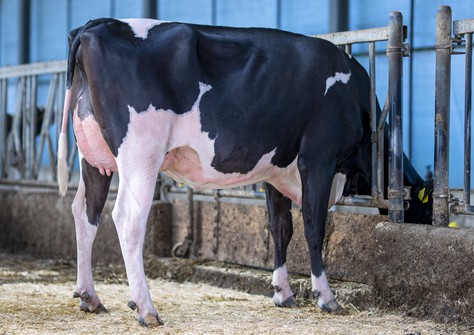 General
K&L OH Mistress, by Claynook Discjockey
K&L OH Mistress is one of the almost 60 offspring of the great transmitting and multiple bulldam K&L OH Mabel (by Progenesis Granite). Mabel's daughters and sons still test extremely high on gTPI. Now that the number of milking daughters is increasing, it is time to picture these toppers and introduce them to you.
Mistress is a daughter of the Canadian sire Claynook Discjockey. With this combination, breeders De Oosterhof & GenHotel hoped to welcome the next generation of bulldam. Her gTPI result was high (> 2700 gTPI) and this placed her in the top 50 gTPI of Europe in February of 2020. In addition to a high score in America, the Italian, French and Swiss systems also gave great genomic results for Mistress.
Mabel's Discjockey daughter was flushed to popular sires at that time: Stardancer and Peak AltaPlinko. Of the last mentioned bull, the highest scoring daughter was born, namely 3STAR OH Missy with 155 gRZG, 2942 gTPI and 206 gISU! In addition, her gPLI is also sky-high.
Dam K&L OH Mabel bred seven sons which are sold to different AI's in Europe. These are a.o. Mistress' maternal-brothers 3STAR OH Marcello (by Nacash) @Cogent, the to Czech Republic exported De Oosterhof 3STAR Mobi (by Peak Moline) and Silverridge V Einstein son 3STAR OH Mantra, which has been sold to an AI in Poland. K&L OH Mistress calved in November 2021 and is projected to 9,682 kgM with 4.16% fat and 3.63% protein in 305 days. She is admired by her breeders for her fantastic type and amazingly well attached udder!