Number 1 gTPI Red for Lindenhof!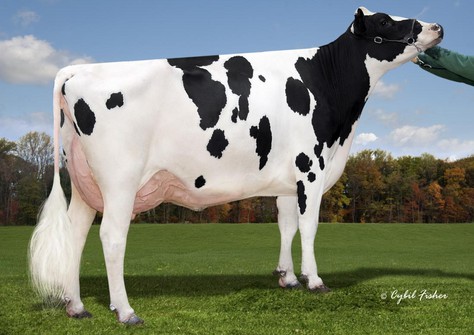 Genomics
Bacon-Hill Delta Kansas VG-85, granddam of the no. 1 Red, HLB Crown Kay-Red!
The July genomics run in America has again brought great results for several females bred by GenHotel members.
The number 1 gTPI of all newly genomic tested European females in July is De Oosterhof 3STAR Reevestar, a Riveting daughter out of the phenomenal "Genomics Transmitter" K&L OH Mabel, who now has 17 daughters above 2800 gTPI, of which 4 above 2900 gTPI. Reevestar scores 2958 gTPI, making her the absolute number 1 Riveting daughter in Europe. Her half sister, 3STAR OH Mabelution (by Solution) also got her 1st genomic result and scores 2834 gTPI.
With 2922 gTPI, 3STAR Bomaz Rive is the number 3 gTPI this month, partly due to her exceptionally favorable score of 2.49 SCS (cell count) and +8.0 PL. Rive is also a Riveting daughter out of the successful Bomaz Salvatore 8066 RDC, one of the very highest Mr Salvatore RDC daughters worldwide. Many top bulls come from this family, such as Bomaz AltaTopshot, AltaRobson, AltaSohot, Eldon and Skytracker.
At Wilder Holsteins 2 calves from the Wilder Hotspot P family also score in the top 50. Wilder Heidei is an Aristocrat with 2821 gTPI from Wilder Hedi VG-85, a Jedi half-sister of Hotspot P, while Wilder Harry is a Tahiti granddaughter of Wilder Hiros VG-85, the full sister of Hotspot P. With 2810 gTPI she is currently the highest De-Su Frazz Tahiti daughter in Europe. Wilder Fla, a Honda x Modesty from the Ralma Juror Faith EX-91 family, scores 2793 gTPI and is now the number 2 Net Merit Honda in Europe (702 NM).
Lindenhof Holsteins, the Höhler family, also received the American genomic results of 2 very interesting heifers this month. HLB Pursuit Baccara (2794 gTPI) is a Pine-Tree-I Pursuit granddaughter of the fantastic breeding HLB Baccara VG-87 (s. Balisto). This family goes back to the famous American brood cow Richmond-FD Barbie EX-92. The highest of all red-and-white females in Europe this month is HLB Crown Kay-Red, a Kenmore Triple Crown-Red from the Art-Acres Shottle Kay EX-90 family. With 2765 gTPI, Kay-Red is the number 1 gTPI Crown-Red daughter worldwide, and with 155 gRZG she is the second highest Crown-Red on the German basis.
With Batouwe Wm Aimee RDC, Batouwe Holsteins, owned by the Pieterjan Bakker family, also has a very attractive Wilder Mark RDC daughter. Aimee RDC is now with 2772 gTPI the highest scoring daughter of Batouwe Ailisha Salva-Red, who already has 10 red daughters above 2600 gTPI and 5 daughters above 2700 gTPI! In addition, Aimee RDC is the number 3 gTPI Wilder Mark RDC in Europe.
At Koepon Genetics, 2 red factor sisters also score well in the 2700 gTPI, namely Koepon Ronald Range 20 RDC and Range 21 RDC. These are Trent-Way-JS Ronald RDC daughters of the super breeding Lakeside UPS Red Range (by Salvatore RDC), dam of many high offspring, including the top bull 3STAR OH Red Ranger. Range 20 and 21 score respectively 2756 and 2733 gTPI and are among the top 10 Ronald RDC daughters in Europe.
In terms of type, this month's run also brought in new toppers, such as the full sisters Schuit Esmeralda (Crushtime x Solomon, +3.40 PTAT) and Schuit Carmen 1 (+3.35 PTAT) at Schuit Holsteins, offspring of the beautiful Carf Emeraude EX -91. JHS Holsteins 3STAR Abigail 3, a granddaughter of Sheeknoll Durham Arrow EX-96, belongs with 3.02 PTAT also to the higher Our-Favorite Undenied daughters.
Absolute highlight in July is BWN Camillia, a Blondin Thunder Storm with +3.51 PTAT  and the highest of all European females for conformation. In June her full sister BWN Camilla, also owned by BWN Holsteins - Bas Nagel, already scored +3.50 PTAT, making them top Thunder Storm daughters globally.
Click here for the top 50 gTPI newly genomic tested females in Europe.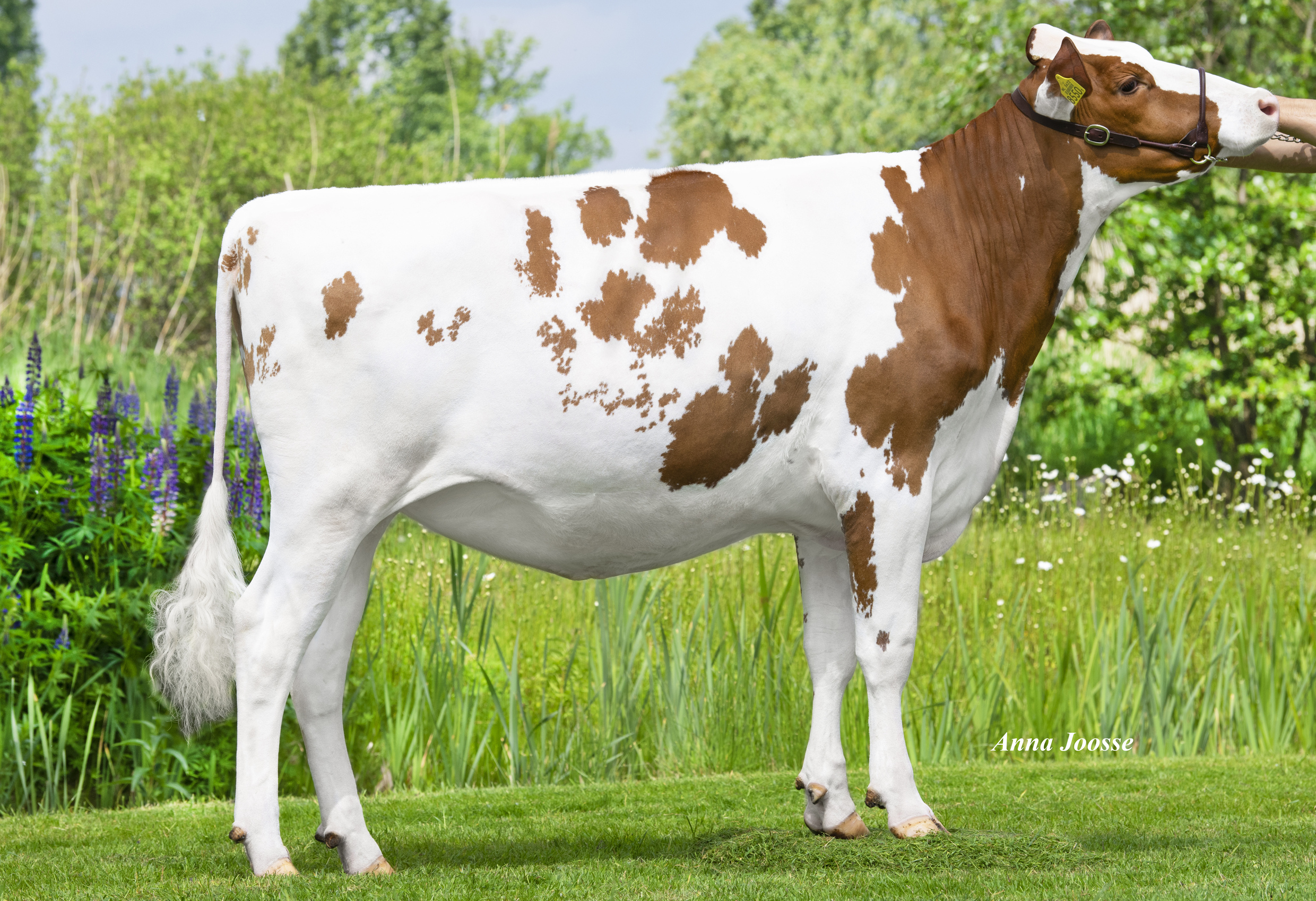 Batouwe Ailisha Salva-Red (s. Salvatore RDC), added again a 2700+ gTPI daughter
this run, namely Batouwe Wm Aimee RDC with 2772 gTPI!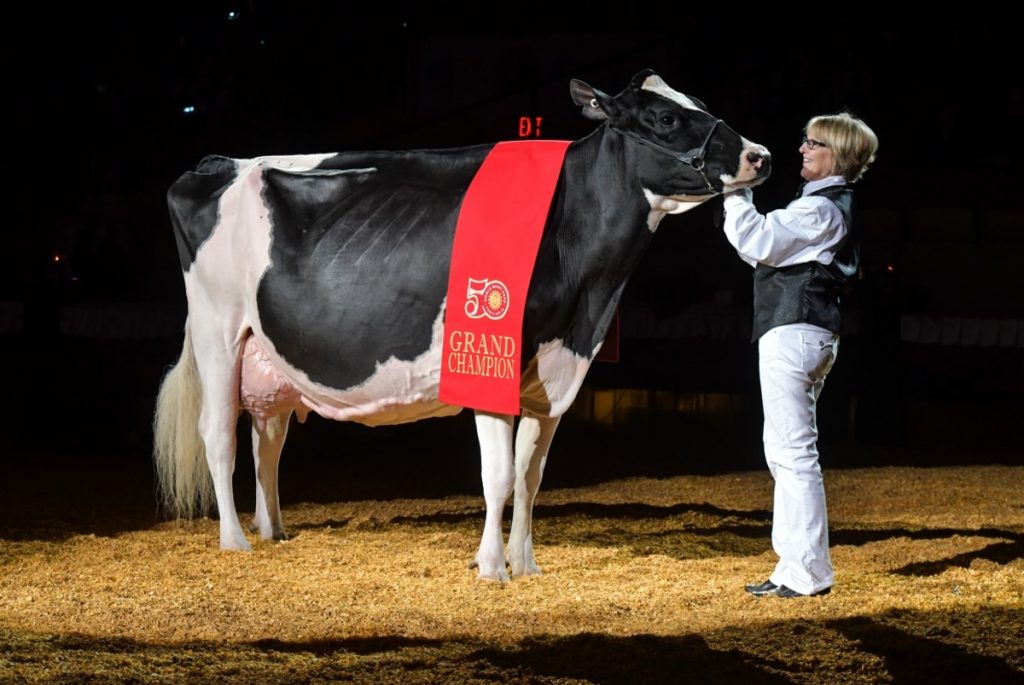 Sheeknoll Durham Arrow EX-96, granddam of JHS Holsteins 3STAR Abigail 3