New USA genomic results European females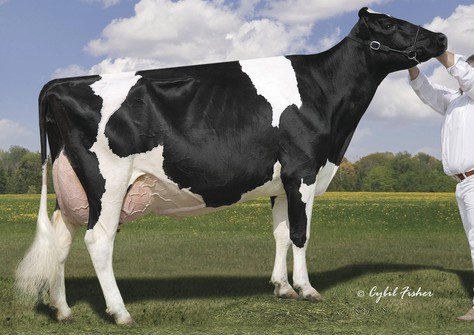 Genomics
Lylehaven Durham Lila Z EX-94, brood cow behind Willsbro Holysmokes Lila Z 4751
The April proof run has once again delivered, also on the American basis, a number of interesting, newly genomic tested females from various GenHotel members.
Willsbro Holysmokes  Lila Z 4751 is one of the highest Cookiecutter Holysmokes daughters this month. Lila Z 4751 is a descendant of 'One Million Dollar Cow' Lylehaven Durham Lila Z EX-94 and possesses an all-round genomic profile with beneficial health traits, resulting in 2975 gTPI.
At WKF Holsteins, WKF Rider Marnee is a welcome addition. With 2915 gTPI, she is the number 4 gTPI BGP FB Ridercup in  April in Europe, with positive components scores and +2.22 UDC. Her dam WKF Copy Marlies scores high in multiple systems, including Spain, while the fabulous granddam Veelhorst Vekis Melody VG-87 also has many high offspring. Marnee her full sister WKF Rider Marja was recently  sold to Germany for € 11,500 at the GenHotel Selection Sale.
Also at Zandenburg Holsteins there are several high-testing females this month. Zandenburg Allegany Ebony scores 2905 gTPI and is a Richmond-FD SW Allegany from Zandenburg Einstein Ebony VG-87, a descendant of Rocky-Vu Rotate Extasy Ebony EX-94. She is now the highest Allegany daughter for gTPI in Europe. Zandenburg Gameday Diamond, with 2895 gTPI, has an alternative bloodline with Gameday x Huey x Achiever x Racer and comes from the Glenridge Citation Roxy EX-97 family. Zandenburg Parfect Lidia also comes from an impressive cow family, namely that of the Italian brood cow Bel Iron Irene EX-90. Lidia is high in components and has favorable health traits, resulting in 2869 gTPI.
The highest red factor female a genomic result this month is Koepon Kevlow Range  197 RDC, a Peak AltaKevlow with 2888 gTPI, of course a descendant of the 'Global Red Impact Cow' Lakeside Ups Red Range-Red VG-86. Range 197's dam is the pregnant heifer Koepon Sput Range 41 Red (by K&L Sputnik RDC), who comes from Red Range via a VG-85 Swingman.
The highest score for PTAT this month of all European females is for BWN Camillia 1, a Siemers Fitters Choice with +4.10 PTAT, +2.97 UDC and +2.15 F&L. Camillia 1 is bred by BWN Holsteins and comes from the family of the beautiful Silvermaple Damion Camomile EX-95.
Click HERE for the highest females on gTPI in Europe.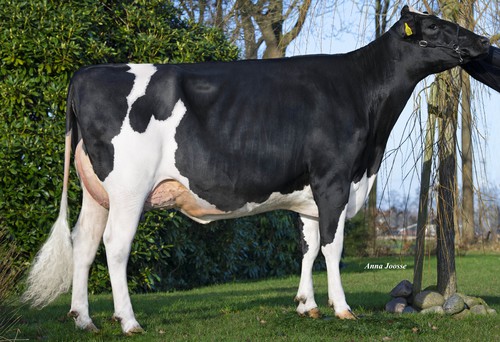 Veelhorst Vekis Melody VG-87 (s. Gymnast), 2nd dam of WKF Rider Marnee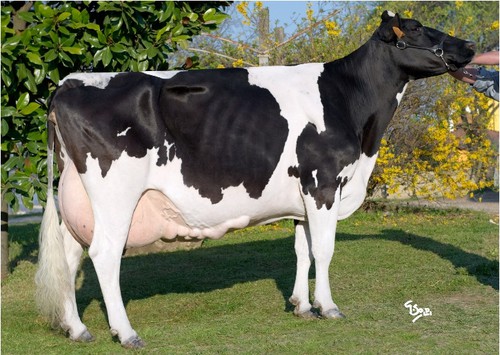 Bel Iron Irene EX-90 (s. Boss Iron), fantastic brood cow in the pedigree of Zandenburg Parfect Lidia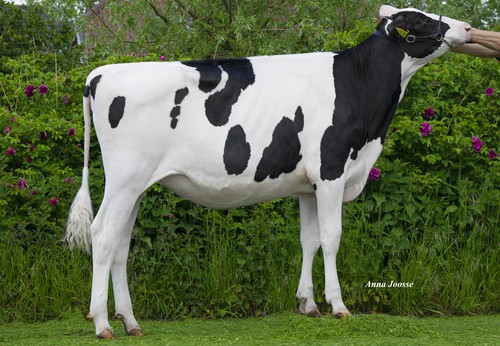 BWN Camillia (Thunderstorm x Undenied), dam of BWN Camillia 1