Holysmokes delivers the new top heifers in May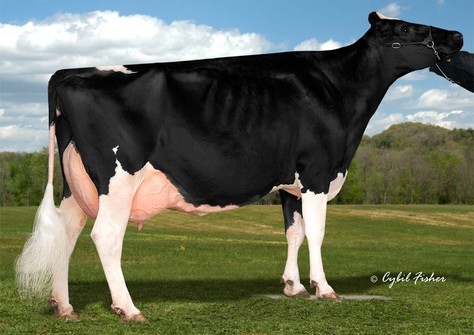 Genomics
Windy-Knoll-View Pammy EX-95 (s. Durham), fantastic brood cow in the pedigree of Willsbro Dynasty Pammy 4988
The USA genomics results of newly tested females in May have been published again by the Holstein Association USA. Cookiecutter Holysmokes delivers 3 of the 5 highest new calves in Europe this month and has no less than 11 offspring in the top 50 gTPI European females.
The new gTPI list leader of all tested females in Europe is now Go-Farm Myrtle, an Italian Holysmokes with 3238 gTPI, which goes back to Seagull-Bay O-Man Mirror VG-86. The number 2 gTPI  this month is the Portuguese Encanto Parfect 904, also the number 1 gTPI Siemers Renegade Parfect in Europe and from the Holbra Sana/Prudence family of Holbra Holsteins.
At GenHotel member Wilder Holsteins, 2 high-scoring Holysmokes daughters are in the top 50 in May, namely the full sisters Wilder City and Wilder 75582, with 3035 and 2985 gTPI respectively. Their dam, Wilder Cinema, is a Peak AltaZazzle from the Tirsvad Luke Classy/Vir-Clar The Classy family, who has supplied many breeding bulls including Koepon Beatclub and Cogent Supershot.
With 2985 gTPI, 3STAR OH Majesty is the highest of all Kings-Ransom Dynasty daughters in Europe, with very high components, favourable health traits and +2.52 PTAT in her profile. Her dam, 3STAR OH Mazzali (s. AltaZazzle), still scores 2950 gTPI and 152 gRZG and is a granddaughter of the phenomenal brood cow K&L OH Mabel.
Willsbro Dynasty Pammy 4988, from Willsbro Holsteins in the UK, is also one of the Dynasty toppers in Europe with 2973 gTPI and even scores +2.83 PTAT and +2.64 UDC. She traces via Sound System x VG-89 Delta-Lambda  x VG-87 Montana back to Willsbro Pepper Pammy EX-90, a descendant of Windy-Knoll-View Pammy EX-95.
With 2867 gTPI, Koepon Boraz Range 204 Red is one of the highest red and white  females in May and also the highest red and white Boraz daughter in Europe this month. Range 204  Red, owned by Koepon Genetics, is of course from the Lakeside Ups Red Range VG-86 family: her dam Koepon Rubels Range 53 is a 3/4 sister of the top R&W bull 3STAR OH Ranger-Red.
One of the highest redfactor animals in May is Dignity 3STAR Rina 2 RDC, a Peak AltaAlanzo daughter from the successful cow family of Bomaz  Holsteins, which also produced the number 6 NVI daughterproven bull Bomaz AltaTopshot. Rina 2 RDC features a lot of milk with positive components and favorable health traits, resulting in 2865 gTPI and 943 NM.
Click here for the top 50 gTPI European females in May.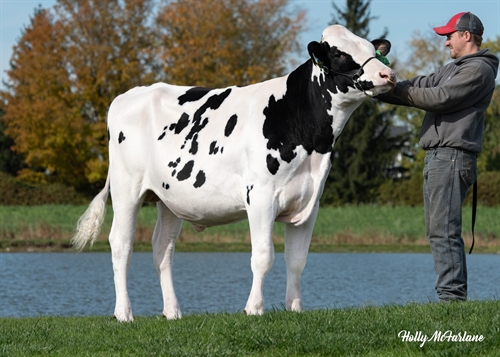 Cookiecutter Holysmokes (Highjump x Renegade) @ Semex, sire of many high descendants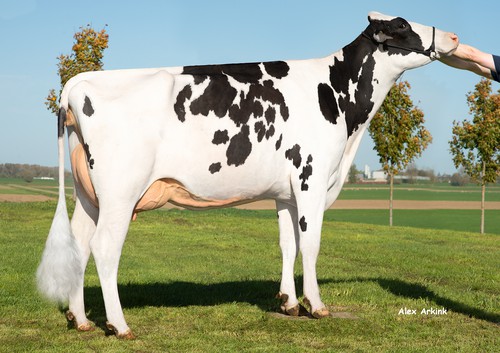 3STAR Bomaz Riva RDC (Riveting x Salvatore RDC), dam of Dignity 3STAR Rina 2 RDC