Drouner Mientje 1619, the next EX-92 cow at Drouner Holsteins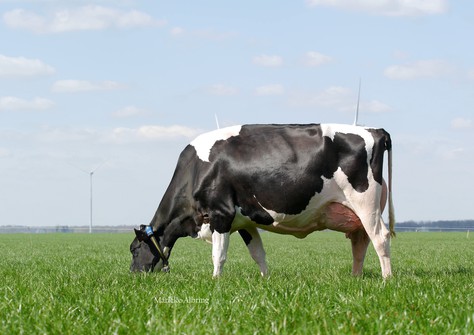 General
Drouner Mientje 1619 now EX-92, EX-91 MS!
The third lactation Woodcrest King Doc from the Mientje family managed to achieve a huge upgrade in her score this week. This makes Mientje 1619 the 31st excellent cow in the herd of Drouner Holsteins and no less than the sixth cow at this farm with EX-92!
In February, this King Doc calved for the third time from a Claynook Barolo heifer calf. The first calving of the Albring family resulted in a Unix heifer, Drouner Mientje 1800, which is in milk and last March scored as a 2-yr-old VG-87 with MAX VG-89 TY. In 305 days Mientje 1619 is projected at 13,237 kgs milk with 3.85% fat and 3.41% protein, currently she milks over 62 kgs/day.
Dam of this King Doc is an EX-90 Jotan Red, which has entered the show ring a couple of times. The King Doc has also been admired at shows before. As a calf, she already was placed second in her category at the Rundvee Show Noord in 2019 and at the FDV Wintershow in 2022 she was fourth in the Intermediate Class. Since then, Mientje 1619 has calved again and has development tremendously. This was the reason the Albring family invited the classifiers, which led to an exciting result: EX91 FR, EX92 DS, EX91 MS, EX93 FL and EX92.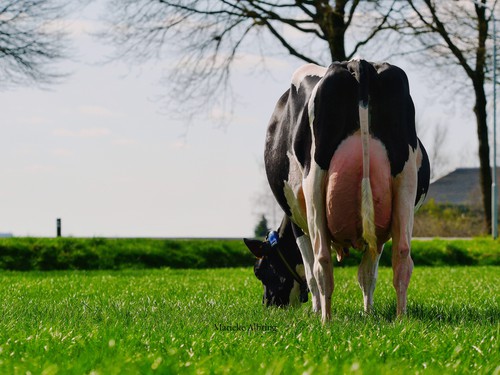 Drouner Mientje 1619 raised her VG-87 score as a 2-yr-old to EX-92 in just one beat!