K&L OH Mallory, following her dam's footsteps!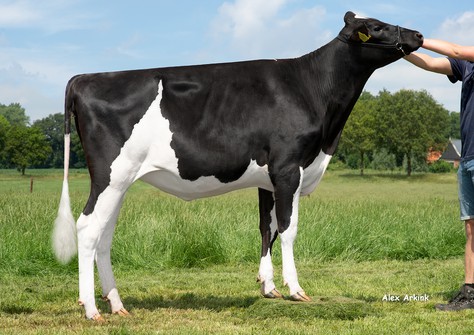 Genomics
K&L OH Mallory, tremendous Genomics Transmitter!
The American genomics run has yielded several females in Europe this month with a result above 3000 gTPI.
One of these is 3STAR OH Malou 1, a Peak AltaZazzle daughter out of K&L OH Mallory (by Kenobi). Malou 1 scores 3021 gTPI, making her the highest AltaZazzle in Europe. Moreover, with 164 gRZG, she is the highest European AltaZazzle on the German basis. Three full sisters of Malou 1 score between 2900 and 3000 gTPI this month and are therefore also in the top 10 AltaZazzle daughters in Europe. With already 4 daughters over 2900 gTPI and 4 daughters with 160 gRZG and above, all owned by De Oosterhof and 3STAR Genetics, Mallory is following in the footsteps of her very successful dam and great genomics transmitter K&L OH Mabel (s. Granite).
Hurkmans ET has with HET Twitch Gretchen 1 a very interesting Mr Farnear Helix Twitch daughter, with 2957 gTPI the number 1 gTPI Twitch in Europe this month. She is also the number 2 gTPI Twitch of all genomic tested Twitch daughters in Europe. Her dam HET Ken Gretchen is a De-Su Kenobi from the well-known Diepenhoek Rozelle family.
Also at Wilder Holsteins Wilder 36364 with 2909 gTPI belongs to the top 50 gTPI females in Europe in June. This AltaZazzle daughter comes from the proven Wesswood-HC Rudy Missy EX-92 family, with many daughterproven sires in AI worldwide. Wilder 36364 her dam is a Mr Rubicon Dynamo out of a VG-85 Triplecrown Gatedancer.
The Richmond-RD Barbie EX-92 family also regularly produces genomic toppers at Lindenhof Holsteins. HLB Helix Beatrix scores 2887 gTPI this month and is the number 3 gTPI daughter of the top proven bull AOT Silver Helix in Europe. Beatrix her dam is HLB Berberitze, a recently calved Cal-Roy-Al Yoda, who also has a Twitch daughter scoring 2925 gTPI.
With 2876 gTPI, Oosterhof Miami Donchara is the highest descendant in Europe of Farnear Miami (Nightcap x Dynamo). Donchara's granddam is a full sister of the popular bull Topstone (by AltaTopshot) at Masterrind. This cow family goes back to the legendary brood cow Golden-Oaks Mark Prudence EX-95.
Highest red & white newly genomic tested calf in June is Koepon Sput Range 36 Red, a K&L Sputnik RDC out of Koepon Swingman Range 2 Red, with 2809 gTPI. This makes her one of the highest red-and-white females in Europe. With 161 gRZG she is also the number 3 RZG red & white Sputnik RDC on the German basis.
Also in terms of high type scores, there are several high-scoring calves from GenHotel members again this month:
- 3STAR MV Wilma (Moovin RDC x Juniper Outside Wish EX-95 family): +3.59 PTAT
- De Wijde Blik Adeen 1 (Master x Kingstead Chief Adeen EX-94 family): +3.31 PTAT
- 3STAR Moovin Wilma (Moovin RDC x Juniper Outside Wish EX-95 family): +3.31 PTAT
- Abtshoeve 3STAR Cosmo (Master x Larcrest Crimson EX-94 family): +3.27 PTAT
- Abtshoeve 3STAR Cirac (Master x Larcrest Crimson EX-94 family): +3.25 PTAT
- Batouwe Crushabull Lili (Crushabull x Lylehaven Durham Lila Z EX-94 family): +3.17 PTAT
- Willsbro Rubels Tiktak (Rubels-Red x KHW Regiment Apple-Red EX-96 family): +3.00 PTAT
Click here for the top 50 gTPI European females in June.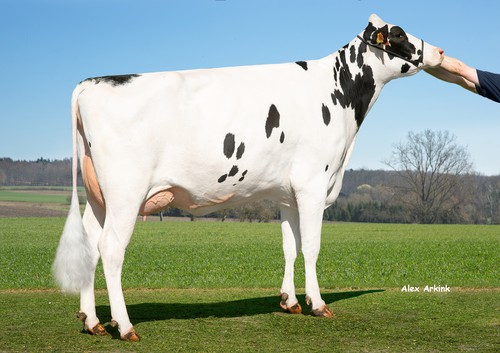 HLB Berberitze (s. Yoda), dam of HLB Helix Beatrix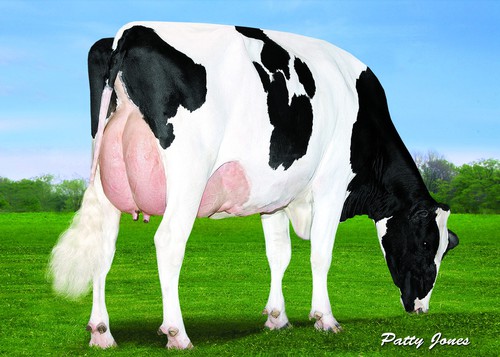 View-Home Mcc Found VG-88 (s. McCutchen), 4th dam of Wilder 36364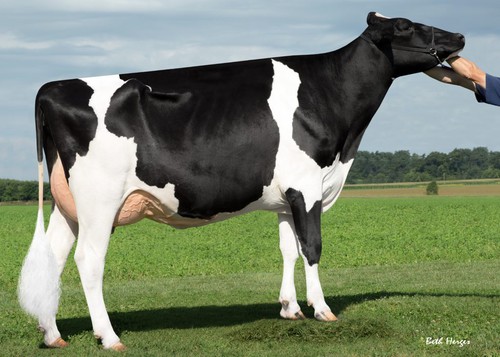 Lylehaven D-Man Latifah VG-88 (s. Doorman), granddam of Batouwe Crushabull Lili