Ongoing interest in Quatropoint K&L SW Roseanne Red!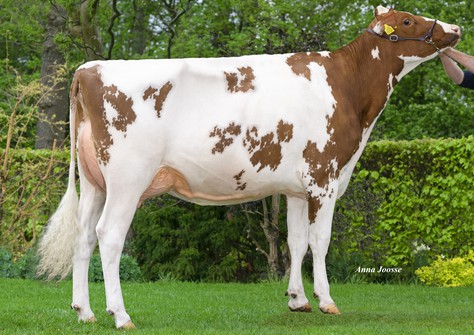 General
Quatropoint K&L SW Roseanne Red VG-85
In 2021, De Wijde Blik Holsteins sold several embryos to Switzerland via GenHotelby Westcoast Stamkos RDC out of Quatropoint K&L SW Roseanne Red, the maternal-sister of 'Red Impact Cow of 2021' Lakeside Ups Red Range Red VG-86!
Quatropoint K&L SW Roseanne Red - 3STAR Breeding Program result  (out of the embryo programm) and bought on the GenHotel Selection Sale - is now in her first lactation, photographed and classified with VG-85 (VG-87 MS). As a heifer calf, the Westcoast Swingman Red daughter from De Oosterhof Dg Rose RDC VG-89 was also tested in cooperation from GenHotel and Swiss Genetics on gISET in addition to her scores for TPI, RZG and NVI. This turned out to be a hit, because not only her gISET was high but also the indexes for type and fitness were great. These awesome numbers caused Swiss Genetics to contract Roseanne Red (by Swingman Red) for delivering embryos.
A total of eight embryos by Stamkos from Roseanne Red were exported to Switzerland by GenHotel, four of which were sold to B.O.A. Holsteins. From this purchase two heifer calves were born, including De Wijde Blik Stamkos Rosie RDC which was sold a month ago to 'All-Stars Holsteins' (Von Allmen family). Rosie RDC has been tested and scores a nice 1487 gISET / 134 IPL, 127 IFF / 1936 kgM.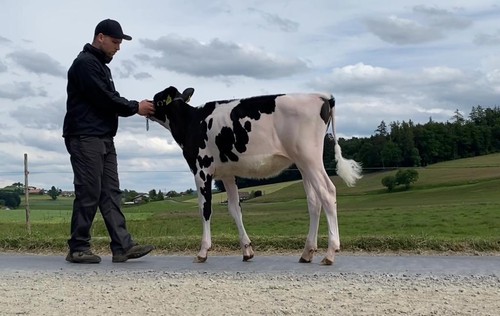 De Wijde Blik Stamkos Rosie RDC, photo 'B.O.A. Holstein'
De Wijde Blik sold also a very fancy maternal-sister at the last GenHotel Selection Sale named De Wijde Blik Roseanne P Red (by Scenery-View Cliff PP RDC) and a maternal sister by Poppe Freestyle-Red sister, De Wijde Blik Roseanne Red 2 Red (1621 gISET / 130 IPL / 136 ITP 140 IFF), was tested real high and interest in embryos has been shown already!