Tirsvad K&L Pursuit Milano, already a proven brood cow!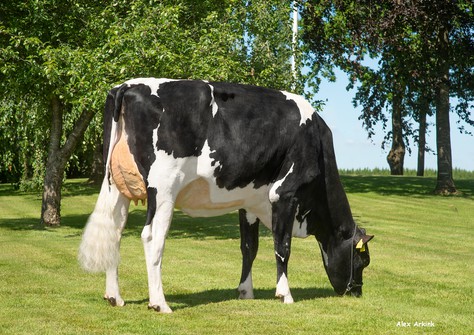 General
Tirsvad K&L Pursuit Milano VG-88
With daughters up to 3009 gTPI and 158 gRZG and a Peak AltaZazzle son purchased by an international AI, this early Pine-Tree-I Pursuit has already proven herself as a strong brood cow at a relatively young age. That's one of the reasons the Danish Tirsvad K&L Pursuit Milano VG-88 has been already a few times a trending topic on our newsfeed.
All the more reason to have the VG-88 scoring Pursuit from Tirsvad Genetics & GenHotel officially photographed! Milano VG-88 is besides bull dam also the full sister of the sire Tirsvad K&L Mingus @Semex and maternal-sister of Tirsvad 3STAR Simon Mumbai P @Intermizoo. Their dam Pen-Col Superhero Mistral VG-89 has made her name in the international Holstein breeding in recent years, based on her gTPI & gRZG profile and she transmit it easily to her male and female line. 
Mistral was purchased in 2018 by Madsen (Tirsvad Genetics) & GenHotel as a heifer calf with 161 gRZG & 2833 gTPI ánd A2A2 during the SonderKollektion. Her gPLI & gPFT also proved to be of great value. The VG-89 scoring Superhero daughter has already produced more than 40 offspring for the joint breeding program of Tirsvad Genetics & GenHotel (3STAR Genetics)! The interest for this cow family has increased rapidly and now this cow family is frequently present at the European elite auctions! Last May, an AltaZazzle from Milano VG-88 changed hands for € 8,800 during the GenHotel Selection Sale!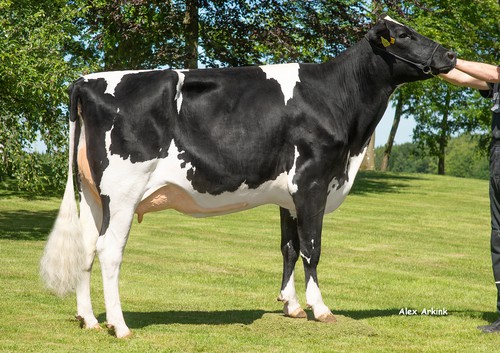 Tirsvad K&L Pursuit Milano VG-88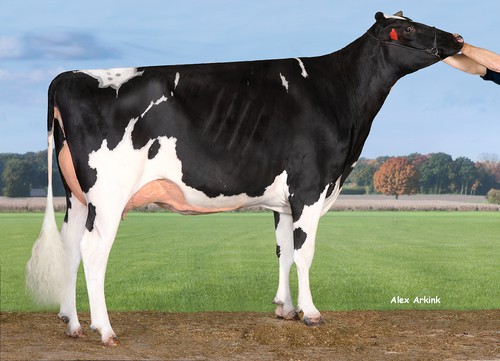 Dam: Pen-Col Superhero Mistral VG-89