Well-known families put HM Holsteins further on the radar!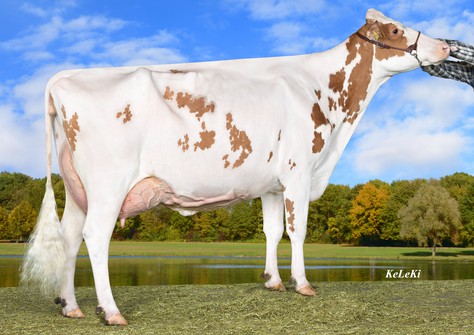 General
Wilder K25 Red EX-90, 3rd dam of HM Kamille 6 Red!
The Newhouse Sneeker, Wilder Kanu 111 RDC and Apina Massia family lay a solid foundation throughout Moonen's herd. Not only for milk production and index, but also for conformation! This was extra underlined by the results of the classification day earlier this week.
By purchasing great offspring, embryos and participating in the 3STAR Embryo Program, Moonen is able to bring the best cow families in his herd. The investments of recent years are turning out well!
This is also proven by the list of classification results which just came in. With a total score of VG-87 and VG-88 Mammary, VH Crown daughter HM Country 7 is the highest classified 2-yr-old. Via a VG-86 Esperanto, the 87-point Crown hails from Wilder Country PP RDC, which Moonen bought as a heifer calf. With a great score of VG-85 HM Country 5 P Red (Joskin P RDC x Pace Red x Country PP RDC), member of the same cow family, followx. The Country's are descendant of the Apina Massia's via the Sanderij Massia Coco P Red VG-85 branch.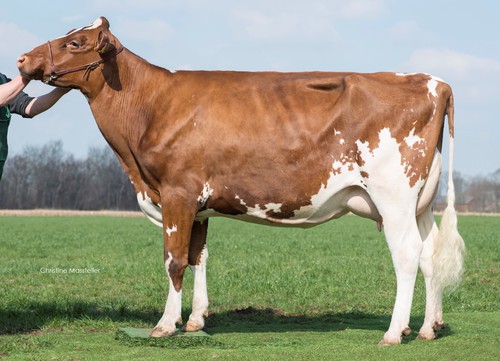 WIlder Coco P-Red VG-86, dam of the purchased Wilder Country PP RDC
The Koepon Classy family is the foundation behind the VG-85 classified HH Riv Classina, an S-S-I Bg Fzzld Riveting x Dykster K&L KR Classica, which was purchased as a heifer. Classina scores well in Italy, the UK and America, which made the Riveting a good candidate for flushing in Moonen's breeding program. One of her promising daughters is a nice transmitting gTPI heifer sired by Sandy-Valley Moon, HM Moon Classy 1. Embryos out of her are now available at the GenHotel Embryo Sale (CLICK HERE)!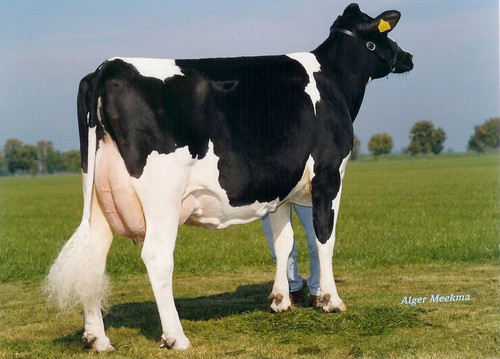 Foundation dam Koepon Classy VG-86
The well-known Sneekers, from Newhouse Holsteins, have brought Moonen success for several generations on the basis of gNVI. The scored HM Sneeker 228 (by Delta Floris) also showed a top gNVI score over a long time. This baton is passed over to one of her Delta Endless RDC daughters: HM Sneeker 235 RDC. With 401 gNVI she is the current number 12 in NL/BE! Due to the use of high gRZG bulls, they also managed to breed a Foreman with 157 gRZG and 204 gISU out of Sneeker 228! Sneeker 228 was good for VG-85 and is the 9th generation of VG in a row.
From the same Sneeker cow family HM Sneeker 226 classifies VG-86. She is a Lowlands Trust from an S-S-I Partyrock Profit, her dam is just fresh in her 4th lactation.
Gywer RDC daughter HM Kamille 6 Red adds another success to this story. The Wilder Kanu 111 RDC offspring was good for VG-85 & VG-87 Mammary. Her full sister - HM Kamille 5 Red - is a true transmitter with R&W daughters up to 157 gRZG and due mid-December. Fun fact: She is pregnant with the home bred bull HM Florius @KI Kampen, the full brother of the aforementioned HM Sneeker 228 VG-85!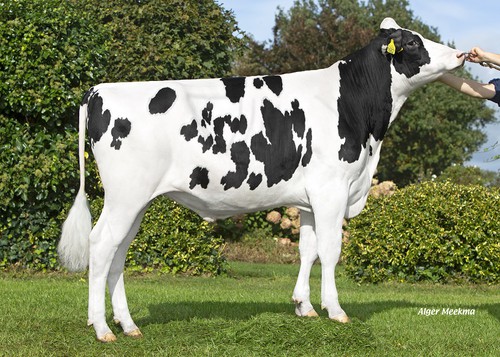 ​
HM Florius (s. Floris)