18 of the top 50 gTPI in October!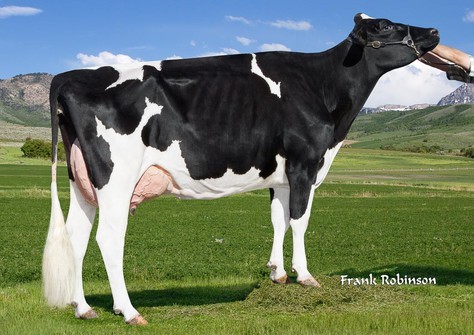 Genomics
Pine-Tree Dorcy Alexa VG-88 (s. Dorcy), 4th dam of Koepon Milestn Anita 2 & 3
18 of the top 50 gTPI newly genomic tested European females in October are owned by GenHotel members! And these 18 animals are also derived from 8 different breeders, which confirms again that the GenHotel members are very active and successful in top Holstein breeding.
► Koepon Genetics has this month 4 new calves in the top 50 gTP, including 2 AltaMilestone daughters of Peak Hotline Anita 9497, also the dam of the global number 1 gTPI Westcoast Scotch daughter Peak Anita Scotch 1228, recently sold at the Koepon Selection Sale. Koepon Date Range 10 RDC is with 2719 gTPI one of the highest red carrier heifers in Europe and a maternal sister of Koepon Swingman Range 2 Red, the number 1 gTPI Red Holstein in Europe and number 2 gTPI Red Holstein worldwide.
► Also Wilder Holsteins is represented very well in October with 6 new females, like 3 Fustead S-S-I Solution daughters out of Wilder Kosmo RDC, a Salvatore RDC out of the Wilder Kanu RDC family. Two of the three Solutions got the red gene from Kosmo RDC and belong to the very highest red carrier females in Europe. One Progenesis Topnotch and two Hurtgenlea Richard Charl daughters from the Wilder Hotspot P family score also over 2700 gTPI.
► RZH of Marco Hellwig has 2 high AltaDateline daughters out of the USA cow Ri-Val-Re Rasp RDC, an EDG Rubi Asp RDC from the famous Canadian Glen-Drummond Aero Flower VG-88 family. One of these 2 AltaDateline daughters will be sold at the VOST Select Sale on November 29th in Leer.
► De Oosterhof Dairy has also several new high genomic females, including K&L OH Manoa, a De-Su Kenobi with 2750 gTPI, from the Mabelline Tual VG-85 family and co-owned with GenHotel.
► Hurkmans ET scores with 2 Kenobi daughters from Larcrest Outside Champagne EX-90 family in the top 50 gTPI fine too. Dam of these 2 full sisters is HET Sound Chanel, a due to calve Mirabel Sound System out of Diepenhoek Chanel VG-85.
► Drouner Holsteins and Broekhuis Vee have both a newly tested female with 2711 gTPI. At Drouner this concerns an ABS Crimson x Superhero out of the Koepon Classy family and at Broekhuis a Charl x Bandares from the De-Su BWM Georgia EX-90 family.
► Not in the top 50, but definitely worth mentioning is Voorhof K&L Kacy-Red, with 2606 gTPI the highest red Match P daughter worldwide. Kacy-Red, owned by Voorhof Holsteins and GenHotel, scores not only high in the USA, but is with 165 gRZG one of the supreme Red Holsteins on the German base. Her dam is Wilder Kor RDC, a Salvatore RDC from the fantastic Swissbec Brekem RDC daughter Wilder K25-Red VG-88 and purchased at the VOST Select Sale 5.
Click HERE for the top 50 gTPI newly genomic tested European females in October.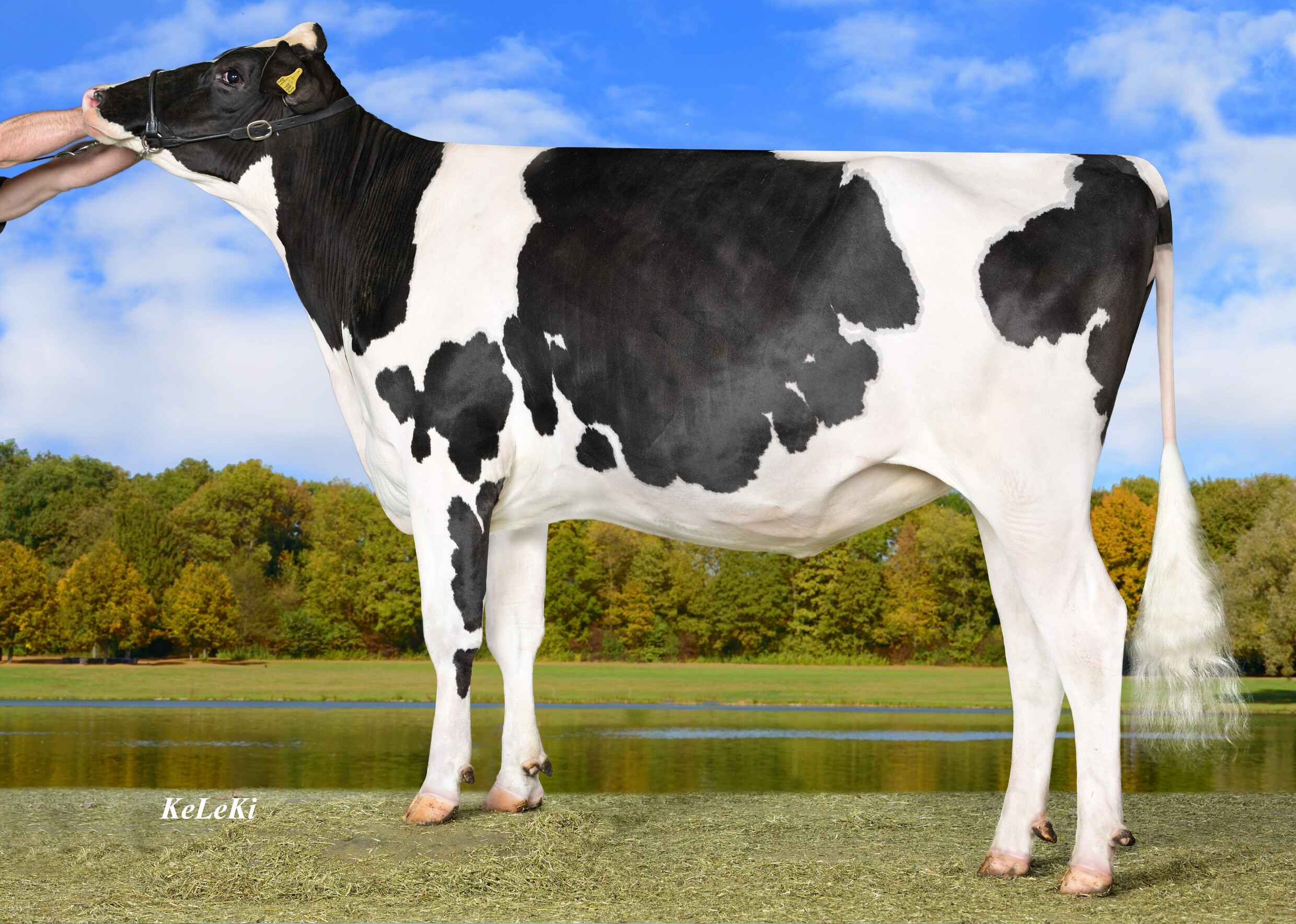 Wilder Konzert RDC (s. Battlecry), granddam of 3 high Solution heifers at Wilder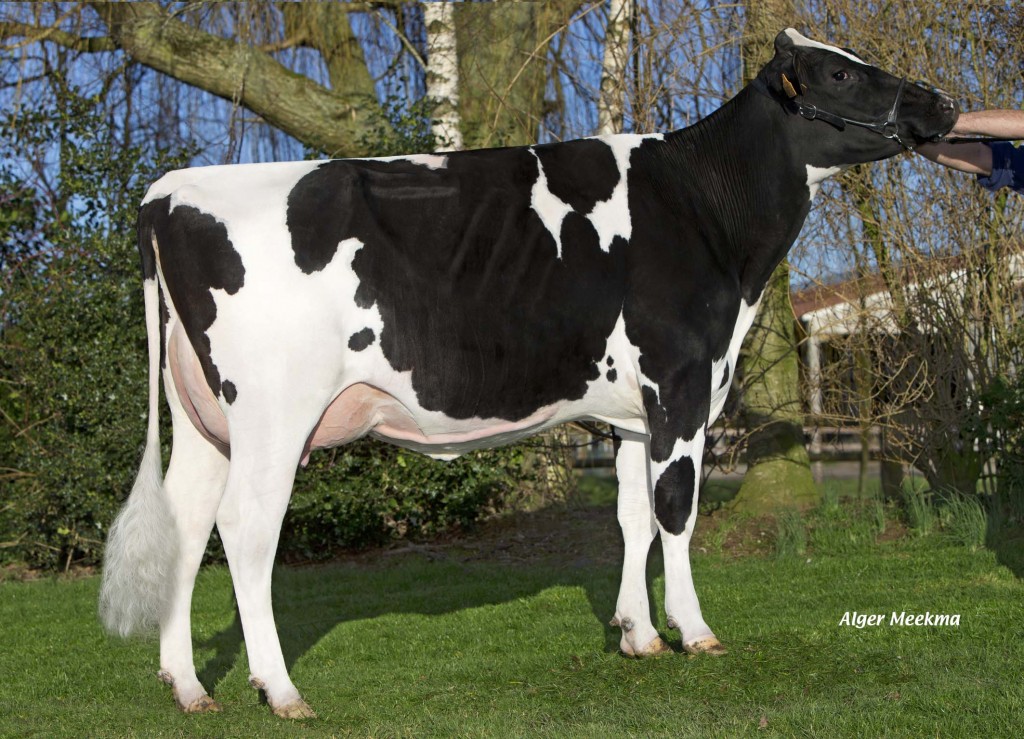 Roccafarm Beacon Chrissy VG-87,
                        3rd dam of 2 high De-Su Kenobi daughters owned by Hurkmans ET

Wilder K25 VG-88 (s. Brekem RDC), granddam of Voorhof K&L Kacy-Red