Females of GenHotel members rank well on gRZG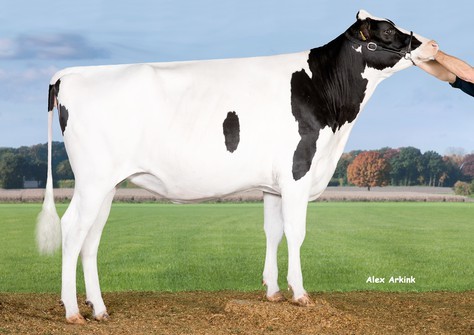 Genomics
K&L Oh Mirror (s. Agronaut), dam of Oosterhof K&L Miracle
GenHotel members deliver many bulls and embryos to European AI-studs every year. It is therefore very important that the females in the breeding programs score high on genomics in the relevant country.
Several females of GenHotel members rank very well in the German system: 7 Holstein and 8 Red Holstein calves and heifers score 160 gRZG or higher. This makes them rank among the absolute best and create a lot of interest from German AI-studs.
At the Holsteins Oosterhof K&L Miracle is with 165 gRZG the highest De-Su Kenobi in the German system. Lis K&L Xemmi 7970 scores with 164 gRZG also as the number 1 daughter of her sire (Kensington). Xemmi will be sold at the Masterrind Exclusive Sale on November 6th in Lingen. Koepon Duke Ruby 14 is the only of all genomic tested S-S-I Montross Duke daughters over 160 gRZG.
Voorhof K&L Kacy-Red ranks with 165 gRZG in the top 3 of all genomic tested Red Holstein females in the German system and is the number 1 gRZG Match P RDC daughter. Kacy-Red her dam is purchased by Voorhof Holsteins & GenHotel at the VOST Select Sale. Poppe Red Hot Rita 9033 Red ranks with 164 gRZG also in the top 5 in Germany and will be sold at the VOST Select Sale in Leer on November 29th. The number 2 gRZG Match P RDC, Aalshorst Geertje 301 Red, scores 161 gRZG and belongs with that great result also to the top 15 gRZG Red Holstein.  
|   Name |   Pedigree |   Dam | gRZG |   Owner |
| --- | --- | --- | --- | --- |
| Holstein |   |   |   |   |
| Oosterhof K&L Miracle | Kenobi x Agronaut   | K&L OH Mirror | 165 | De Oosterhof & GenHotel |
| Lis K&L Xemmi 7970 | Kensington x Lighter | Lis K&L Xunia 3362 | 164 | LisLéck Holsteins & GenHotel |
| Drouner K&L Classy 1662 | Kenobi x Superhero  | Drouner K&L Classy | 162 | Drouner Holsteins & GenHotel |
| Koepon Duke Ruby 14 | Duke x Rubicon    | Koepon Ruby-Ann | 162 | Koepon Genetics |
| HET SC Charlene ET | Soundcloud x Sound System | HET Sound Chenile | 162 | Hurkmans ET |
| MAR Israel | Lightstar x Superhero | MAR Indy | 161 | De Oosterhof & GenHotel |
| Koepon Keit Classy 452 | Keith x Bandares   | Koepon Band Classy 377 | 160 | Koepon Genetics |
|   |   |   |   |   |
| Red Holstein |   |   |   |   |
| Voorhof K&L Kacy Red | Match P RDC x Salvatore RDC | Wilder Kor RDC | 165 | Voorhof Holsteins & GenHotel |
| Poppe Fienchen 1569 Red | Born P RDC x Silver     | Poppe Fienchen 1134 RDC | 164 | Poppe Holsteins |
| Poppe Red Hot Rita 9033 Red | Gywer RDC  x Mission P RDC | Poppe Red Hot Rita 1431 P Red | 164 | Poppe & Red Hot Holsteins |
| K&L Oh Kywibra Red | Gywer RDC  x Styx Red   | Kalibra SX 5631 Red | 162 | De Oosterhof & GenHotel |
| Koepon Swingmn Range 1 Red | Swingman-Red x Salvatore RDC | Lakeside UPS Red Range | 161 | Koepon Genetics |
| Aalshorst Geertje 301 Red | Match P RDC x Styx Red   | Aalshorst Geertje 257 Red | 161 | Aalshorst Holsteins |
| Buitenlust Sanne Red | Jacuzzi Red x Mission P RDC | Wilder Smart Red | 161 | Buitenlust Holsteins |
| Koepon Altuve Range 5 Red | AltaAltuve RDC x Salvatore RDC | Lakeside UPS Red Range | 160 | Koepon Genetics |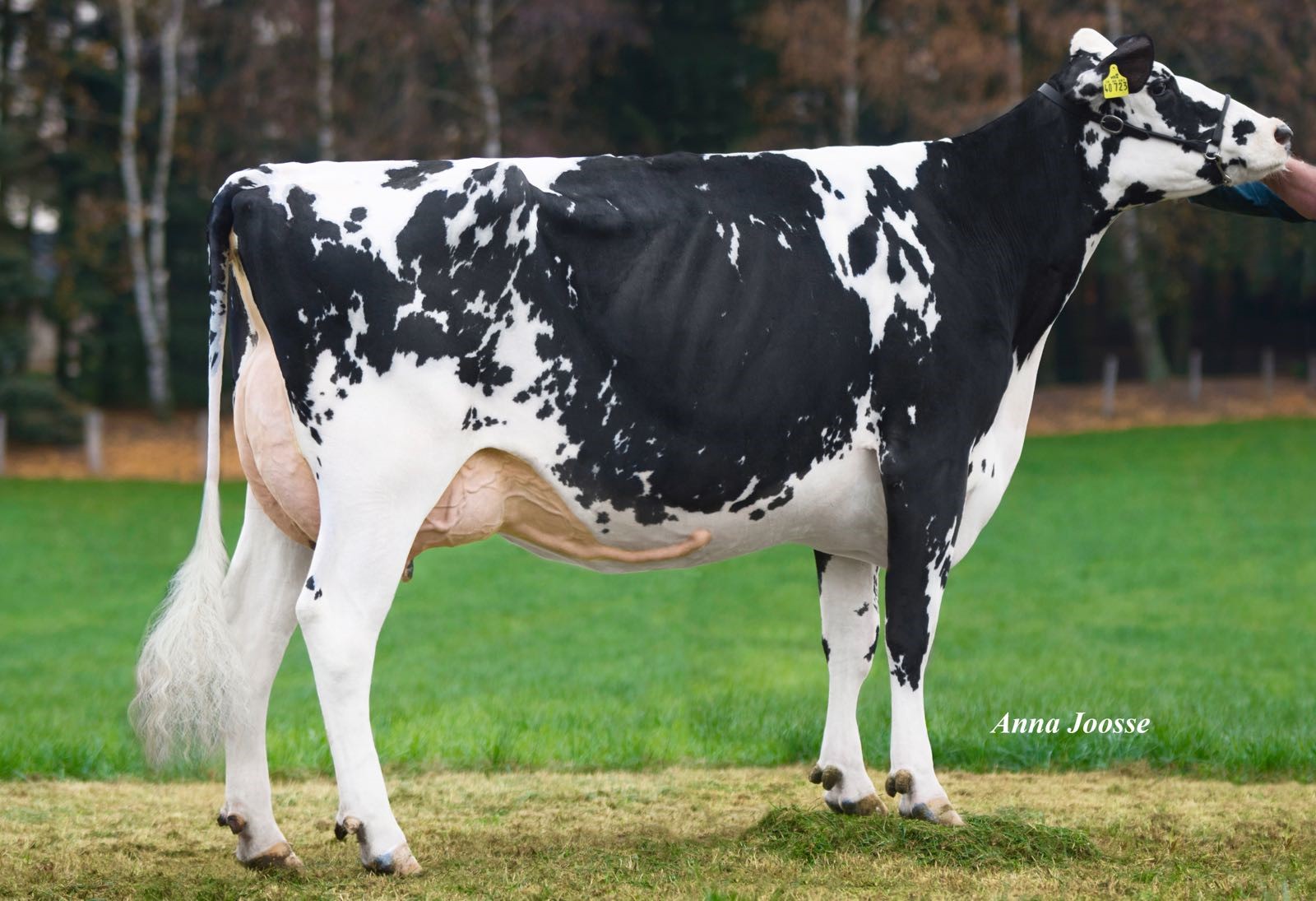 Xenia VG-85, the number 1 gRZG Supershot, granddam of Lis K&L Xemmi 7970

Poppe Red Hot Rita 860 Red (s. Snow RDC), 3rd dam of Poppe Red Hot Rita 9033 Red