USA genomics European females in March
Genomics
Pen-Col Superhero Mistral VG-89, proven brood cow and granddam of 3STAR RM Martine
The USA genomics results of newly tested females in the month of March have been published again by the US Holstein Association.
Highest female owned by GenHotel members this month is 3STAR RM Martine, a Peak AltaAlanzo daughter with 3029 gTPI and 1014 NM$. On her maternal side she is a daughter of the great brood cow Tirsvad K&L Riveting Magnolia, who already has 9 sons in AI. Martine, owned by Ritmaster, De Oosterhof and 3STAR, has a great production proof, solid health traits and functional type. Moreover, she also scores high in other systems: 162 gRZG and 348 gNVI.
Koepon Genetics once again has 2 females in the top 50 gTPI in Europe this month. One of them is Koepon Trooper Ruby 104, with 3026 gTPI and 1061 NM both the current no. 1 gTPI and no. 1 NM Plain-Knoll Renegade Trooper in Europe. Her dam is a high ranking, pregnant Peak AltaPlinko daughter, from the well-known Regan-Joy Durham Regenia EX-92 family.
Koepon Kevlow Gracie 3 is one of the first daughters of Peak AltaKevlow and scores 3006 gTPI, mainly due to extreme milkproduction proofs: a lot of milk with high levels. She comes from a relatively unknown German cow family, which has already produced several high-scoring offspring at Koepon Genetics. Gracie 3 is also by far the highest AltaKevlow daughter in Europe with 162 gRZG and scores no less than 162 gRZM!
New in the top list of R&W heifers has also been bred by Koepon: Koepon Otezla Range 196 P Red by Winstar Otezla-P-RDC. A score of 2929 gTPI makes her the number 1 gTPI Red and polled in Europe! Sire Otezla P RDC brings new blood into the Red Holstein population with his paternal line (Galileo x Windfall x Powerball-P) and traces via Oconnor's Monet Clara-Red-ET EX-92 back to Hanoverhill Tony Rae EX-96. Range 19 P Red's granddam is multiple bull dam Koepon Altuve Range 6 RDC GP-84. A Peak AltaAltuve RDC out of the famous Red Range VG-85.
At Zwanebloem Holsteins, a high-ranking Siemers Renegade Parfect daughter from the Rozelle family has once again presented itself. Zwanebloem Parfect Rozelle 2 is one of the highest Parfects in Europe this month with 2996 gTPI and combines this with +1.73 PTAT and +1.76 UDC. Her pedigree leads, via the Diepenhoek Rozelle's, back to the National Champion of France Gazelle EX-91 (by Southwind), also the full sister of the French breeding bull Gibbon.
The highest European red factor animal in March is 3STAR Polente RDC, a Peak Rover with 2906 gTPI (and 164 gRZG) from 3STAR RT Patsy RDC, a Riveting daughter from a successful American cow family of Bomaz Holsteins. Bomaz AltaTopshot (Supershot x AltaEmbassy), the number 2 NVI proven bulls in the Netherlands and Flanders, also comes from this internationally appreciated cow family. Her half-sister 3STAR Patty Red (by Koepon AltaRefine) is with 2892 gTPI the highest red & white this month and scores a huge 166 gRZG in Germany (number 1 gRZG and number 1 gRZEuro AltaRefine).
In terms of type, the toppers this month are:
3STAR Catharina (Perennial x Thunder Storm, +4.17 PTAT & +2.97 UDC)
Willsbro Haxl Amber 4758 (Haxl x Doorman, +3.69 PTAT & +2.37 UDC)
Willsbro Choice Roxy 4680 (Fitters Choice x Miami, +3.59 PTAT & +2.76 UDC)
Oosterbrook Jagger Croy Clima (Jagger x King Royal, +3.50 PTAT & +2.80 UDC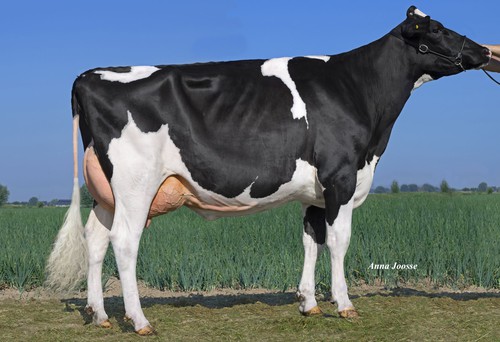 K&L KingDoc Ciracha VG-85, granddam of 3STAR Catharina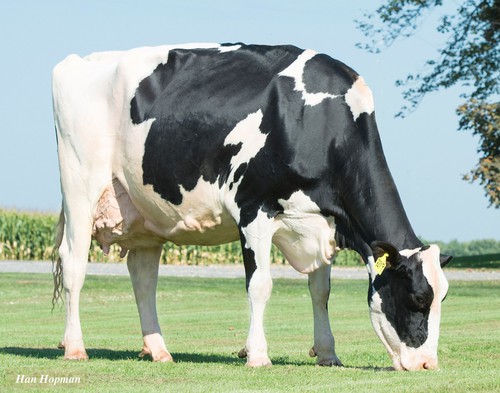 Kings-Ransom Mg Cleavage EX-95, granddam of Oosterbrook Jagger Croy Clima