Hedra Holsteins dominated the showring at UFF Winter Show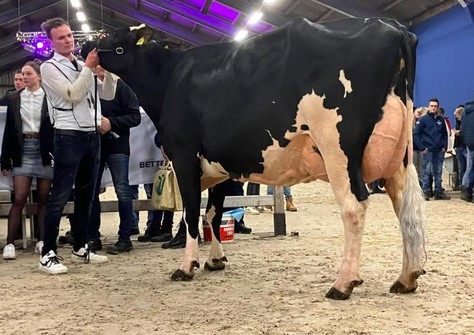 Type
Hedra Sneeker 721 P RDC EX-91
Six dairy cows from Vernooij represented their high-quality herd last weekend during the UFF Winter Show. There was success in every category which highlighted the quality of Hedra Holsteins' breeding results.
The deep black coloured Delta Jacuzzi-Red daughter Delta Elzzi RDC VG-87, which calved in May 2022, was still in such good show condition that she managed to achieve a 2nd position in the 2nd 2-yr-old category. Fourth dam is the well-known Weelder Esmonique 38 VG-85, dam of, among others, progeny proven Weelder Esperanto. Elzzi RDC is currently pregnant with Cheese RF and is predicted at 11,211 kg of Milk with 4.48% fat and 3.58% protein. The champion title eventually went to Walnutlawn Sidekick daughter Becel 69 of Mts J. & A. v. Ginkel-Iglesias which won the youngest junior 2-ye-old class. In this same class we also found R&B AM Maryam Red from Roubos Holsteins & Batouwe Holsteins as a great participant. She is a Kcck Amaretto Red from ViG My Love Red VG-86 and comes from the cow family of RH Talent Maxima EX-94. ViG My Love Red was purchased as a calf on the Vost Select Sale.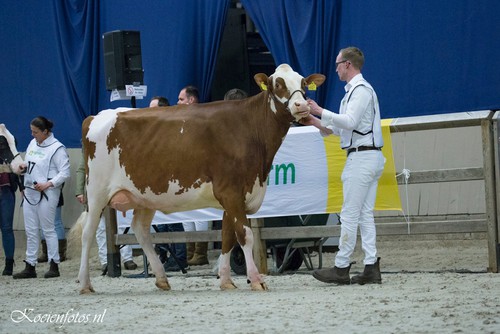 R&B AM Maryam Red (s. Amaretto-Red)
In the second class of the intermediate class, Vernooij won the class with Hedra Riedel 919 VG-87, the maternal-sister of bulls Delta Reloader & Delta Concert. The second position was achieved by Massia offspring Hedra Massia 1127 VG-88, a second calver by Delta Assist. Also in the final, the two herdmates went neck-and-neck, but it was Riedel 919 VG-87 which won the Intermediate Championship and Massia 1127 was honored with an Honorable Mention.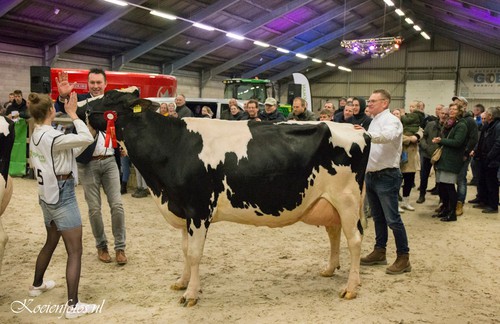 Hedra Riedel 919 VG-87 (s. Movement)
The success of the Intermediate Class was matched by Hedra Holsteins in the category with seniors. Class winner was the excellent, fourth lactation Hedra Sneeker 721 P RDC (by Martini P RDC). Her well-known herdmate, the fifth calver Delta Riana EX-91, was 2nd in the same class.  Riana, which is known as the Nelson maternal-sister of the proven sire Delta Bookem Danno, has a current life production of 91,519 kg of milk with 4.27% fat and 3.71% protein. Her dam is Delta Riant, the Bolton daughter of Etazon Renate, which in turn is dam to Delta Atlantic. These class victories resulted in a Championship title for Sneeker 721 P RDC EX-91 and an Honorable Mention for Riana EX-91. Riana also won the Rendementsprijs (high lifetime production award) and the public's favorite was the excellent  Hedra Sneeker 721 P RDC from Vernooij.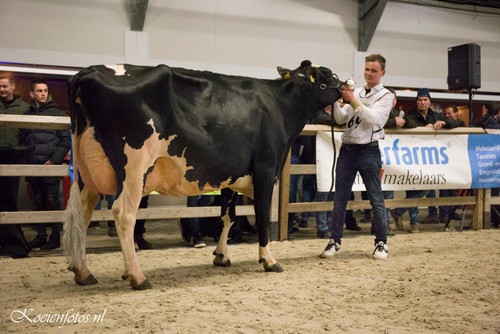 Hedra Sneeker 721 P RDC EX-91 (s. Martini P RDC)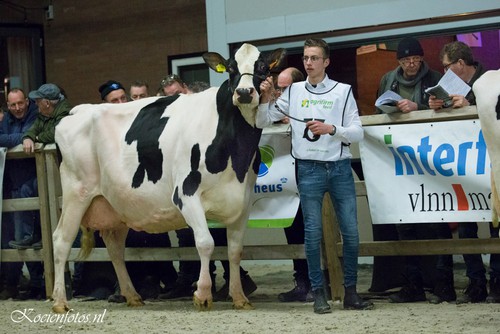 Delta Riana EX-91 (s. Nelson
As cherry on the pie, Vernooij's herd group won the heart of the jury and was named 'Best Herd group' of the UFF Wintershow 2023!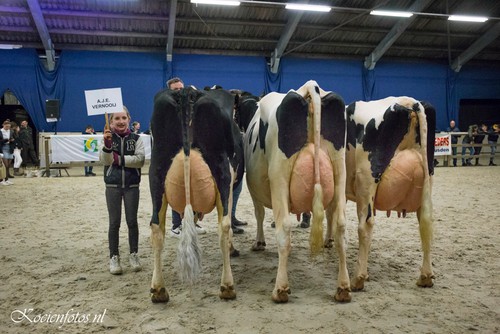 Includes: Sneeker 721 P RDC - Riana - Riedel 919