Triple success for Willem's-Hoeve at August NVI proof run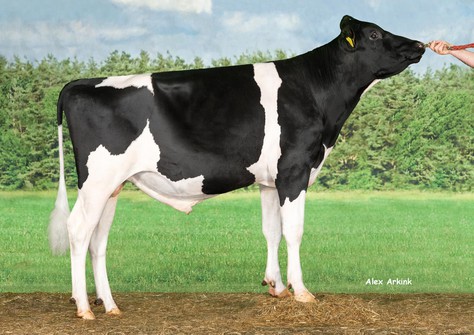 Genomics
Willem's-Hoeve R Sakarun P
The new Dutch-Flemish Index (NVI) of August 2023 is published on Wednesday morning. In the top lists of both Holstein and Red Holstein there are again high rankings for bulls bred by GenHotel members. Extra impressive is the fact that the prefix 'Willem's-Hoeve' due to the well-known Rita cow family appears no less than three times in different top 10 lists!
Polled
In the NVI list for polled sires, the Willem's-Hoeve R Sakarun P, bred by Willem's-Hoeve Holsteins, is once again noticed in this top ranking list for black-and-whites. Due to a significant increase in his total score (+12), with a gNVI of 301, the Delta Launch PP-Red son from the Willem's-Hoeve Rita family has risen from 10th position to place 5, compared to April!
Highest ranked polled sire of all Red Holsteins and highest newcomer is a result of a cooperation between Schuit Holsteins and GenHotel, namely sire Schuit 3STAR Marcel P Red (324 gNVI). He is ranked in third place (& #10 R&W young sires). Marcel P Red by Visstein K&L Money P Red hails from Welcome Bolton Gina which, in addition to his fantastic NVI, also scores high with 157 gRZG (#19 Interbull genomics) and 1,327 gICO in Germany and Italy. Koepon's Koepon Sirius P Red by Star P RDC also has had a good index run. With an increase of no less than +15 points, he scores 293 gNVI in August and is ranked 10th. The Lakeside Ups Red Range VG-86 offspring also ranks 3rd at the high genomics young sire list in Germany!
Young Red sires
A new leader came through in August, namely Delta Sunburst-Red (Endless RF x Abundant P RF). With a gNVI of 357, he debuts strongly and leaves the number 2 Delta Mind Blow P-Red far behind. The Oosterhof 3STAR Fresco Red climbs to a fourth place with an increase of 8 points compared to April in his total index. The Poppe Freestyle Red son, bred by De Oosterhof and GenHotel, can also be found in the gRZG list at place 6 and again also manages to score high in the Netherlands / Belgium with 339 gNVI and 615 INET. His high INET makes him the No. 1 gINET genomics R&W sire. Fresco Red, which also transmits a huge amount of milk (3046 kgM), takes the position of his paternal brother Delta Borax Red (Freestyle x Jakarta) with 339 gNVI as well and 457 INET and is in 5th place. One of the highest newcomers is Koepon Ruby Boy-Red by Koepon Camden RDC with 329 gNVI in 7th position. Through his dam Koepon Top Ruby 52 RDC VG-87, this young bull is descendomg from Regan-Joy Durham Regenia EX-92, a cow family that has delivered many proven sires including Koepon Peak AltaZarek and Koepon Peak Tosco. Ruby Boy-Red remains in this list just ahead of the German bull CEH Spotlight Red (328 gNVI) of CEH Holsteins, which has been in the top 10 R&W gNVI for several times in a row now. The Sputnik RDC son from the well-known Gen-I-Beq Goldwyn Secret RDC VG-87 cow family retains in 8th place. 
R&W Proven 
With 3456 milking daughters in the Netherlands and an index of 246 NVI, the new frontrunner among the proven Red Holseins is the former number 1 R&W genomics sire Delta Jacuzzi-Red. The Livington RF son debuted in April 2018 as no. 1 among the young R&W bulls with 456 gNVI. In December of 2022, his first daughterproven index with which he was the number 5 based on NVI. At the time, in 2018, he left the German Mr Salvatore RC son DG COL Spark Red behind him in 2nd place, with which history seems to repeat itself in August 2023. Because with 241 NVI, this male Gen-I-Beq Goldwyn Secret RC VG-87 offspring and former sire of sons can once again be found in 2nd position, just behind Jacuzzi-Red. The number 1 of April Caudumer Solitair P Red, well-known sire of sons bred by the Haytema family, manages to maintain his high position in the German rankings with 141 RZG. In the Netherlands there are currently more than 80 daughters in lactation and he comes in 10th place with a score of 214 NVI. Solitair P Red is the highest, daughter-proven red polled sire. One sire we see again in the top is the Canadian Westcoast Swingman-Red, sired by Endco Apprentice RDC. Despite a slight decrease in his index (-2), he remains in 4th place. A well-known sire is Aalshorst Rody-Red (Riverboy RF x Fanatic) from the herd of Tim and Roland Scholten. With 230 NVI, 415 lactating daughters and 98% reliability, he maintains his position among the debuting bulls. Meanwhile, Rody-Red has been in the top-10 for seven proof runs in a row! One of the highest debutants is Rhala Re Blues Red by Mr Salvatore RC - number 1 progeny proven NVI R&W Interbull (12-2022). More than 70 Dutch daughters are now in production. His score of 229 NVI makes him the number 8. In addition, the Batouwe Salsa Aiko Red VG-85 son is with 2664 kgM the number 1 milk sire! In the current Interbull NVI list of August, Blues Red can even be found in second place. The 228 NVI scoring sire Hoogerhorst Dg Oh Rubels-Red (>400 producing daughters) is in 9th place after, again, a strong index run.
| | |
| --- | --- |
| | |
| Schuit 3STAR Marcel P Red  @Xenética Fontao | CEH Spotlight Red @RUW |
| | |
| --- | --- |
| | |
| Aalshorst Rody Red @CRV | Rhala Blues Red @AI Total |
Young Holstein sires
List leader, like the last three proof runs, remains Delta Encourage, a Bush-Bros Fragrant son with 412 gNVI. Not far behind we find his paternal brother Manders Upside (Fragant x Ranger). This sire bred by Manders Holsteins rises four places compared to April and comes with an increase of 6 points on a gNVI of 361 gNVI. The highest debutant in this top 10 is Zwanebloem Rapido. The 349 gNVI scoring sire bred by Zwanebloem Holsteins has an American sire stack, namely Tribute x Charl x Frazzled x Silver, but comes from the strong Dutch dam line of the Diepenhoek Rozelles! Rapido's dam is the 2845 gTPI scoring Zwanebloem Charl Rozelle 2 VG-86, also dam to Zwanebloem Parfect Rozelle 2 (2997 gTPI) at Rhala Holsteins/Excellent Genetics.
Right now there is a great offer of embryos, produced with high scoring bulls, available.
B&W Proven
Among the Holstein proven bulls, the number 1 remains unchanged with the 388 NVI scoring Delta Reloader (Finder x G-Force) in lead. Willem's-Hoeve Holsteins enjoys a fantastic run with two home-bred bulls in the top 10. Highest ranked is Willem's-Hoeve Woody, which not only rises 13 points in his total index and has more than doubled his number of Dutch milking daughters, but also climbs two places in the rankings and is now the number 2 proven sire! Further up in the top we find Willem's-Hoeve Rapper by Weelder Esperanto at place 10. With 259 NVI based on 35 daughters and also from the Willem's-Hoeve Ritas, Rapper debuts very strongly. The American Supershot son Bomaz AltaTopshot went up three spots since April and scores 284 NVI (+13). The number 1 proven sire in Germany, OH DG Topstone, also ranks high in the Netherlands in August. Where, based on 114 daughters in April, the Dutch AltaTopshot son with 217 NVI was still listed in 31st place, he managed to reach the top 10 in August with a grandiose increase of 46 points in his total index! Based on 160 daughters, Topstone, co- bred by De Oosterhof, is now the number 7.
| | |
| --- | --- |
| | |
| DG OH Topstone @Synetics | Willem's-Hoeve Woody @CRV |
| | |
| --- | --- |
| | |
| Manders Upside @CRV | Zwanebloem Charl Rozelle 2 VG-86, dam of Rapido |