Fantastic results for Zwanebloem Holsteins!
Genomics
Brookview-E Moviestar VG-86, in the pedigree of Zwanebloem Holy Shaker 3052
During the August run, several newly tested females from Zwanebloem Holsteins, from the Masscheleyn family in De Panne, Belgium, received high genomic results, with no less than 6 of the top 50 gTPI females in Europe.
With 3145 gTPI, Zwanebloem Holy Shaker 3052 is this month the no. 2 gTPI female in Europe and the highest Cookiecutter Holysmokes. In addition, she is the number 2 gTPI of all tested Holysmokes daughters in Europe. Shaker 3052 (mgs. Parfect) has a truly unique genomics profile, scoring positively for ALL production, type and health traits. Her balanced pedigree, with only USA bulls in the pedigree, leads back to the phenomenal American breeding cow Wesswood-HC Rudy Missy EX-92, supplier of many international top breeding bulls. Maternal sister Zwanebloem Holy America 3065 (mgs. Captain) belongs to the high Holysmokes daughters in Europe with 3027 gTPI with +1.96 PTAT and +2.52 UDC and has its origin in the Seagull-Bay O-Man Mirror VG-86 family.
The daughters of Winstar Conway Cumulus also perform great at the Masscheleyn family. Zwanebloem  Cumulus Rozelle 3063, from the Diepenhoek Rozelle family, is the number 2 gTPI Cumulus daughter in Europe with 3040 gTPI. Her dam, Zwanebloem Parfect Rozelle, is an early daughter of the No. 3 TPI daughterproven bull in America, Siemers Renegade Parfect, who also scores 2903 gTPI.
Zwanebloem Cumulus Bandidas 3050, also from a Parfect dam, as well shows a great genomic profile, with a virtually flawless linear. Bandidas 3050, with 2987 gTPI, is a far descendant of the Canadian Cow of the Year Sunnylodge Prelude Spottie VG-87.
The full sisters Zwanebloem Gameday Titi 2967 and Zwanebloem Gameday Tata 2968, from the well-known Dirigo-Leblanc Joyce EX-94 family, score 2997 and 2985 gTPI respectively. Their sire RMD-Dotterer SSI Gameday debuted creditably in August as the no. 4 TPI proven bulls in America.
At Koepon Genetics, it's Koepon Kahn Cherry 16, a Wilra Gameday Kahn daughter, who is scoring the highest this month. Cherry 16, with 3048 gTPI, also scores positively on almost all traits and comes from the Koepon Classy family, supplier of, among others, the German proven top bull Koepon Beatclub. Dam Koepon Zazzle Cherry 15 is an pregnant AltaZazzle from an AltaZarek daughter with extremely high components.
Willsbro Dynasty Rozelle 5173 is a very interesting newcomer at Willsbro Holsteins. With 3003 gTPI and +3.03 gPTAT, the Kings-Ransom Dynasty daughter combines high-level production and type. In addition, she scores favorably for the health traits. Rozelle 5173 her dam is the highly productive Willsbro Mitchell Rozelle 122 VG-87, who as a heifer produced almost 15,000 kg of milk with 4.36% fat and 3.43% protein in 305 days. Furthermore, this lineage goes back to the aforementioned Diepenhoek Rozelle family.
The highest red factor female this month is with 2976 gTPI Koepon Figaro Range 236 RDC  (Figaro x Sputnik RDC), a great-granddaughter of the well-known Lakeside Ups Red Range-Red VG-86. From the same family also comes the red factor ánd polled Koepon Whya Range 219 P RDC, with 2886 gTPI the highest Character Whya P Red daughter in Europe.
The type toppers of GenHotel members this month:
Willsbro King Doc Roxy 5203, +3.90 PTAT (King Doc x D-Lambda x Silver from Glenridge Citation Roxy EX-97 fam.)
Willsbro Hanans Adina 5182, +3.37 PTAT (Hanans x Tropic x Kimball RDC from Kamps-Hollow Altitude EX-95 fam.)
Willsbro Hanans Adina 5201, +3.26 PTAT (Hanans x Arrow x Score from Kamps-Hollow Altitude RDC EX-95 family)
Click here for the top 50 gTPI newly tested females in Europe in August.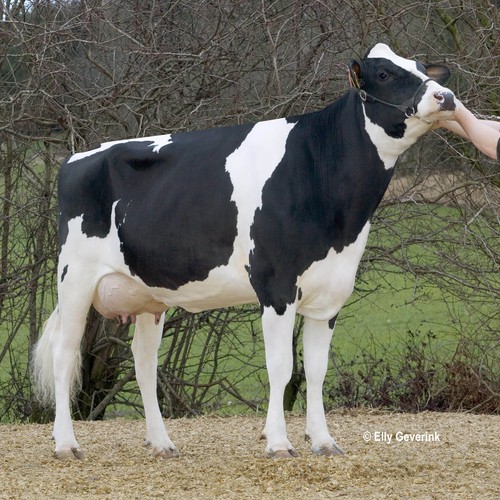 Tir-An Durham Jody VG-88, in the pedigree of Zwanebloem Gameday Titi & Tata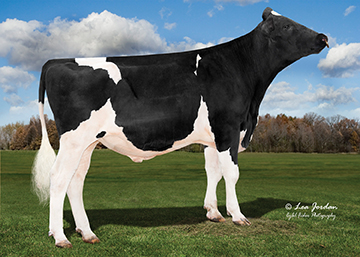 Winstar Conway Cumulus (Conway x Lionel), sire of 2 high ranking daughters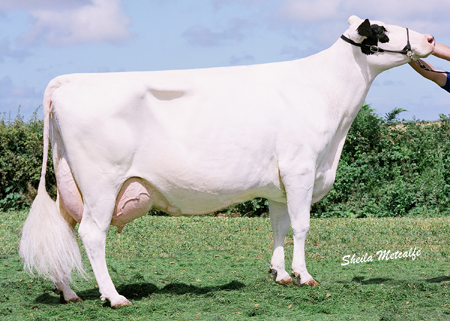 Stardale Leader Roxy EX-95 (s. Starleader), in the pedigree of Willsbro King Doc Roxy